There's nothing quite like a good old-fashioned Christmas market. The spiced scent of mulled wine, the calming steam coming from a mug of hot chocolate, the reassuring warmth of a hot dog…a great Christmas market has plenty of things to find and out-of-the-way stalls to explore, and luckily, there are lots of them around the world, so you're well catered-for no matter where you want to travel.
Some of the best Christmas markets might not end up being where you'd expect; there are excellent options hidden away in cities that aren't traditionally considered tourist hotspots, but they're well worth visiting nonetheless. Whether you're after some delicious gingerbread or some of the best crafts around, here are the top 15 Christmas markets you can go to!
1. Birmingham, UK
We're somewhat biased, because we know Birmingham in the UK well, but it is undeniably one of the world's best Christmas markets. While the prices can be a little high, there's a cosy, warm feeling to the market, and it stretches all along the city's New Street, winding up at the top of Victoria Square. From there, a short walk takes you to an ice rink and some fairground attractions, so make sure you hop on those before you eat your hot dog to avoid accidents!
2. Manchester, UK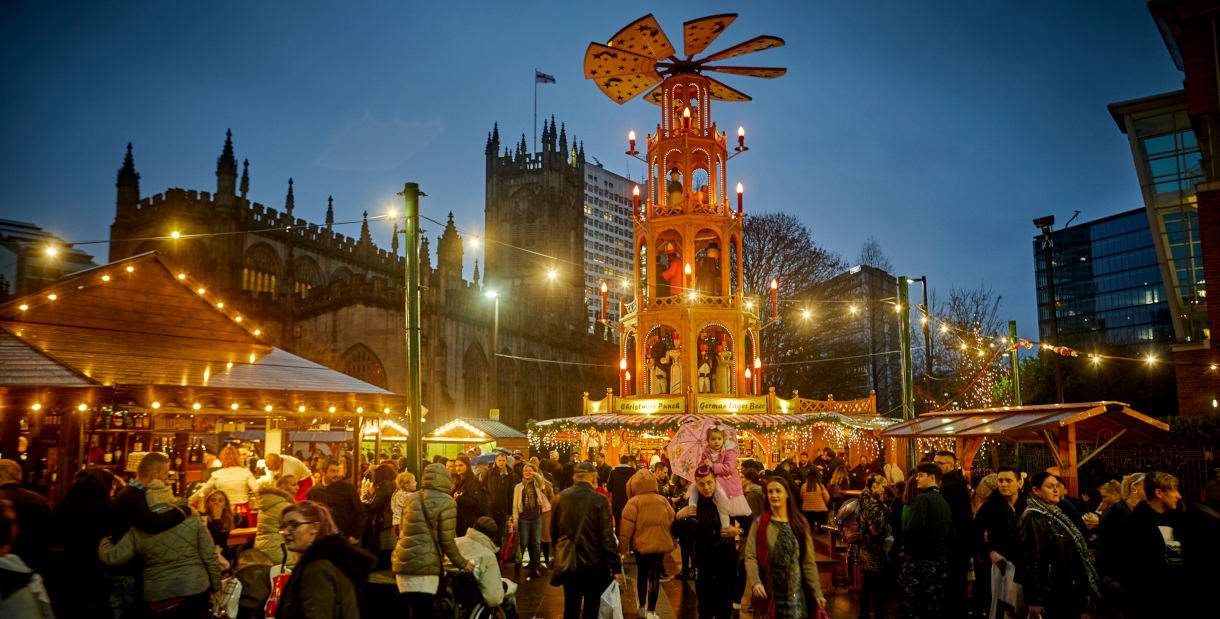 Another excellent British Christmas market, Manchester's offering is beautiful, populated with gorgeous neon lighting and great decorations. You'll find hundreds of stalls dotted around the city's centre, offering everything from food to crafted goods and lots more. If you're already in Manchester for the sights – which you might well be, given its up-and-coming status as a hotspot – then you should definitely set aside some time for the Christmas market.
3. Edinburgh, UK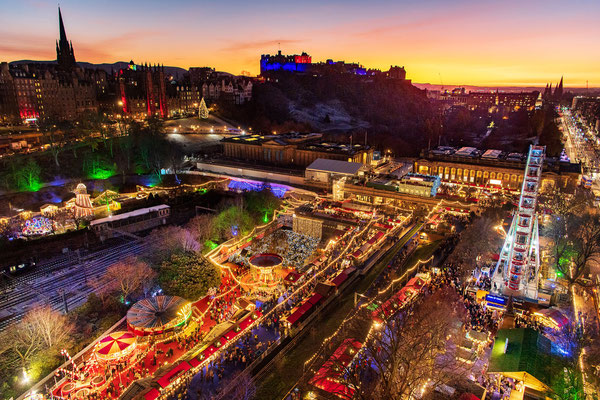 We round off our trio of festive UK markets with the Christmas showing in Edinburgh in Scotland. An aerial view shows Edinburgh's Christmas market to be one of the most breathtakingly beautiful on offer; it's a colourful smorgasbord of sights, sounds, and smells that you'll want to immerse yourself in. Of course, you'll also find Santa's grotto there, so you can tell him all about what you want for Christmas (or take your kids, of course).
4. Leipzig, Germany
This is one of the oldest Christmas markets still in operation, dating all the way back to the 15th century. It's managed to keep its old-school feel, too, so if you want to immerse yourself in a classic Christmas atmosphere, then you could do far worse than Leipzig at Yuletide. Naturally, this being a Christmas market, you'll also find fairground attractions just like in Birmingham, so make sure to enjoy the Ferris wheel! Otherwise, it's business as usual, with great crafts and food on offer.
5. Budapest Advent Feast, Hungary
As the name suggests, the Advent Feast is a true Christmas extravaganza. It takes place outside the iconic St. Stephen's Basilica building and offers an absolute treat for the eyes; just gazing upon this assortment of winter wonderland scenes is enough to give even the most jaded Scrooge a love of Christmas. This is a more "bespoke" Christmas experience than other markets offer, with plenty of gourmet food experiences and event programs to enjoy.
6. Valkenburg aan de Geul, Netherlands
Slowly but surely, the Netherlands' Valkenburg aan de Geul (commonly shortened to simply Valkenburg) transforms itself into a winter wonderland all its own, culminating in a wonderful Christmas market and event in the winter months. Here, you'll find plenty of mulled wine, beer, and other alcohol to warm your belly on winter nights, and you'll also be able to see parades and other events if you wait around for a little while. There's no better way to be infused with the Christmas spirit!
7. Prague, Czech Republic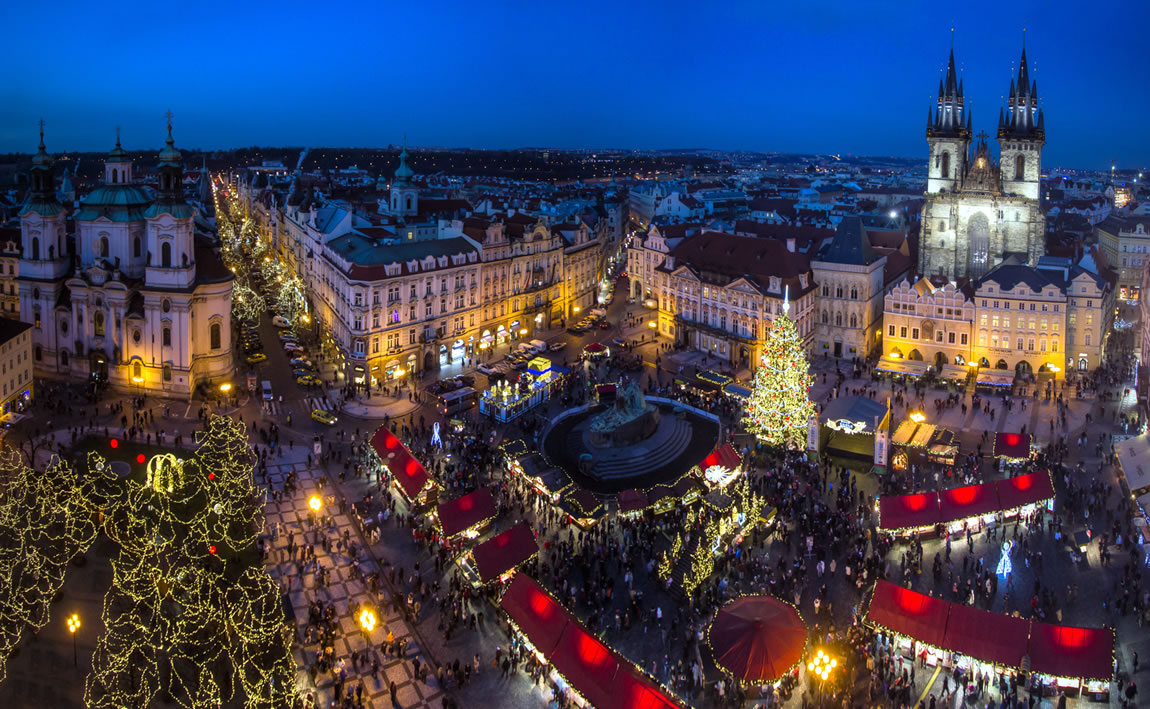 Prague is already a pretty magical city, so it should come as no surprise that its Christmas market really goes all out. With huge Christmas trees welcoming you to the city, you'll find merchants offering traditional Christmas gifts and merchandise here, and you'll also be able to partake in some mouth-watering sweets and delicious Czech delicacies. Make sure to incorporate this market into your Prague trip if you're planning to go this winter.
8. Tallinn, Estonia
Tallinn is effectively already a winter wonderland by itself, so imagine what happens when you add Christmas into the mix! This beautiful market was voted one of the most attractive in Europe, and it's easy to see why even just when you're looking at pictures of it, let alone visiting it. With stalls dusted with a thin coating of snow, classic Christmas goods and food on offer, and a chill in the air that gives a pleasant briskness to browsing the market, Estonia should be on your list of Christmas destinations.
9. Basel, Switzerland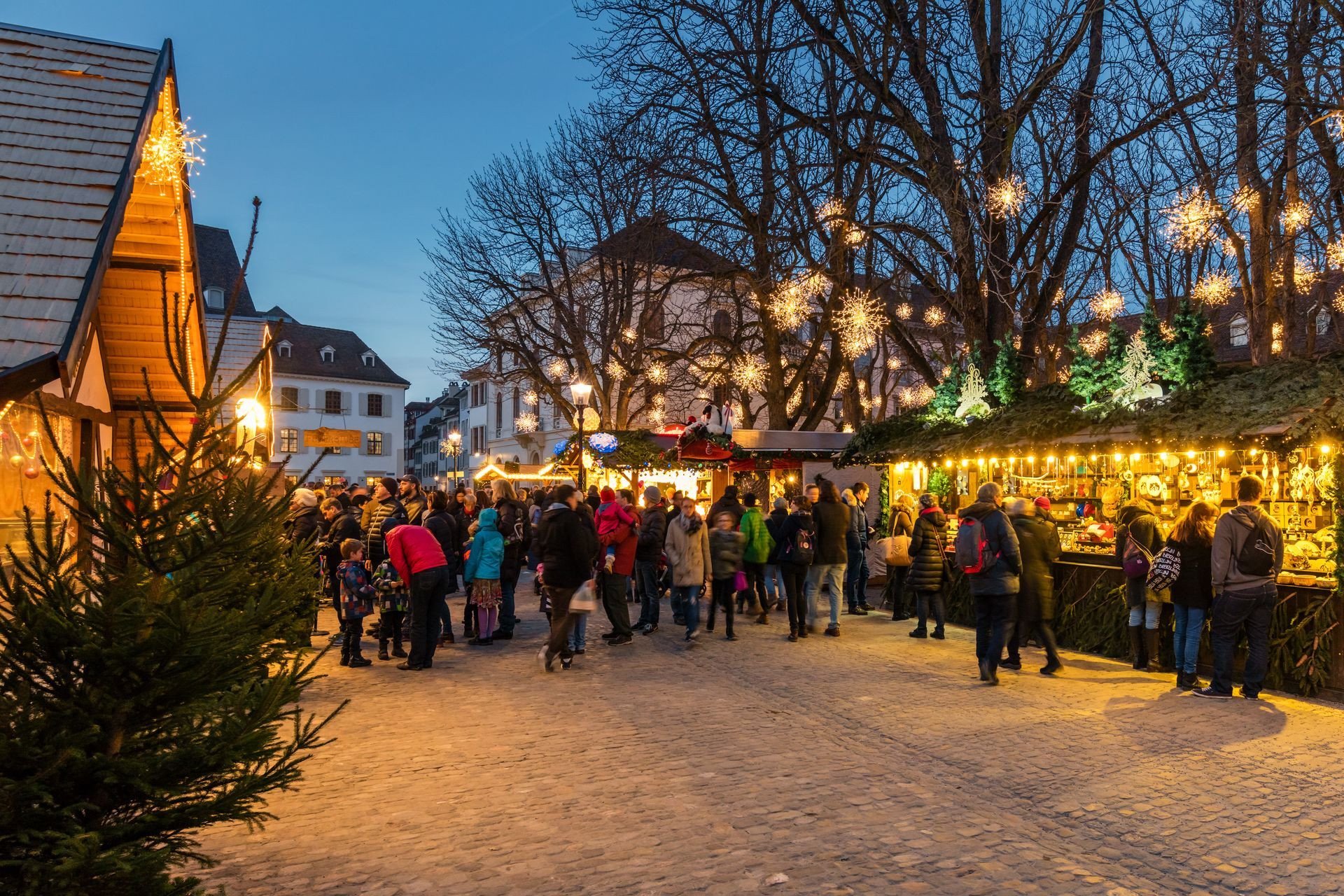 You've probably heard of the Basel Christmas market in your travels, and we're not surprised if you have. Switzerland is, unsurprisingly, one of the most beautiful locations to visit for Christmas, and Basel is well-known among both native Swiss and travellers for its affinity to Christmas. Here, you'll find a Christmas market, a grand tree, and plenty of Christmas decorations and finery to doll up the usual Swiss shopping experience. It's truly magical.
10. Madeira, Portugal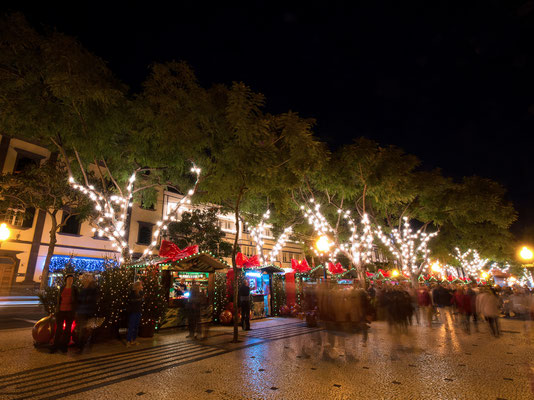 Portugal might not be one of the first locations that jumps to mind when it comes to great Christmas celebrations – after all, the climate is generally pretty temperate – but the Madeira Christmas market should show that up for the misunderstanding it really is. This is a great Christmas offering, complete with folkloric demonstrations and storytelling events and, of course, lots of local food and drink to enjoy as you explore the market's winding stalls.
11. Brussels, Belgium
Nestled in the heart of Western Europe is this beautiful Christmas market in Brussels. There are markets all over the country, of course, but Brussels' offering is typically grand and spectacular. The city is bathed in warming light from decorations and from the tree that adorns its market, and while you're exploring, you'll find beautiful traditional stalls offering everything from hand-crafted goods to typically delicious Belgian food. Come for the lights, stay for the beer!
12. Bruges, Belgium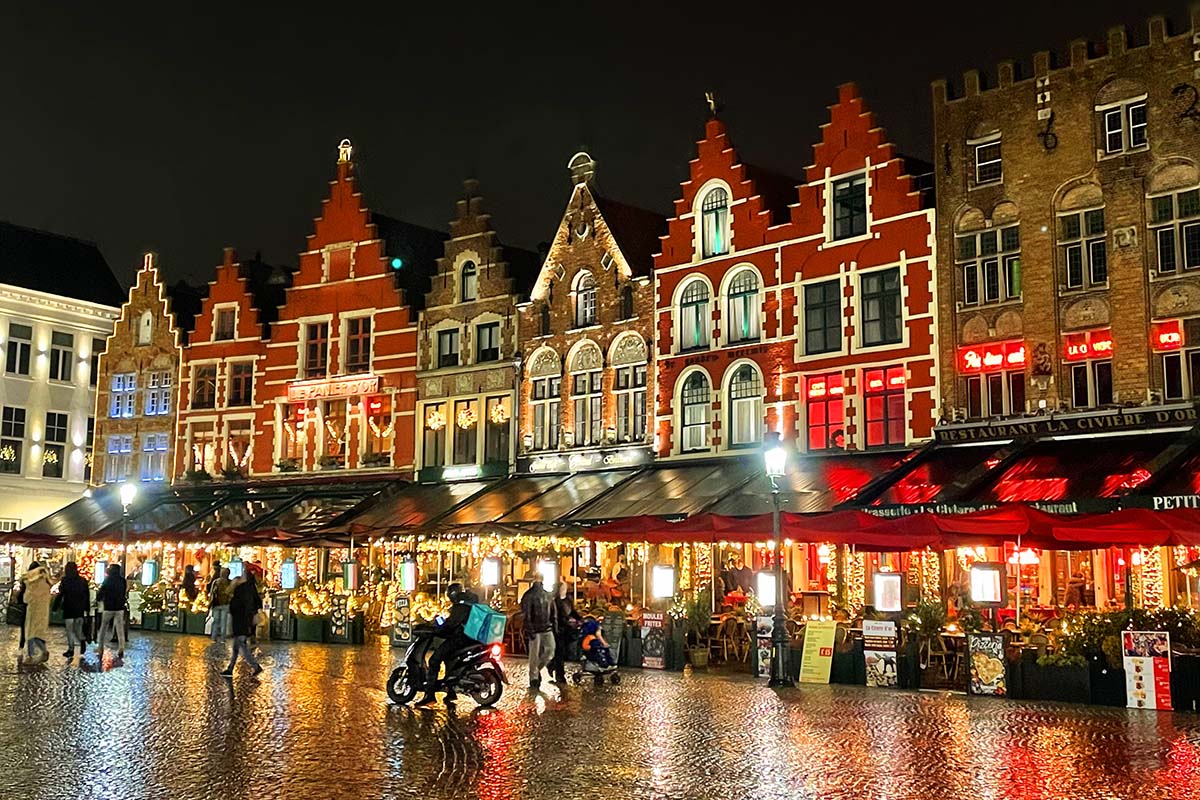 We couldn't let this list slide without mentioning another beautiful Belgian city. Bruges may be most famous for its appearance in the renowned Martin McDonagh movie, but the city has much more to offer than strange, dark tales of assassination. Its Christmas market is vast and beautiful, offering local beer, mulled wine, and cheese, among other delicacies. If you've been to Belgium before, you'll know just how beautiful it can be, but if this is your first time, Bruges is an excellent choice. 
13. Dusseldorf, Germany
In many ways, Germany is one of the most traditional countries in the world when it comes to Christmas, and that's certainly true of the beautiful Christmas market in Dusseldorf. Like many other Christmas markets, it's beautifully decorated and staged, although this one is just a little more muted than others; if you like your markets less ostentatious and more cosy, then this is definitely one to check out. That's not to say you won't find the usual mixture of activities, food, and drink here, though. 
14. Malaga, Spain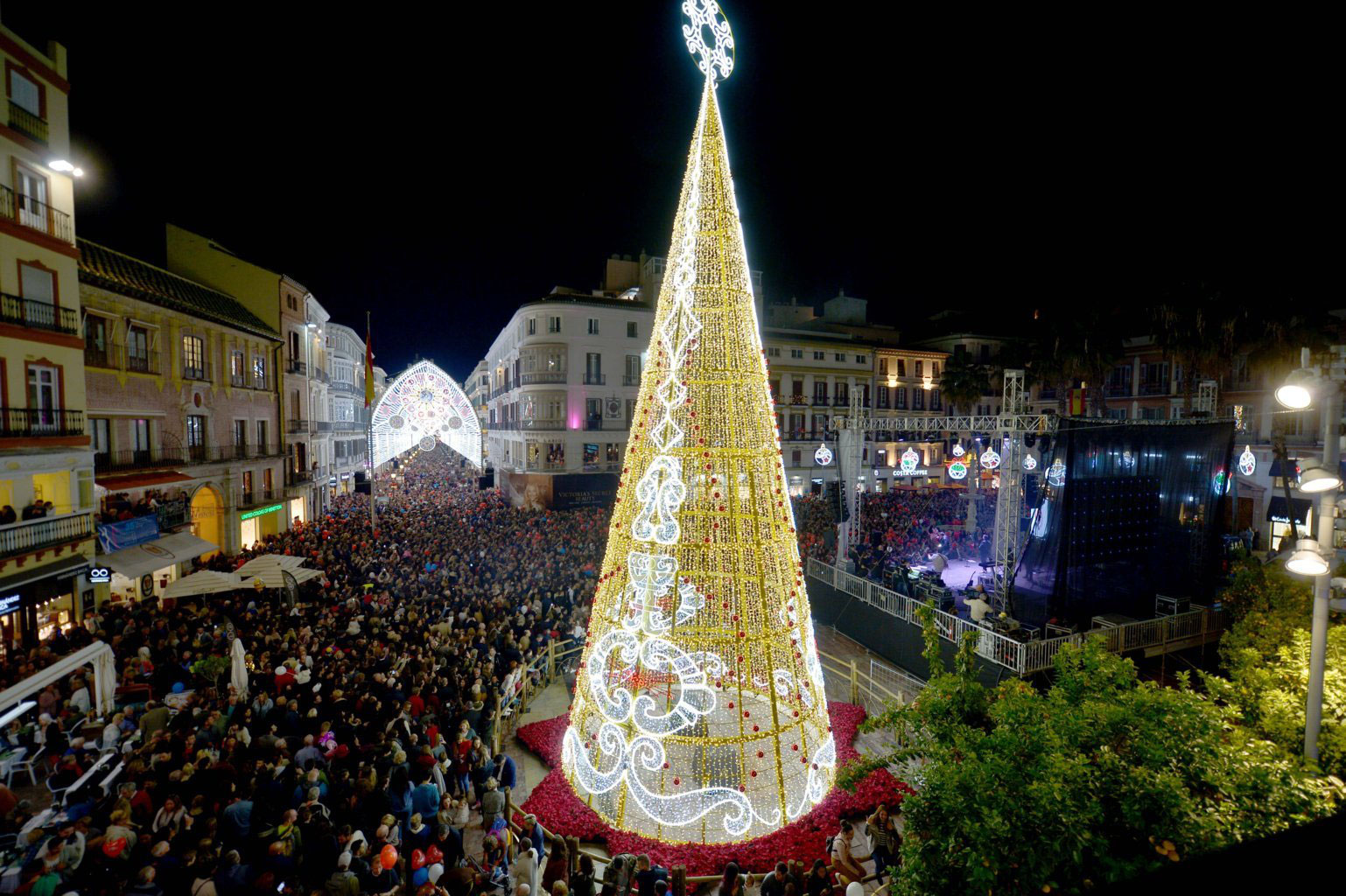 Christmas in many parts of Spain is a decidedly traditional affair. You'll notice Nativity scenes being installed by eager workers, as well as Christmas lights being switched on and a huge variety of clothes and other goods for sale in the Christmas market. Malaga is one of the most beautiful cities in Spain, and while you may not immediately think of it when it comes to Christmas, you'll find that the market in Malaga easily competes with any of its closest geographical rivals.
15. Salzburg, Austria
A truly great Christmas market can really bring you to tears, and that's what the market in Salzburg is aiming to do. Mozart once called this gorgeous city home, and just taking a quick look around, it's very easy to see why he did. The Christmas market is, quite simply, breathtakingly beautiful, giving you plenty to look at and even more to peruse. Make sure to bring a hearty helping of currency with you so that you've got enough to buy everything you want to from the markets!
BONUS: Nottingham, UK
We couldn't let this list finish without mentioning another one of our favourite Christmas markets from the UK. Nottingham isn't one of the cities that most people mention when they talk about popular UK tourist destinations, but we think that's a real shame; it's a gorgeous city with plenty to offer its visitors, and never is that more true than when the Christmas market rolls around. There are stalls, rides, and more to see, with local art and events punctuating the beautiful Christmas goods. Put Nottingham on your Christmas list and you certainly won't be disappointed! Pair it up with another UK market – Birmingham's is very close by train or car – and you'll be even more content.