Egypt is legendary for it's ancient civilisation, and of course many historic monuments that have been internationally recognised throughout time. This includes things such as the pyramids, the Great Sphinx, and the Temples of Luxor – these things date back thousands of years! If you're planning on travelling to Egypt, visit the following top 10 attractions if you can, otherwise you might regret it!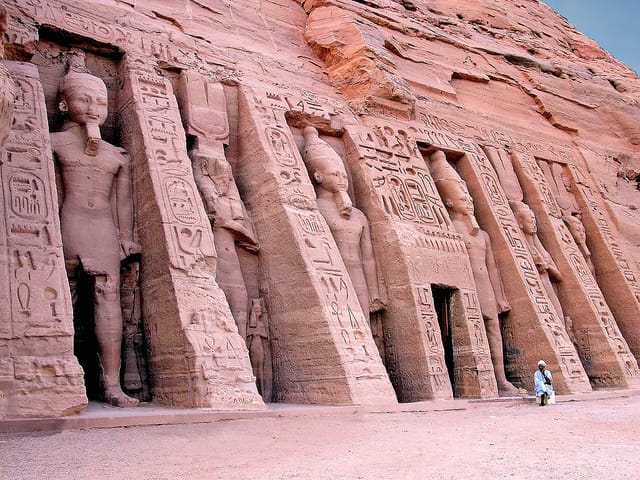 Giza Necropolis
The Giza Necropolis is without a doubt one of the biggest and most popular attractions in Egypt. Built over a span of 3 generations, the pyramids are a truly fascinating sight to behold. You'll learn so much on a tour here, but we don't recommend doing a full tour as once you've seen a couple of pyramids, you've pretty much seen them all.
Karnak
Admittedly this place is badly ruined, but few sites are as impressive as this one. It's the biggest ancient religious site ever built, and is a great representation of many Egyptian builder generations.
Red Sea Reef
This is one of the most beautiful places to go diving that you'll ever find. The red sea is renowned for it's amazing visibility, so you'll love the variety of marine life that's so easily viewed in this exotic location.
River Nile Cruise
Taking a cruise down the Nile is a great way to view upper Egypt. There are a multitude of different boats you can choose from, from a luxury ship to a traditional boat that they would have used many years ago.
Valley of the Kings
This place is where you'll find 63 tombs, ranging from extravagant affairs with lots of chambers to very simple versions. The tombs are decorated with scenes from Egyptian mythology and give us clues to their beliefs and the old funeral rituals.
Abu Simbel
Abu Simbel is an archaeological site consisting of two large rock cut temples carved into the mountain side.
Egyptian Museum
If you want to get a taste of Egyptian history and culture, look no further. This place is home to around 120,000 ancient Egyptian antiquities. One room even contains 27 royal mummies!
Siwa Oasis
This is the place where travellers and traders used to stop for a pit stop after a long morning of selling their wares and exploring. Unfortunately it has declined over time, and they rely on tourism as an income source, however; it's still a great place to visit.
Dahab
If you fancy hanging around in a bit of a hippy, alternative resort with a laid back feel, visit Dahab. There are plenty of water sports to try here too, so you'll never run out of things to do. A place like this could easily convince you to look for houses in Egypt.
Mosque of Ibn Tulun
This is one of the oldest mosques in Cairo; it has been around for centuries. Parts of the James Bond film, 'The Spy Who Loved Me' were even filmed here.
Visit these attractions on your trip to Egypt and you won't be disappointed!