Amsterdam is a truly beautiful city. If you're flying in, you'll immediately notice the beautiful lowlands and fields of the Netherlands before you've even landed in the bustling Schiphol Airport. Once you're there and you've taken the train from the airport to Amsterdam Central, you'll step out onto a beautiful waterside view of the city and its myriad cycle paths and byways. Amsterdam is gorgeous, it's historic, and you'll find plenty to do there.
But, say you, where to start? What should I do when I touch down in Amsterdam? What are the best ways to occupy my time? Well, I've got some good news for you. No matter what you love to do, Amsterdam can accommodate you. Whether you're into lengthy cycling journeys around the notoriously cycle-friendly city or you prefer something more sedate and contemplative, there's lots to enjoy here. Here are 7 things you absolutely must do if you find yourself in Amsterdam.
Take a canal tour 
If you're lucky enough to find yourself in Amsterdam during one of the city's many cultural or sporting events, then taking a canal tour is simply essential. You'll cruise along on the water at a slow, steady pace, listening to your tour guide extol Amsterdam's many virtues. The best canal tours (and there are plenty available at the waterfront, so take your pick – but make sure you book ahead) take in the city's history, its various districts, and some of its most famous residents. If you're in Amsterdam and you're not on its canals for at least some of your journey, you're not doing it right. There are hundreds of houseboats to see, historic buildings to admire, and breathtaking views of the city's Amstel River, for which it was named. As with many things in Amsterdam, getting yourself an I Amsterdam card will make this part of your journey much simpler.
Eat some local Dutch cuisine 
While you're in Amsterdam, you absolutely have to try some local Dutch cuisine. While the city has its fair share of chain restaurants – including American favourites like McDonald's – it's not there you'll get your fill of local food. I strongly recommend The Pantry if you're looking for a top-quality traditional Dutch restaurant. It's a little on the pricey side, but The Pantry's chefs serve up Dutch classics like hutspot and boerenkoolstamppot with mouthwatering culinary skill. Once you're done with your smoked sausage main, try wonderful desserts like vlaflip (vanilla custard with yoghurt) or poffertjes (pancakes with butter and sugar), or simply savour a Dutch cheese platter.
Try some pancakes 
The Dutch are world-renowned for the quality of their pancakes (or pannenkoeken), and nowhere is that more evident than in The Pancake Bakery. Though it's situated by the canals of Prinsengracht, The Pancake Bakery is actually a homely little restaurant with wonderful décor and a tempting selection of pancakes. The sweet treats here are delightful – try the Belgian or Brazilian pancakes for a decadent feast – but it's the savoury options you'll truly appreciate. From themed global dishes (Indonesian peanut sauce, Hungarian chorizo, and Canadian crispy bacon, to name but a few) to old-school favourites like ham and cheese, The Pancake Bakery is your one-stop shop for pancakes in Amsterdam. Be careful, though; there's often a long queue. Book in advance to beat the lines!
Visit the Eye Filmmuseum
The Netherlands have a rich tradition of film-making. Famed directors like Paul Verhoeven and Anton Corbijn hail from the Netherlands, and the Eye Filmmuseum is the crown jewel in the country's storied cinematic history. The museum's permanent installation demonstrating the history of film is fascinating. There are clips of famous movies playing accompanied by plaques deconstructing their technique. You'll find pieces of cinema history on display including a Mitchell 35mm camera and a mutoscope showing Charlie Chaplin's famous movie The Waiter. If the exhibitions weren't enough, you will naturally also find various films screening throughout each day at the Eye. This is definitely one to check out for film buffs, but even those without an interest in the art form will be captivated.
Visit the Rijksmuseum
The Rijksmuseum is probably the most prestigious collection of fine art in the Netherlands, if not one of the finest museums in the world. If you're lucky (and quick), you should be able to book yourself on one of the museum's famed drawing tours. These guided interactive presentations allow you to put yourself in some of the Netherlands' most famed masters, copying their drawing style and learning how art is created. From Rembrandt to Van Gogh, you'll find everything important about Dutch art history in the Rijksmuseum. Even if you don't manage to go on a drawing tour, you'll still marvel at the sheer range and scope of the art on display here. Every trip to the Netherlands must include a trip to the Rijksmuseum.
Take a walk – or cycle – through the city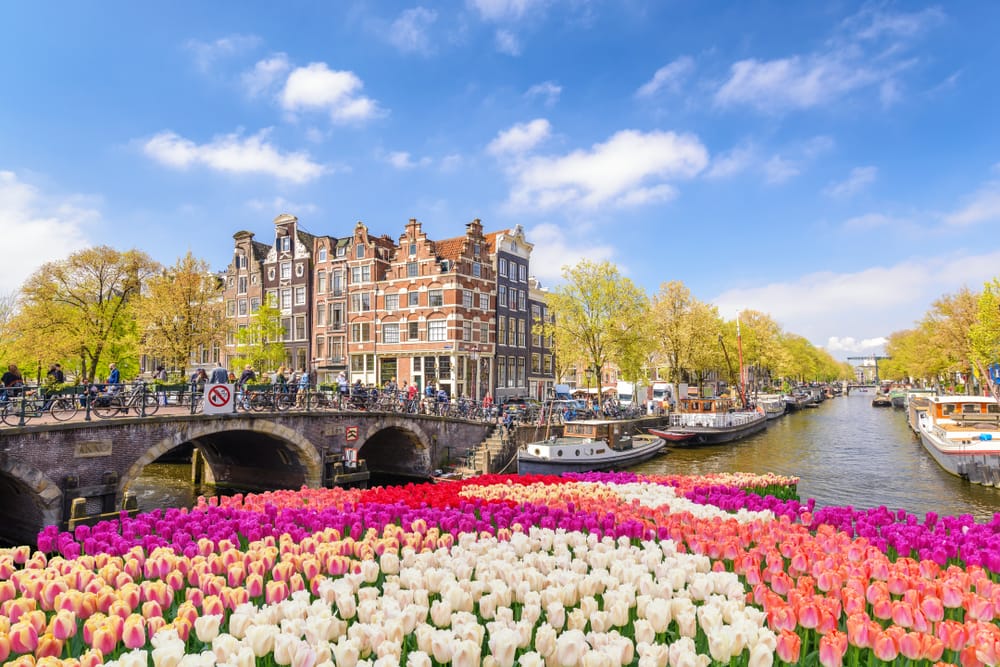 The best way by far to find your way around Amsterdam is by cycling. Forget what you know about most other cities, because Amsterdam is easily the most cycling-friendly city in Europe if not the world. There are plenty of places you can leave your bike securely locked up and it'll be totally safe. Pretty much every road in Amsterdam has an accompanying cycle path, and the rules of these paths are just as important to follow as those of the road. You'll probably have trouble navigating Amsterdam on foot if you're not used to all the bikes, so just grab one yourself and join in. There's no better way to get around, and the feelings of freedom and inclusivity are enticing. Check out Amsterdam by bike and you won't regret it.
Visit Artis Zoo
Artis is the oldest zoo in the Netherlands and one of the oldest in Europe. There are a frankly ridiculous amount of animals, microbial life (yes, really) and plants to take in while you're there. The walk-through area is a treat, with tiny primates clinging to tree trunks and birds flying freely overhead. Huge elephants roam massive enclosures, spiders stalk their glass cases, and lions prowl their artificial savannah. Artis provides a massive amount of information and education about every creature it houses. There's also a big push for nature conservation in Artis; the zoo wants to make sure it's doing its bit for animal rights, so going there is also declaring tacit support for this important task. Plus, who doesn't love cute chimps?