Warm jackets play a significant role during winter. They shield you from the cold, making them popular items during winter. How many winter jackets do you have? Are they enough to push you through the cold season? It is vital to keep warm throughout the cold season with enough jackets. This post will discuss several essential things to know when choosing warm jackets for the winter.
Things to Consider When Buying a Winter Jacket
Several things make a great winter jacket. Therefore, before you buy, go through this list to help you pick the right jacket for the weather.
The quality of your jacket matters more than the quantity. Therefore, always choose a quality winter jacket made from a superior material to stay warm and comfortable. Let quality be a priority when buying the jacket.
Make sure the jacket you buy is of the right fit. That means considering your body type. Additionally, ensure the fit is winter-friendly. For example, the neck, cuffs, and waist should have a tight seal. Make sure there is ample insulation by not leaving room for the wind. When there is proper insulation, the jacket will warm you effectively. So, remember this fundamental when purchasing your next winter jacket.
Always check the lining when buying a winter jacket. The lining will tell the quality of the coat. It should be sturdy and stitched well to avoid ripping open after using it. Without that, it will not be easy to maintain the jacket.
The material used to make the jacket is another crucial factor when buying a winter jacket. Ensure the high-quality fabric keeps you warm and remains intact for a long time. Instead of purchasing many jackets frequently, paying more for a quality jacket that will last long is best.
The brand matters a lot because great brands are associated with high-quality products. Many don't mind spending a lot of money on quality items. Therefore, if the brand promises quality jackets, people will likely buy from there. By purchasing from a well-reputed brand, enjoy a quality and durable winter jacket that fits you well.
A down jacket has feathers inside the lining for more fluffiness and insulation. The feathers leave small air pockets that help retain heat. When buying a down coat, checking the fill power and weight is essential. The higher the fill power rating, the cozier the jacket. Fill power is not the amount of feathers stuck in the coat. It is the fluffiness or loft of the feather and the weight-warmth ratio. That means fluffier feathers have more air pockets, making the jacket warmer.
A waterproof jacket can retain warmth. So, during winter, it is vital to have a waterproof coat to prevent dampness that causes discomfort and health issues. Some areas receive rainfall during winter. It could be a heavy downpour to little showers. So, a waterproof jacket will keep you dry and warm. However, for maximum protection, look for a waterproof coat featuring:
Closed seams
Fast-drying fabric
Water repellent coating
Breathable lining
Fabric
The fabric used to design the jacket dramatically impacts how the coat warms. It is vital to consider it regardless of the style. The material affects how warm and cozy the coat will be. You want a fabric that gives ample warmth and keeps out moisture for a comfortable experience. Some fantastic fabrics include:
Wool
Nylon
Polyester
Cashmere
Length
The length you choose for the jacket depends on your plan. For example, a cropped jacket will be a great choice if you plan to go hiking or skiing. It will keep you warm without interfering with your movement. A cropped jacket is also ideal for long walks on the street. However, if you plan to wear the coat for leisure, pick something at the mid-thigh level. Other details include closed cuffs, adjustable drawstrings, and stretchy or hemlines. Make sure your jacket has sealed seams to prevent rainwater and wind from penetrating.
When buying your winter coat, it is also advisable to check the wash-care guidelines to know how to take good care of it. Remember how you wash the jacket affects its ability to retain heat and performance. Avoid using harsh detergents to prevent damaging the waterproof layer. Speedy spin cycles will also damage the fabric.
Some people prefer hoodless coats because of the weight and ease of folding. However, jackets with detachable hoods around the collar are also insulated for warmth. If you are a climber, you will need a helmet-compatible hood. Avoid an oversized hood if you are a non-climber since it will look awkward.
Choose a winter coat with more pockets. It adds storage but also weight and bulk. The pockets could also raise the jacket's price. Zipped pockets provide secure storage, but an open one offers open access.
Some winter coats have Velcro tabs to make it easy for the wrist to fit. The cuffs help seal cold air and wind. Some jackets have an elastic trim to make them fit precisely and have less bulk.
Some jackets may have pockets with flaps to protect from the rain. Others have water-resistant sips to remove the bulk flaps.
Check if the jacket has security pockets. These are pockets hidden inside the jacket with a zipper. You can use them to keep valuables.
These pockets come in handy for storing gloves and hats. They are open and inside the jacket. Mostly, they are behind side pockets.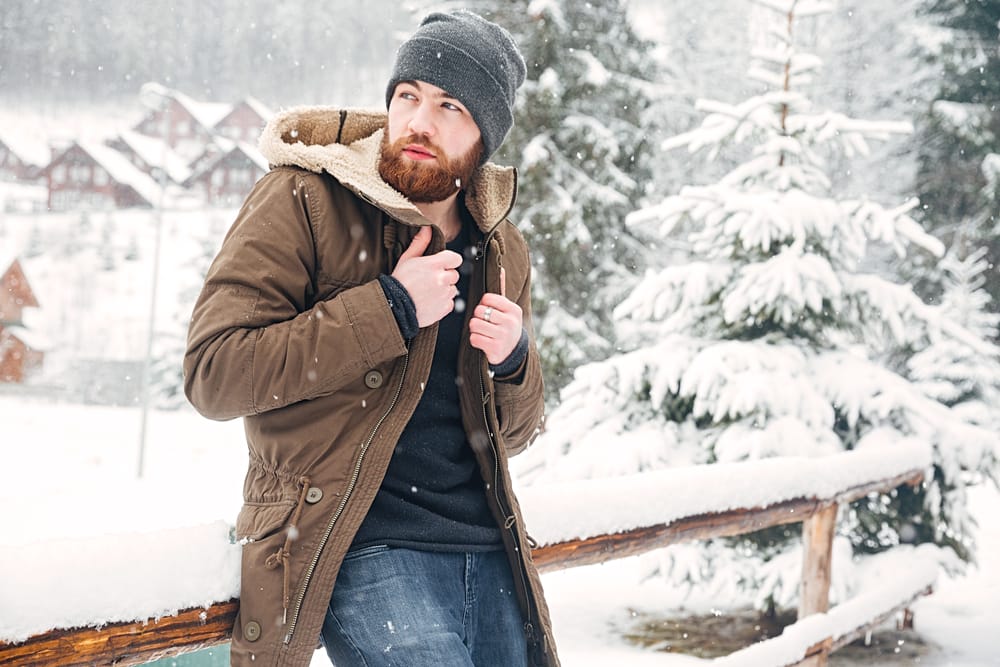 In Conclusion
We hope you now have a good idea of how to buy a warm winter jacket. While you can use these metrics to guide you in buying a warm coat, there is no one-size-fits-all option. You choose what suits you best. Make sure you choose a coat that will keep you comfortable and warm. There will be no point in wearing an expensive jacket if it cannot protect you from the cold during inter. So, use the factors mentioned to buy a helpful winter jacket. Enjoy the cold season with all the warmth you can get.