Secretive, romantic Lake Iseo is the smallest of the four major lakes of Lombardy. This unspoilt, picturesque gem is accessible from many of the resorts around Lake Garda: so if you are staying in this area why not pay it a visit. You are unlikely to be disappointed.
Getting there
The easiest way is to opt for an organised tour. But, depending upon where you are staying, getting there by public transport is both simple and cheap. Firstly you must head for Brescia, which is easily reached by train from Desenzano and Peschiera or by the regular bus service that runs from Gardone and Salò. Trains to Iseo from Brescia depart from platforms marked 2 ovest or 3 ovest, which are tucked away to the side of platform 1. The journey takes about 30 minutes, then after leaving the railway station aim straight ahead, and within a few minutes you will reach the tranquil port of Iseo. Tranquil that is apart from Friday, when you will have to thread your way through an extensive and bustling street market.
Lake Iseo and Monte Isola
Nestling between sometimes snow-capped, low mountains and surrounded by woodland, this ethereal, timeless, narrow, elongated 'S' shaped lake stretches some 25km. Dotted along the lakeside and connected by a pleasant coastal road are some of Italy's most attractive port settlements. Rising majestically out of the lake to a height of 600m is the evocative Monte Isola, reputedly the largest inhabited lake island in Europe. Ferries connect the island to the major settlements around the lake.
Monte Isola is a walker's delight, with car free paths linking its ancient hamlets, the highest of which is Cure (460m). From here a steep, rugged pathway leads to the Madonna della Ceriola shrine (600m). But unless you are fit and have carefully calculated the available time this is probably beyond the scope of a day visit.
Instead you might choose a leisurely waterside stroll, enjoying the superb views, soaking up the ambience of a gentler time and perhaps sampling some of the fine local cuisine. A friend of mine from Desenzano assures me that the best salami in Italy can be found on Monte Isola.
Suggestions for making the most of your day at Lake Iseo
Upon arrival it may be a good idea to head for the friendly and very helpful Tourist Information, which is located a short distance from the Iseo ferry stop – to the right and along the waterfront. Here you can pick up a ferry timetable, an Iseo street plan and a map of Monte Isola, which includes handy estimates of walking times between the hamlets on the island. The possibility of a 3 island lake tour (Monte Isola and two tiny islands) can also be investigated.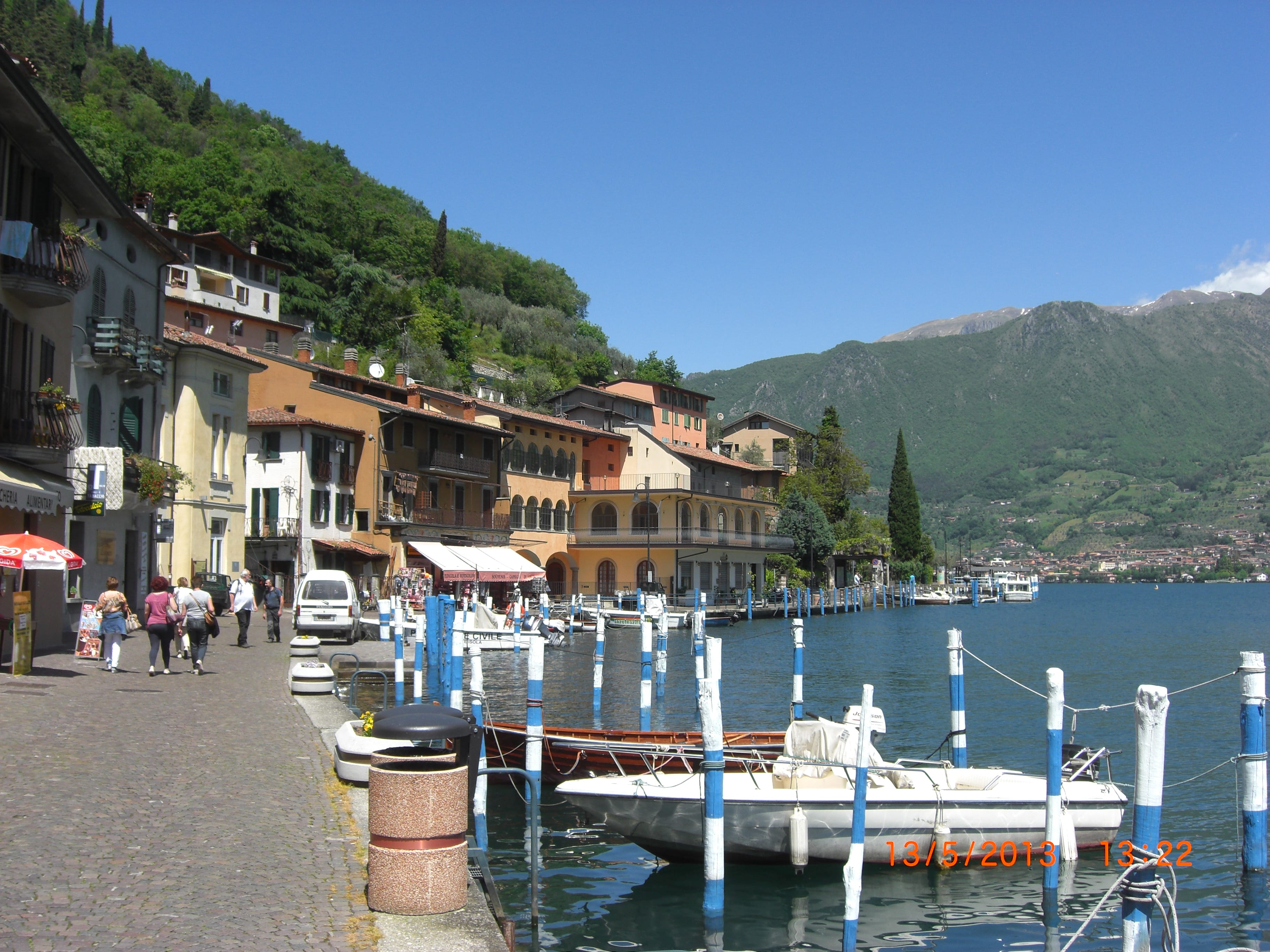 A very reasonably priced ferry takes you to Monte Isola, with Peschiera Maraglio being the destination favoured by many visitors. Peschiera Maraglio is a tiny, picturesque village, which has the ambience of a bygone era. But it is not a village preserved in aspic for the sole benefit of tourists – it is a working fishing port, where traditional fishing boats are moored, boats are built and nets repaired.
Alternatively, if you catch the right ferry, you can disembark in Sensole, and enjoy a 30 minute lakeside walk to Peschiera Maraglio. Upon leaving the ferry you almost stumble into a sleepy, welcoming Trattoria, which invites you to take a coffee break before turning right onto the cobbled path that soon joins the narrow road leading to Peschiera Maraglio. You don't have to worry much about cars on Monte Isola, but there is the occasional scooter ridden by a person seemingly oblivious to the 10km speed limit. But the walk is extremely pleasant, with gorgeous views of the lake. Along the way you pass a sizeable hillside cat sanctuary, where contented felines recline in hammocks, hide in long grass or climb rope ladders. Approaching Peschiera Maraglio you might notice a magnificent star jasmine arch, the entrance to an inviting café.
Although the lake with its stunning island is quite obviously the reason for your visit, the historic centre of the town of Iseo is worthy of exploration. The lively Piazza Garibaldi is dominated by a monument to Giuseppe Garibaldi, which is said to be the first monument in Italy dedicated to the great man.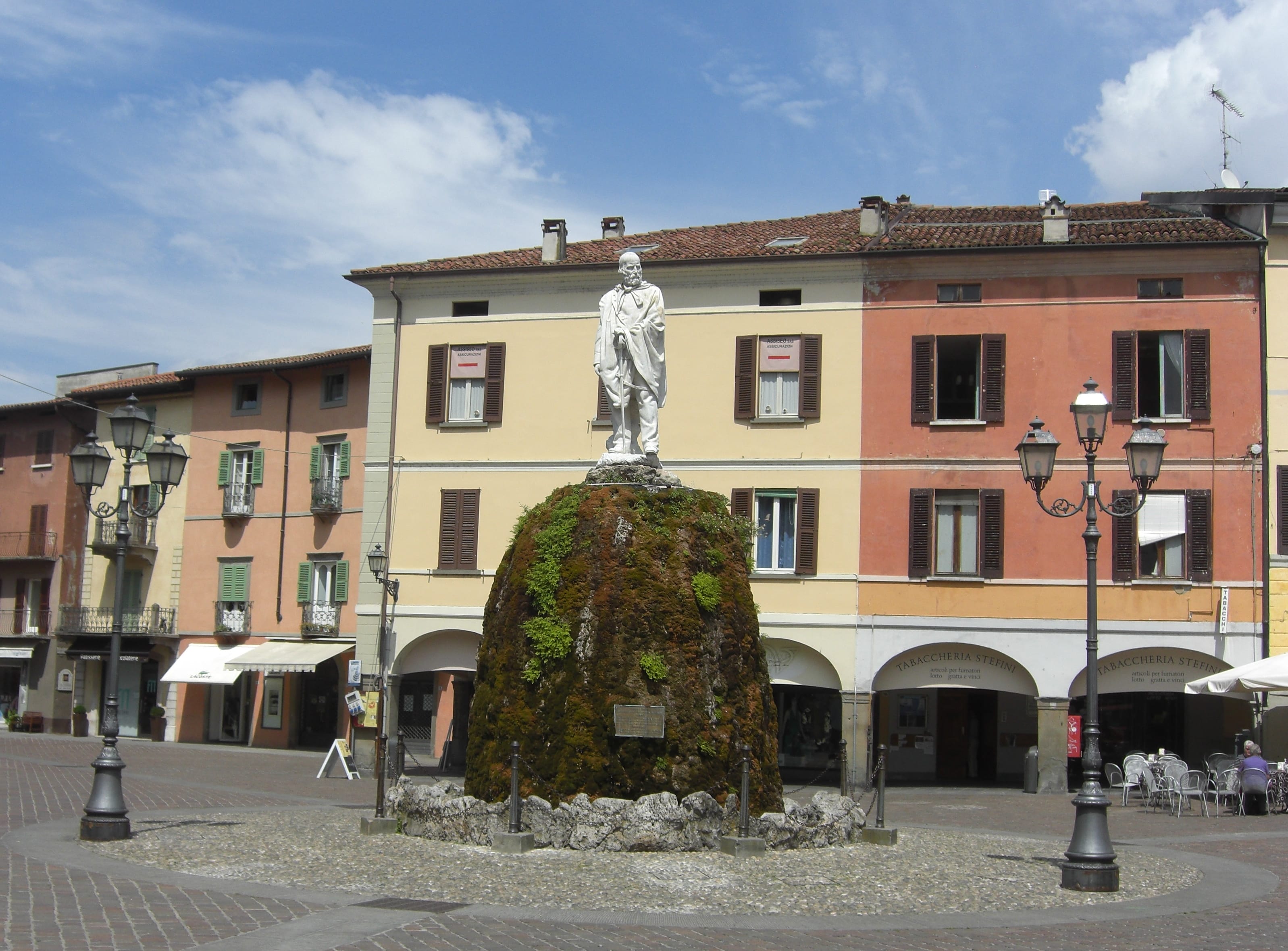 Clustered in the area surrounding the small Piazza Sagrato are ancient, well preserved ecclesiastical buildings. These include the 12th century parish church of San Andrea, with its bell tower and impressive frontage and the 13th century church of San Silvestro. A more recent addition is the 18th century church of San Giovanni. The small Castello Oldofredi (12th – 14th century) now houses an auditorium, library and the Museum of the Two Wars (open Saturday and Sunday, free entrance). Close by is the church of the Madonna della Neve (1656) in front of which is a small tranquil area that offers the opportunity for rest and quiet contemplation. A short step away, in the via Manica, is the Civic Museum (open Wednesday-Sunday 10.00-12.30).
A day can only give a taste of what Lake Iseo has to offer, but it will surely make you wonder why this scenic gem has been so neglected by all but Italian tourists.
Transport costs of my day at Lake Iseo (May 2014)
Regional train, return Desenzano to Iseo (via Brescia) €10.60
Ferry, Iseo to Sensole € 3.10
Ferry, Peschiera M. to Iseo €3.10