Attractive Desenzano (population c. 25,000) is the largest town on the gentle southern shore of Lake Garda. Its excellent boat, bus and train connections make it the gateway to the region and hence the ideal base for further exploration.
The town
Desenzano is a working town of charm and style. Tourism blends easily into its day to day life, with its many cafés, bars and restaurants creating a relaxing atmosphere.
Although a rather busy road runs alongside the waterfront, the main shopping street is pedestrianised. Desenzano is a fairly up-market commercial town and the shops reflect this. In the Piazza Malvezzi, for instance, there is a shop selling quality cashmere garments, above which is a gallery selling fine works of art, including paintings by important Brescian artists. If you choose to wander around the many fascinating side streets and alleyways, you will probably soon find a tiny café, well used by locals, where you can enjoy a cappuccino or an aperol at a price significantly less than that charged by more glitzy establishments.
Desenzano has two harbours. Ferries, hydrofoils and catamarans leave from the impressive large harbour. Most will dock at the jetty by the ticket office, but beware – some leave from a jetty 100m or so away. The tiny, old harbour is a delight by day and magical by night. Only small boats can moor there as entrance is under a low bridge. Cafés and restaurants line the sides of this harbour, and at the back, housed in an old building is the spacious tourist information office.
Main attractions   
At the end of the main street sits the imposing 16th century Duomo, which boasts a fine Tiepolo painting.
The town's Roman connections are revealed by the Villa Romana, now a small open air museum exhibiting some very impressive mosaics. You can watch an informative film about the site: several language options are offered via a touch screen facility.
Close to the old harbour is the Piazza Malvezzi, home to some interesting buildings including the 16th century town hall. On some Sunday mornings a flea market is held here.
The Museo Civico Archeologico houses prehistoric and Bronze Age artefacts, together with what is claimed to be the oldest known wooden plough. Its opening hours, however, are rather restricted.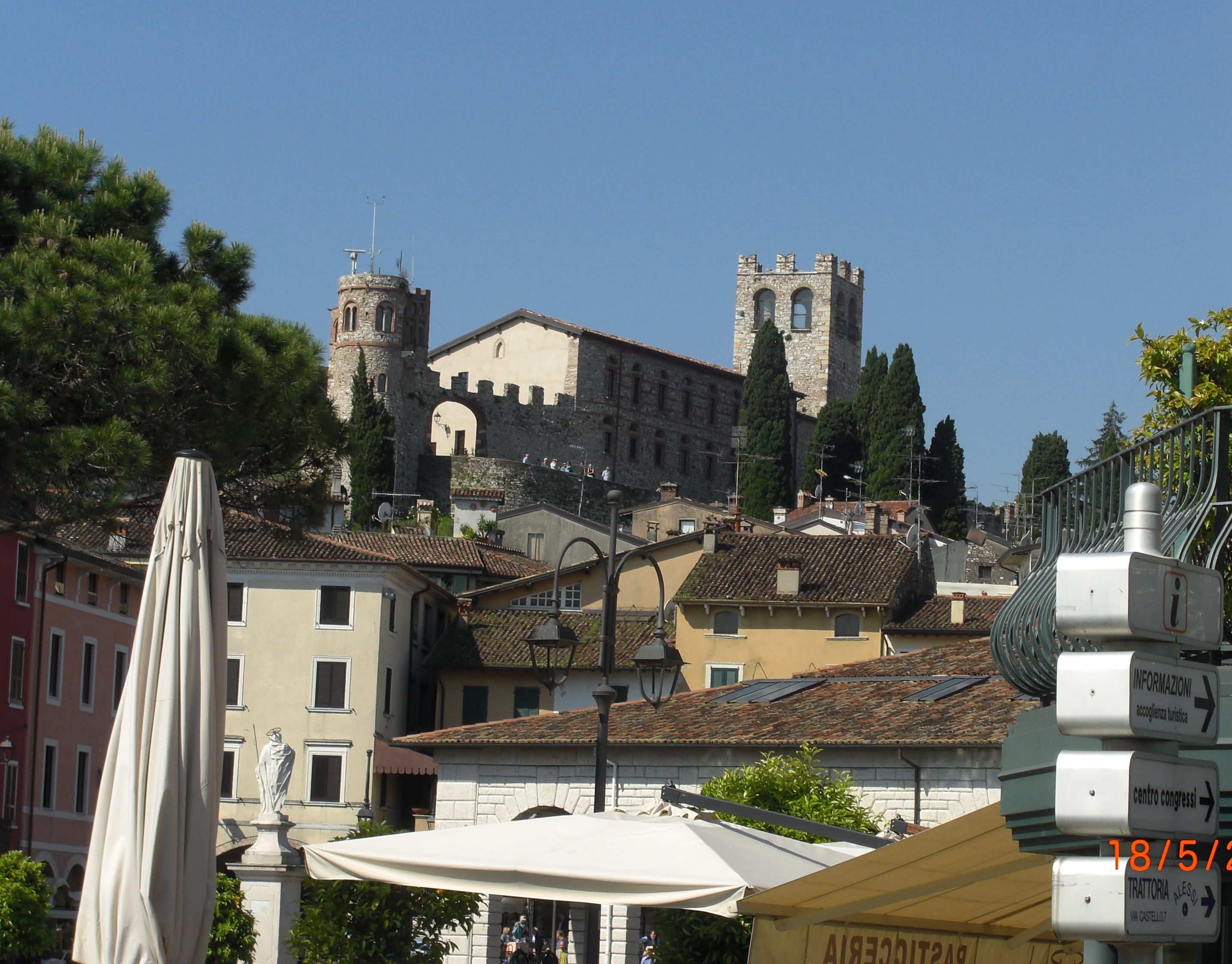 A short, steep pull up the via Castello brings you to the castle, which in 2013 was still undergoing renovation. Even if access to the castle is rather limited, the views of the lake over Desenzano's tiled roofs will make your effort worthwhile. If you have the time and the energy you can carry on for a couple of hundred metres to the shady Piazza Garibaldi, a tranquil square where locals sit and chat.
Mille Miglia
For lovers of classic and vintage cars, Desenzano in mid May means just one thing – the Mille Miglia, which is perhaps the world's most exclusive car race. About four hundred cars, all selected from models that raced between 1927 and 1957, take part in this Brescia to Rome round trip, which passes through Desenzano on the first evening of the race.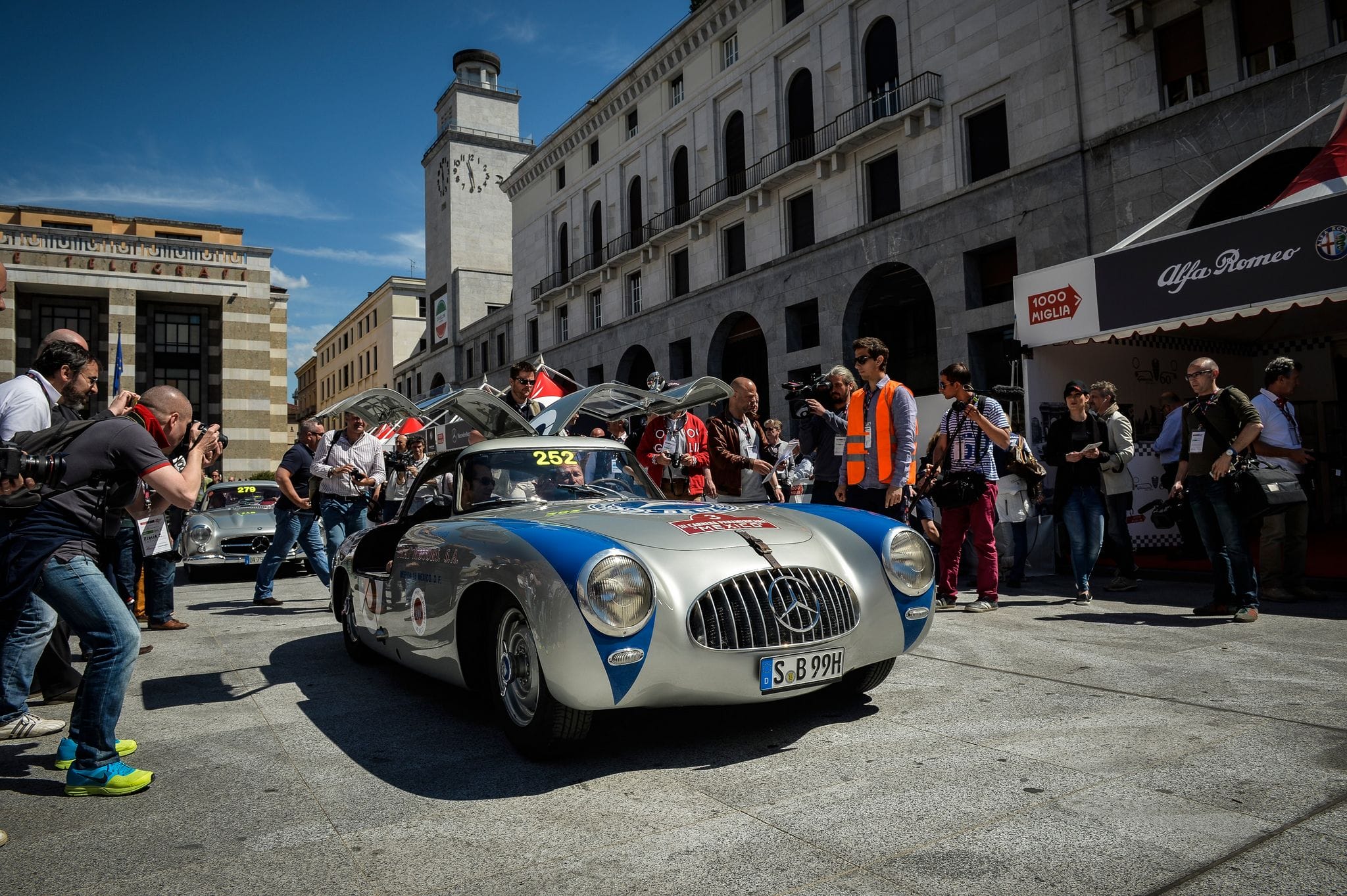 The race commences in the evening, so many enthusiasts will head for Brescia during that day to gain a close-up view of the cars gathering for the start, before returning to Desenzano to enjoy the spectacle of the seemingly endless parade of cars along the lakeside road.
Transport
Desenzano is better served by public transport than any other resort around Lake Garda.
Boat
Times and Destinations of the boats vary with the seasons: up to date information can be found on www.navigazionelaghi.it
Lake Garda is Italy's largest lake so although boat travel is the best way to relax and enjoy its beauty, it is also very time consuming. The longest journey, from Desenzano to Riva, can take up to three hours, even on the fast boat (servizio rapido).
Bus
Buses stop at the railway station and/or the port. Tourist information will provide all the timetables you need.
A bus service runs from Desenzano along the western side of the lake to Riva: stopping points include Salò, Gardone, Gargnano and Limone.
To reach the resorts on the eastern side of the lake e.g. Lazise, Bardolino, Garda, Torri del Benaco and Malcesine you must take the Verona bus and then change at Peschiera.
It is much cheaper to travel by bus than by boat, and it can be quicker e.g. Desenzano to Gardone: Bus 38minutes
Boat 1 hour 35minutes
Rapid Boat 1 hour 15 minutes
Bus services vary depending upon whether it is a workday, Sunday or public holiday, so it is vital that you study the timetable carefully. And on market day (Tuesday) buses do not stop at the port.
Train
Desenzano station is on the main line that runs from Venice to Milan. To reach it head up via S. Angela Merici. It is a fairly unrelenting uphill walk of 15-20minutes, so under a scorching summer sun you may prefer to take a bus up to the station.
Desenzano to Venice by the fast train takes about 1hour 30minutes. Stops include Verona (20 mins), Vicenza (45 mins) and Padua (1 hour).
Desenzano to Milan by the fast train is about 1 hour, including a stop at Brescia (15 mins).
Seat reservation may be obligatory on a fast train. Regionale trains are slower, but much cheaper. Most, however, terminate at Verona, ruling out Vicenza, Padua and Venice.
Other possibilities for a day visit include:
Bergamo, Cremona, Lake Iseo – change at Brescia.
Mantua, Rovereto, Bolzano – change at Verona
When travelling by train in Italy it is essential that you validate your ticket, using one of the machines on the platform, before boarding, failure to do so may prove expensive!