(Last Updated On: January 28, 2022)
Malcesine lies on the eastern shore of Lake Garda, nestling picturesquely between the turquoise lake and the lower green slopes of the Monte Baldo range. It is one of Lake Garda's prime holiday destinations, drawing many day visitors from the other resorts around the lake, for whom Malcesine is one of the 'must see' places on their holiday itinerary.
Getting there
Malcesine can be reached by buses that run fairly regularly from Riva (25 minutes), Torbole (18 minutes), Torri Del Benaco (30 minutes), Garda (45 minutes), Bardolino (50 minutes), Lazise (1 hour) and Peschiera (1 hour 15 minutes).
The Malcesine bus station is adjacent to the Tourist Information Office, and is conveniently close to the Monte Baldo cableway.
If you are staying at the northern resorts of Limone, Riva or Torbole, then Malcesine is readily accessible by boat. But if you are based in Desenzano or Sirmione the journey is long and the rapid service, which is significantly more costly, is the only practical option. And even this can take 2 hours 30 mins from Desenzano. If you intend to visit more than one resort on your day out then savings can be made by purchasing a boat day ticket for the whole of Lake Garda.
The town
The small, compact town is dominated by the magnificent Castello Scaligero, which sits proudly in an elevated lakeside position. Ferries arrive at a small harbour that is surrounded by cafés and restaurants. Nearby is the 15th century Palazzo dei Capitani, the HQ of the captains of the lake when the Venetians ruled, which after the castle is the town's most important building.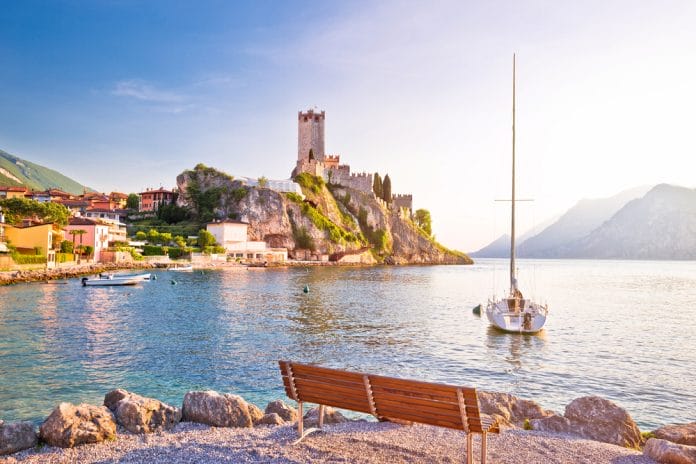 Malcesine's steepish, cobbled streets are lined with the usual tourist shops. There are some very narrow atmospheric alleyways, occasional stone arches and several intimate attractive piazzas, where you can sit, relax and watch the world go by while enjoying a drink or ice cream at one of the many cafés, bars and restaurants. The price of food and drinks seems a tad cheaper than at some of the lake resorts – perhaps only a euro here or a euro there, but it all helps. On our recent visit we found a bar, whose very reasonably priced carafe of house white wine was of a quality that far exceeded expectations.
Castello Scaligero
The original castle, built by the Lombards, had a relatively short life before being destroyed by the Franks in 591, who then rebuilt it a couple of hundred years later. From 1277 until 1387 it was occupied by the Della Scala family, who began to shape the present structure. The bell, cast in 1442, is still in working order. Over the following centuries it was occupied by Visconti of Milan, the Venetians, the French and the Austrians. In 1902 the castle was designated a National Monument.
Today it houses the Museum of Natural History of Monte Baldo and Lake Garda. Renovated and modernised in 2008 it now offers an up-to-date multimedia experience. There is also a room dedicated to the great German writer Goethe whose sketching of the castle alerted the authorities, who interrogated him on suspicion of spying.
From April to October the castle and Museum have visitor friendly opening hours – daily from 9.30am to 5.30/6.30pm. From November to March it only opens on Saturday and Sunday – 11.30am to 4.00pm.
Lakeside walks
The possibility of a pleasant lakeside walk may not seem immediately obvious to the day visitor, but with a little searching the start of pedestrian/ cycle paths can be easily located. The path heading south is perhaps the more interesting. It leads past shingle beaches to Val di Sogno (valley of dreams). Here you pass two of Lake Garda's five islands. If time allows, you can press on to the old fishing village of Cassone (about 1 hour) passing Europe's shortest river (175cm long).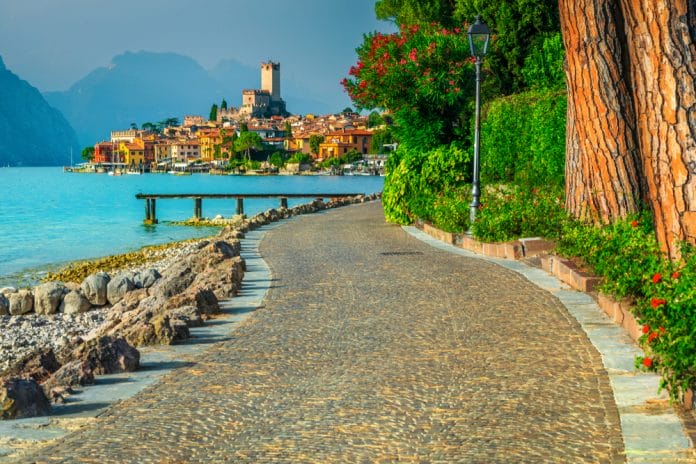 Cassone is home to the Museo del lago, which is dedicated to the history of the fishing industry. Opening hours: Tuesday to Sunday 10.00 – 13.00/ 15.00 – 18.00
Monte Baldo Cableway
This is the magnet that attracts many of Malcesine's visitors. While most will be looking forward to experiencing the mountain terrain and enjoying magnificent views, the more active will be there for some serious mountain hiking, biking or paragliding.
For such an important attraction it is surprising that the town is woefully short of direction signs. If you arrive by bus this isn't a problem as the bus station is close to the start of the cableway. If you arrive by ferry you must head uphill through the town, turn left for a short way along a busy main road, and cross via one of the underpasses.
The journey to the top station is in two stages. The first is in a cable car that holds 45. Over the lower slopes it passes over hazy grey olive groves, and then on above the trees to Stazione San Michele, an interchange at 575m. You may have a short wait here before boarding a larger cable car (80 persons). This cable car completes a 360? rotation affording magnificent views before reaching Stazione Monte Baldo (1760m). Here there are a couple of restaurants/cafés, and another lies a short distance away.
Walking paths are well made and well signed. A path to the left takes you on a short fairly easy walk, across meadow land, to a viewing point, which offers superb views of the lake and the Dolomites. There are many other possibilities if you have the time and are kitted out for mountain walking. You can, for instance, trek to Cima Valdritta (2218m) the highest point of the Monte Baldo range.
But even if you intend to spend a leisurely hour or so on the mountain, it is wise to remember that temperatures are lower and UV light intensity higher than at the lakeside.
Descending to Malcesine may involve a wait at the interchange as the 80 passengers in the large cable car cannot fit into the waiting smaller cable car, which completes the descent.
Times, tickets and queues:
The Monte Baldo cable car website will provide you with up to date times, prices and reductions. It is particularly important that cyclists check this out as there are restrictions. We usually visit in early May, and have not encountered problems with queues; however, we were advised that in high season, in good weather, there could be a 1-2 hour wait. We were also advised that queuing times tend to be less on Fridays.