When you're travelling somewhere that doesn't have great mobile reception, it pays to take a long-range radio with you. Otherwise known as walkie-talkies, these devices will let you communicate with someone else over a distance, meaning you don't have to worry about seeing the dreaded "no bars" on your phone.
Depending on where you're going, certain ranges will suit you better than others, but in general, if money is no object, it pays to go for the longest range radio you possibly can. That way, you'll ensure that no matter how far you get from your partner (within reason, of course), you won't stray away from safety. Here are the best, longest-range walkie talkies you can get in 2023.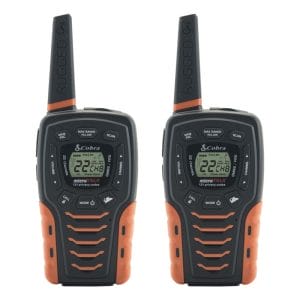 These walkie-talkies boast a 35-mile range, which should be enough to cover even the most intrepid of outdoor adventures. Of course, they're also built to withstand demanding environmental conditions, which means that even if the rain is lashing down outside, you should be able to use them with no problem. In short, if you're after a rugged, hard-wearing walkie talkie with a great range, this option from Cobra should be your first port of call.
Motorola's marketing boasts that these radios are "built tough to do business better", and they certainly live up to that remit as far as we're concerned. The XT460 is built for on-site use, so it's best for areas like construction sites or anywhere that you'll need to cover a smaller distance. However, they've also got great audio, which means that when things get loud – as they often do on construction sites – you should still be able to hear the person with whom you're communicating loudly and clearly.
Advertising a range of up to 20 miles (although the audio quality does seemingly begin to suffer if obstructions are placed between you and your partner), these walkie talkies are ready for whatever you want to throw at them. The pack contains three walkie talkies, which means you can hand another one to a designated "safety officer" or simply take another person with you on your walk. With clear audio, an LCD display to give you more info about your status, and easy controls, these are great walkie talkies for exploring.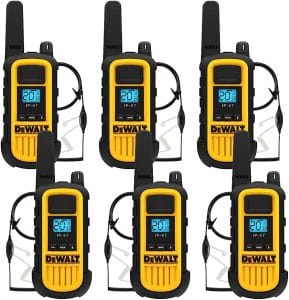 You're going to be paying a bit of a premium for these walkie talkies, but in return for an increased cost, you're getting serious quality here. These are tough walkie talkies indeed, designed to withstand even the harshest of conditions; dropping them from a height most likely won't damage them. They also come with headsets so that you can understand the person you're talking to better, as well as waterproofing to help protect them from storms and rainy conditions.
Dynascan is one of the biggest and most trusted names in walkie talkie technology, and the R-77 is no exception to that rule. You can customise this walkie talkie using PC software, so you can change its functionality as you see fit, and with a 6-mile range, it should be suitable for outdoor adventuring, work site communication, and urban exploration alike. These units don't always come in pairs, so you'll need to buy them one at a time, but they're well worth the extra expenditure.
If you prefer a sleeker, more understated look to your long-range radio, then the Samcom FPCN10A should be perfect for you. It might not be the longest range radio out there, but its maximum 5-mile range should still be more than sufficient for communicating with coworkers or managing sites. The FPCN10A's 3000mAh battery also means it should last for a pretty long time without needing to charge, and you'll get the battery back up to speed in just a few hours, which means fewer disruptions.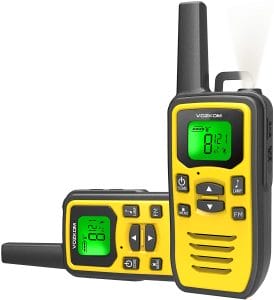 Not only does the GT60S have an incredible 40km range (that works out at around 24 miles, which should be enough for pretty much any purpose you'd care to use a walkie talkie for), but it's also a ruggedly-built monster that can withstand whatever perilous conditions you'd care to throw at it (or, indeed, throw it into). The battery should last you a good while before you need to recharge it, and you can even use it hands-free, so you're free to climb whatever vertiginous mountain surface you need to while you're using it.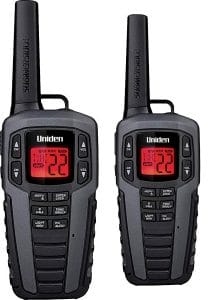 A quick disclaimer: although these walkie talkies are rated up to a whopping 50 miles, you may not find that they manage to reach that range very often. Still, even if they hit half of that distance, they'll still be an invaluable tool for workplace communication or long-distance navigation, and they look the part, too, thanks to their sleek black chassis and stylish red LCD screens. If you need a good-quality walkie talkie for work or personal use, you should look no further than this Uniden option.
If you opt for these Retevis walkie talkies, you're getting an impressive 6 in the pack for a good price, so it's worth it if you need to equip a full workforce with radios for communication. These walkie talkies can also communicate with others using the PMR446 standard, so even if someone else in your workforce is using a different walkie talkie, you might still be able to maintain communication with them. While the range isn't incredible, the RT668 should still more than suffice for most walkie talkie needs.