Have you ever been to Alnmouth? If you haven't, you really should go. This beautiful coastal village can be found just 4 miles from Alnwick, and although its population is tiny – under 500 at last count – it boasts some of the most jaw-dropping views of the Northumberland coast you're likely to find. After all, there's a good reason that this area is considered part of Northumberland's Area of Outstanding Natural Beauty!
If you're planning a visit to this lovely town at some point, you're probably wondering what some of the best walks in Alnmouth are. Where can you go that takes in the region's astounding aesthetic appeal and gives you some exercise into the bargain? Well, no matter where you go, you're likely to find something truly unforgettable, but here are some of the best walking routes in Alnmouth that you can take right now.
The Alnmouth Circular
As documented by AllTrails, this circular walk takes in around 6.4 kilometres of scenery, giving you an extensive view not only of the Alnmouth coast but also of Alnwick and the countryside between. It'll take you around an hour and a half to walk the full circuit, so make sure to pack enough provisions to keep you going! It's also important to ensure that you keep an eye on the tide, because parts of the beach this walk takes in might be inaccessible depending on when you decide to go.
Beach to Warkworth Castle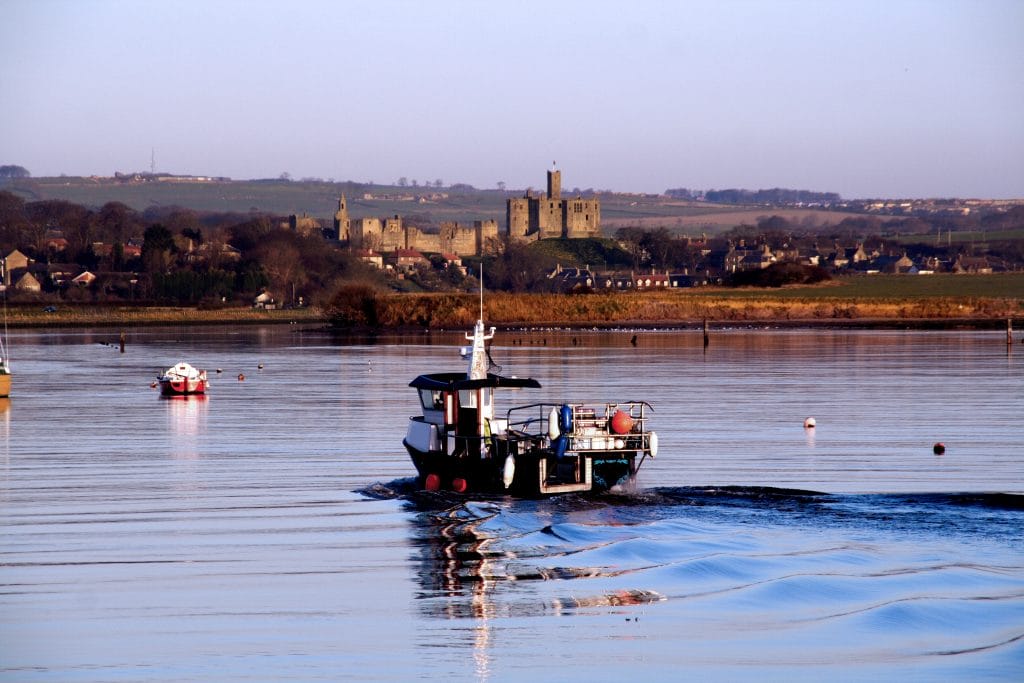 This lovely walk comes courtesy of The Outdoor Guide, where you'll find a host of other excellent walks around Britain as well. You'll begin in Alnmouth itself, where you can take in the Tobermory-style houses (and that's another village you should definitely visit), before winding your way through the wilderness and the beach. As you might expect from Alnmouth and its surrounding areas, this is a fairly isolated walk, but you'll find lots of beautiful birds to spot along the way!
Alternative Alnmouth Circular
Brought to you by Northern Railway, this is an alternative way to see Alnmouth and its surrounding areas, and it's a much longer walk than you might be accustomed to. The walk takes in 12 kilometres of Northumberland coastline and countryside, and it'll take you about 3 and a half hours to finish, so make sure to pack a picnic. Some of the walk won't be pathed, either, so you'll need to make your way through fields over fairly uneven terrain. For the most part, though, the walk is nice and simple, if lengthy.
Around and through Alnmouth
The popular walk-documenting website Andrew's Walks, started in 2013 by an avid walking enthusiast, suggests this particular walk, which also comes with some beautiful high-resolution photographs to give you a guide as to where you'll be walking. The countryside looks especially gorgeous with massive grey clouds looming overhead, and the beach seems to stretch on for miles and miles, with the sea just a distant jewel in Northumberland's crown.
Warkworth to Alnmouth
The route that connects Alnmouth to Warkworth is one of the most picturesque and beautiful routes there is, but why not start from the opposite end and work your way back towards the village? This walk, which is brought to you by Hiking Photographer, shows you just how to do that, and also includes an Ordnance Survey map so you can see exactly where you're going. It's a very similar walk to the one we listed earlier, but you complete it in reverse, so you'll wind up back in Alnmouth surrounded by its beautiful houses.
Another Alnmouth Circular
We're walking around Alnmouth in a lengthy circle again, but this one comes via Anywhere We Roam, where you'll also find a selection of excellent Northumberland walks that take you just a little further out than Alnmouth (all of which are worth tackling if you're looking for some picturesque and challenging exercise!). The walk takes you through much of Alnmouth's countryside and leaves you back in the village when you return, where you're free to buy tasty food and grab some coffee to refuel after your trek.
Alnmouth to Boulmer Beach
This walk, which you can find over on GPS Cycle and Walking Routes, will take you along Northumberland's golden, shimmering coast, starting you off in Alnmouth and leading you all the way to the beautiful Boulmer Beach. Along the way, you'll get some breathtaking views of the coastline and the sea beyond. This isn't a particularly taxing walk; it's just under 5 kilometres, so it should be perfect for either a leisurely stroll or a more active power walk-style workout. If you want to keep going, you can follow the marked-out Northumberland Coast Path, which leads all the way to Warkworth or Craster, depending on direction.
Alnmouth self-guided trails
We're cheating just a little bit for this one, but the best way to experience Alnmouth walks is simply to visit the village yourself and grab one of its self-guided trail books. They're available from several shops in the village, and they'll take you along one of six predetermined routes, which you can experience however you like. The shortest walk is just 1.2 kilometres or so, while the longest will run you a staggering 17 kilometres. Suffice it to say you shouldn't take on this latter walk unless you're serious about the business of seeing Alnmouth through the medium of walking!