Bruges is a small, beautiful, well-preserved medieval city in the North West corner of Belgium. It is unashamedly a tourist magnet and attracts visitors from all over the world. The city is easily accessible and is safe to walk around with cobbled streets, pedestrianised areas and picturesque canal side walks. An alternative to walking around the sights would be to take a 30 minute tour of the city in a horse drawn carriage from the Market Square or there are canal trips which give
excellent views of the city from a different perspective. It is also possible to visit the small village of Damme, four miles North East of Bruges, by canal boat which can be caught on the outskirts of Bruges. The boat runs from April to
the end of September at two hourly intervals, as the quay is a short walk to the outskirts of Bruges along the canal it is advisable to allow sufficient time to get there.
For art lovers the Groeninge Museum offers an impressive collection of Flemish art with paintings from the 15th century to the present day. The Brangwyn museum is a small museum which houses the collection of Bruges born
British artist Frank Brangwyn (1867-1956); it also hosts temporary modern exhibitions. A small but important display of the paintings by Flemish artist Hans Memling (1440-94) can be seen in St. John's Hospital. The Gruuthuse museum, once the home of a Flemish knight, Louis Van Gruuthuse, has been carefully restored and gives an insight into the domestic life of the early citizens of Bruges with a wide collection of artifacts on display. One of the most original and quirky museums you will come across is the 'Chip Museum' and should not be missed. Fries are a Belgian speciality and, they would claim, a Belgian invention. As visitors make their way around the museum they will learn about the origins
and cultivation of many potato varieties along with the history of fries and the equipment used throughout the ages in making them. The tour of the museum culminates with a visit to the museum café where cones of the best fries you will ever taste are on sale for a modest charge.
Bruges has many other attractions apart from the visual and the cultural – namely food and drink. Beer drinking and brewing has a long tradition in Belgium and is taken as seriously as choosing and sampling a fine wine. A number of breweries were started centuries ago by the monks and Trappist beers are still produced today. Bars offer an overwhelming choice of speciality beers and it is not unusual for some to stock more than 300 different types! Beers can be flavoured with fruit or other infusions, some are rare and some are high strength. In spite of the Belgian dedication to beer drinking, you will not witness any drunken behaviour in the streets of Bruges, such beer drinkers are connoisseurs where
quality matters more than quantity!
Belgian food is hearty and influenced by Dutch and French cuisine. A favourite restaurant dish in Bruges is the racks of beef ribs which are served with a choice of sauces and fries. A restaurant worthy of a visit is 'Ribs and Beer' situated in Ezelstraat, a five minute walk from the Market Square, where the ribs are unlimited – so go with a big appetite! There is a tempting choice of sauces but the chocolate sauce, a house speciality, is highly recommended – do not be put off by the idea of chocolate with beef, this sauce is rich and savoury. The restaurant is not large and because of its popularity it is advisable to reserve a table. There are many restaurants catering for all tastes and pockets, in addition most of the cafes and bars provide simple menus. If you are visiting Bruges on a limited budget, you can buy a tub of fries in the Market Square from the frituurs and sit and watch the world go by.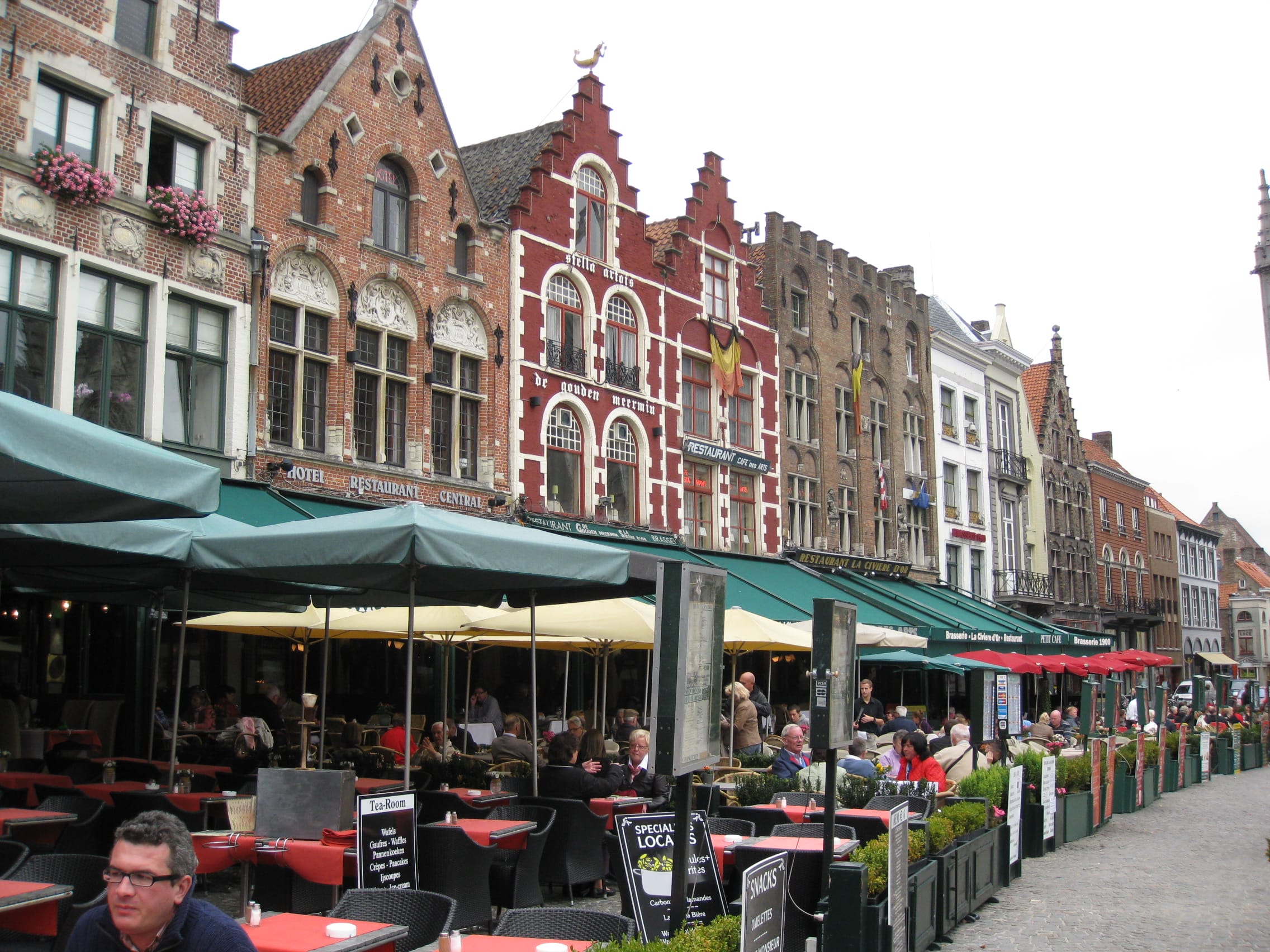 For those with a sweet tooth, Bruges caters very well. Belgian chocolate is famous throughout the world with more than fifty chocolatiers providing innovative and indulgent chocolates for the many chocolate shops around the city. If interest in chocolate goes further than eating it, then the small 'Choco Story' chocolate museum would be worth a visit. Often the chocolate shops have an adjoining tea room or café where the famous Belgian chocolate drink can be sampled along with delicate patisseries. The Old Chocolate house in Mariastraat is such a place. Quaint and atmospheric, the old building houses a chocolate shop on the ground floor and a small tea room upstairs where light snacks, cakes and huge cups of delicious hot chocolate are served.
Bruges is easily reached by Eurostar from London with a quick change of train in Brussels. The nearest international airport to Bruges is Brussels Airport, 9 km from the city. There are frequent trains from the airport into central Brussels where there are regularconnections to Bruges. Bruges is ideal for a short city break at any time of year or for a longer stay it is a convenient base for visiting the town of Ghent or Ypres and the World War 1 battle fields. All visitors are catered for with a wide range of accommodation to suit all tastes and budgets from hostels, b&bs to up market hotels.
Those visiting Bruges for the first time will not fail to be impressed by this delightful of cities and the warm welcome they will receive.