Have you ever seen a picture of your favourite celebrity, lounging and enjoying the sun on what looks like a completely out-of-your-budget yacht in the turquoise waters of the Mediterranean? I mean, haven't we all?
The truth is, it might not be as out of reach as you once thought. Click&Boat has dove deep (excuse the pun) into the ways you can set sail and sample the tastes of the local vibrant cuisines at each stop.
With their guides, you have the choice of six thoughtfully crafted sailing routes starting from a single-day trip to an extravagant 10-day excursion, each offering a handpicked selection of the best eateries at every stop. With routes ranging from the mesmerising Caribbean coast to the historical Croatian waters, and budgets from modest, mid-range and high-end, there is truly something for everyone within their culinary treasure trove of routes.
What's even better is that these routes aren't exclusively for boat owners (or your favourite celeb on the cover of a glossy mag); they're accessible to everyone with Click&Boats rental options.
Let's have a look at one of our favourite routes.
Croatian Coastal Gastronomy
This 5-day sail departs from world-renown Split covering 140 nautical miles and calling port at Primosten, Skardin, Kornati and Karpije Islands and finally Veliki Drvenik. Although safe to travel any time of the year, the experts from Click&Boat recommend setting sail between April and September to get the best from the Mediterranean weather.
For the taste bud travellers seeking to explore culture through dishes, this Croatian route offers an array of top-rated restaurants with raving reviews. Expect to start your trip with traditional Mediterranean cuisine served in Sug, a small restaurant tucked away from the traditional tourist pathway and best known for its "Marenda".
As the adventure continues, your tastebuds are exposed to authentic Dalmatian flavours with top restaurants Kamenar and Konoba Robins, specialising in perfectly cooked calamari, grilled sardine and fresh vegetable pizza – not to mention their selection of great house wine, grappa and beer as noted by previously pleased visitors.
Last but definitely not least, this tantalizing trip rests at "Franka", a traditional Mediterranean and Croatian Cuisine eatery. As the saying goes, leave the best for last and in this case we can't argue the facts. Rated #1 of 103 restaurants in Trogir (TripAdvisor) and 4.7 stars on Google Reviews, this restaurant is a must-try for foodies at any given meal time.
Take a look at the full Croatian Coastal Gastronomy itinerary below.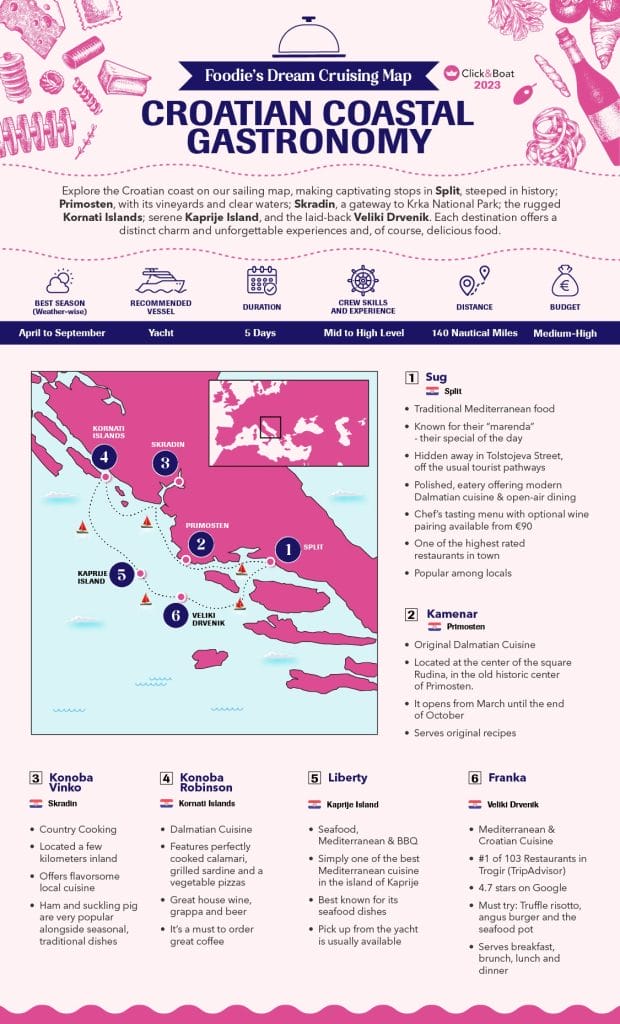 If you'd prefer the Flavours of España or a French Riviera Gourmet Oddessy, then head over to the Click&Boat blog where you can find the full rundown of the 6 different cruising maps.