To many British or European golfers, the USA may not be entirely known for its excellent golf courses, but the country certainly has plenty to offer. The nation that gave rise to Tiger Woods, Jack Nicklaus, and Phil Mickelson couldn't be a bad place to play golf, and that certainly proves true when looking at some of the best courses. The USA is a place of staggering natural beauty, and that beauty is reflected in its golf clubs. Here are the top 10 golf courses to check out in the USA.
1. Pine Valley Golf Club
It's pretty much impossible to put any course other than Pine Valley at the top of this list. Stunningly beautiful – do check out a drone flyover to see just how gorgeous the whole course is – Pine Valley is, as you might expect from the USA, a supersized course on which you often can't see the landing of your ball. Despite this, the course offers generosity in spades; you'll rarely get your ball stuck here. It's a course for a leisurely stroll rather than a tense test of skill.
2. Shinnecock Hills
This course has, like many great courses before it, been extensively remodeled throughout history. It's now a course full of beautiful rolling greens, devilishly placed water features, and plenty of bunkers that test your resolve. The routing is excellent – there's a real narrative to the course that's missing from many of its brethren, so if you like to feel like the course is complete, Shinnecock Hills is definitely where you should go. All golfers should visit this course at least once!
3. Cypress Point
There are no words to describe Cypress Point other than "staggeringly gorgeous". As one reviewer wrote, it's hard to believe that this stunning land was earmarked for a golf course, because Cypress Point looks like it should be protected as a spot of remarkable natural beauty. Luckily, the course itself is also amazing; it's full of tricky shots, but you've always got those breathtaking vistas to remind you that you're lucky to be where you are.
4. NGLA (National Golf Links of America)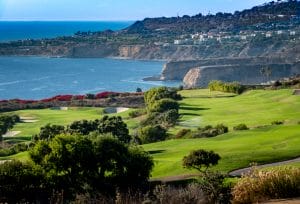 As you might expect from the name, NGLA is a links course, and it boasts the twin design standards of C.B. Macdonald and Seth Raynor. It's an intensely strategic, tactical course that demands mastery and perfection of its players, mostly due to its sheer size and level of difficulty. Macdonald was inspired by courses in the UK, but the execution with which he approached NGLA could only have been American; it's an impressive course that must be seen to be believed.
5. Augusta National
In recent times, there have been efforts to narrow the course corridors of the Augusta National club, which have been controversial amongst players. Nevertheless, this course remains a firm favourite in the hearts of any golfer who loves to play on US-based courses, mostly because of its gorgeously-maintained greens and surprisingly tricky little bunker placements. If you don't mind a little modernisation, then give Augusta National a try.
6. Oakmont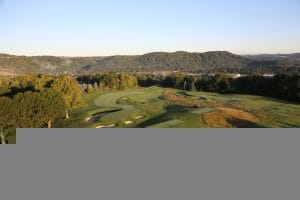 Oakmont is a real hardcore golfer's course. Right from the off, if you look at an aerial flyover of the course, you'll note just how brutally difficult it looks, and there's no let-up once you actually start playing. Sure, the course might seem like it's going your way, but suddenly you'll realise the greens are snaking away from you and that famous comb-style bunker is eating your shots right up. Don't play Oakmont if you don't want a serious challenge on your hands.
7. San Francisco
From Oakmont's remarkable reputation, we move to a course that is arguably drastically underappreciated by the golf cognoscenti. San Francisco is more famous for being the site of the USA's final legally permitted duel, in which a Supreme Court Justice killed a senator in the mid-19th century, than it is as a course, but that's unfair. Tom Doak's hand is visible on this course, which features rolling greens, a few great one-shot opportunities, and the best par-five going.
8. Pacific Dunes
The Pacific Dunes course is a great example of Tom Doak thinking outside the box and planning something unconventional that somehow manages to come together regardless. The second nine begins with a six-run set of pars that doesn't feel natural, but the brilliance of the challenge curve becomes apparent as you work your way through the course. The beauty of Pacific Dunes gradually reveals itself throughout its run, but the vistas don't need to be rushed.
9. Friar's Head
In many ways, Friar's Head resembles a pilgrimage; you're working your way towards the top of the hill in order to be rewarded by the gorgeous views this course offers. Friar's Head has continually been tweaked and worked on since its inception in order to provide the best possible experience, and its range of forested areas, dunes, and meadows make it a beautiful course as well as a challenging one. You'll get your money's worth from Friar's Head.
10. Crystal Downs
The fact that Crystal Downs has an overall par of 70 must be seen to be believed; try to play this course for the first time and tell us you don't at least double that as an amateur golfer (there's no shame!). This course isn't particularly long, but it makes up for its relative brevity in terms of challenge, offering one of the most fiendishly difficult golfing experiences in the USA. Make no mistake: Crystal Downs' deceptively simple exterior hides a real challenge for the seasoned golfer.