If you're looking for an exciting and bohemian destination, Porto is the place for you! This vibrant city is full of character, and there's plenty to see and do. From exploring the colourful streets to sampling the delicious food and wine, Porto will energise you. Plus, it's a great value destination – so you can enjoy all this without breaking the bank.
Porto is an exciting and bohemian city that has something for everyone, from faded grandeur to modern luxury. With a massive helping of poverty and decay in between, that is fascinating and disturbing at the same time. Read more on what ails Porto here.
Every street in Porto appears to have equal amounts of beautiful and ruined buildings, from gleaming family homes to crumbling derelict warehouses. This juxtaposition of old and new adds a unique edge to the city. It helps create an eclectic and inviting atmosphere – perfect for those seeking something more than just your typical tourist destination.
Porto is an exciting place to visit, with plenty of activities to keep you busy. From enjoying the city's lively nightlife to exploring its many attractions, there is something for everyone here. It's also an excellent destination for food and wine lovers – make sure you sample some of the delicious ports during your trip.
Porto is a city unlike any other in Europe
Porto has a unique mix of faded grandeur, modern luxury and poverty. Those who visit Porto are confident that the city offers something for everyone. You will be satisfied if you are looking for a high-end experience or curious to explore its gritty underbelly. Visit Porto with an open mind and get ready to experience something special! It's an exciting and bohemian city with plenty of experiences to offer that one can't find anywhere else.
Exploring the city is a joy for many who will experience the unique architectural works of art covering its landscape. From every corner, you can see colourful buildings with tiled frontages against cobbled streets that gracefully incline up from the river. The atmosphere radiates with faded beauty, and the party spills out into the streets at night. Even in the coldest weather, the outdoor bar culture is alive and well.
Things to do in Porto
If you have limited time during your stay in Porto and want to get a feel for the city, I recommend this 1-2 day DIY walking route.
Start your journey on ​Santa Catarina Street​, Porto ́s main shopping street. You can explore the shops via Catarina Shopping Mall (the mall is uninspiring unless you want to visit Decathlon) and even the ​Bolhão Market, one of the oldest markets in town.
The Bolhão Market has been recently refurbished, and sadly the makeover hasn't been sympathetic. Gone are the original features and ornamental tiles; the decor is grey in colour and atmosphere. I can only think the refurb was budget restricted and the task given to a junior architect, either way, it's a sad fail.
We are continuing down Sta. Catarina street, visit the ​Majestic Café – a gorgeous café with Art Noveau architecture and decoration. While this turn of the century café is lovely to look at, it is a tourist trap so maybe look in the window unless you want to pay €6 for a mediocre coffee.
From Majestic, go to ​ePraça da Batalha and admire ​Teatro Nacional S. João, the National Theater. I didn't do this, but I advise you to go inside and enjoy one of the guided tours.
After visiting the theatre, go to ​Muralha Fernandina – the ruins of Porto's medieval stretch of wall. And since you're there, go to ​Guindalense​, a café with one of the best terraces and views of ​D. Luis I Iron Bridge. Guindalense​ was closed for refurbishment when I went, but the surrounding views are stunning at sunset.
You have ​Sé do Porto a(Porto's Cathedral), just a few steps away, built in the 12th century. The views of Vi​la Nova de Gaia ​and ​The Douro river ​are fabulous from there.
Leaving Sé, go to ​Estação de S.Bento (railway station); you should stop for a moment and admire the panel of 20.000 magnificent tiles alluding to the history of transport and describing scenes of Portuguese history, covering most of the atrium, dated from 1916.
Crossing the street, you'll find yourself at ​Praça da Liberdade​. The city hall at the top of the ​Avenida dos Aliados ​(Aliados Avenue) is a stately building with a tall bell tower.
From Praça da Liberdade you will see ​the Torre Dos Clérigos and its famous bell tower. You must go up the building and enjoy the view, but this is not for the faint-hearted; get ready for the stairs!
Next to Clérigos tower is the Jardim das Oliveiras ​(garden of Olives), a quiet spot for a rest before continuing to the ​Livraria Lello, the famous
Neo-Gothic Library – classified as one of the most inspiring bookshops in the world and said to be the bookshop that convinced J. K. Rowling to write the Harry Potter books (although Potter fans also say this about The Elephant House teashop in Edinburgh).
Where to eat in Porto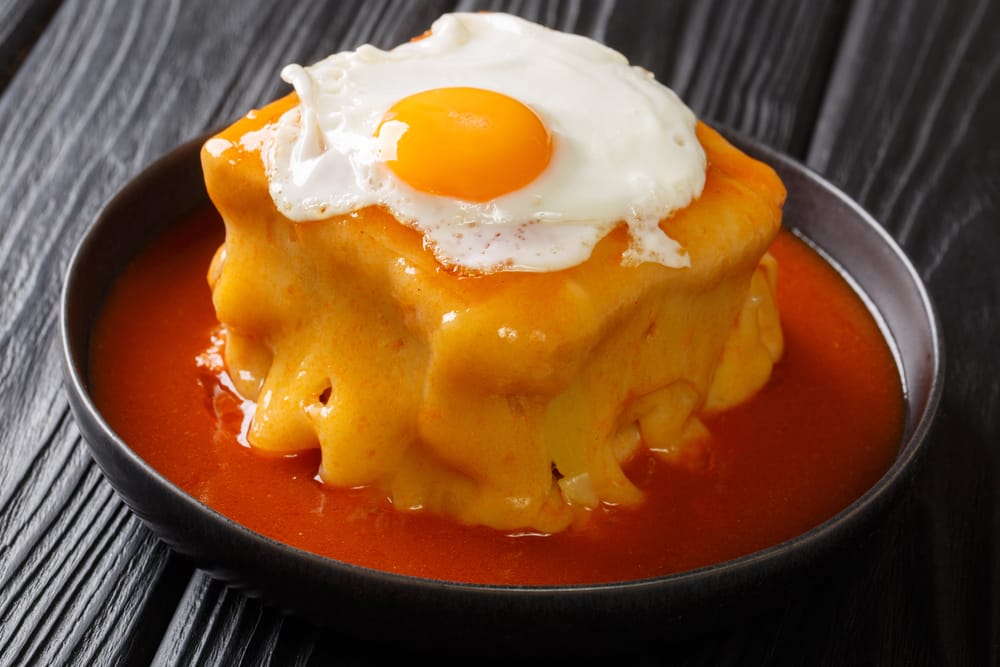 After all that walking, you will need something to eat. If you're looking for the famous meat sandwich called 'Francesinha.' You must go to the Café Santiago F on R. de Passos Manuel 198. Francesinha is Porto's most famous dish. The sandwich comprises white bread filled with cured meat and egg and lots of spicy sauce, and it's heavy… but a must-have staple dish.
Personally, the sandwich is not for me, be aware that it's not a light snack but more like a lead weight in your stomach. Try it and see for yourself.
An alternative to Francesinha is a modern take on traditional dishes from Nabos na Púcara, traditional recipes while maintaining the original flavours. – find Nabos na Púcara on Rua da Picaria 40.
If it's breakfast, brunch, cocktails, or healthy food – daytime only, head for Negra café on the R. Guedes de Azevedo 117.
It's almost impossible to eat poorly in Porto. You will be fine if you stay away from the riverside and roads around the ​D. Luis I Iron Bridge. So, make Porto your next city break destination.
Make Porto your next city break
Porto is a gem tucked away in the northwest corner of Portugal. The city boasts a beautiful Mediterranean coastline, plus all the rich culture and historical artwork you could desire – all at a fraction of the price found in other European cities.
Moreover, as streets are easily navigable, if not steep, most healthy visitors find they don't need to rely on their car or public transport; walking around Porto gives visitors an immersive experience that lets them take in this fantastic destination. If you're looking for an affordable European getaway with plenty to offer, Porto should be top of your list.