Switzerland is, naturally, a skier's paradise. There are so many reasons to visit Switzerland for your skiing holiday that it's almost ridiculous to consider going anywhere else. Beautiful, powdery slopes mix with breathtakingly gorgeous vistas to create an unforgettable trip for anyone, from skiing novices to experts alike. We've lost count of the amount of people we've sent to Switzerland on skiing holidays and received rapturous recommendations in return.
That said, there are so many places to ski in Switzerland that it can be hard to know where to start. It's a huge source of income for the country when it comes to tourism, so naturally Switzerland is massively populated by ski resorts, ski slopes, and places to take your family if you want to enjoy this pastime. Don't worry – we're here to help you. Here are some of the best places you can go skiing in Switzerland. You're spoiled for choice, but we've chosen for you!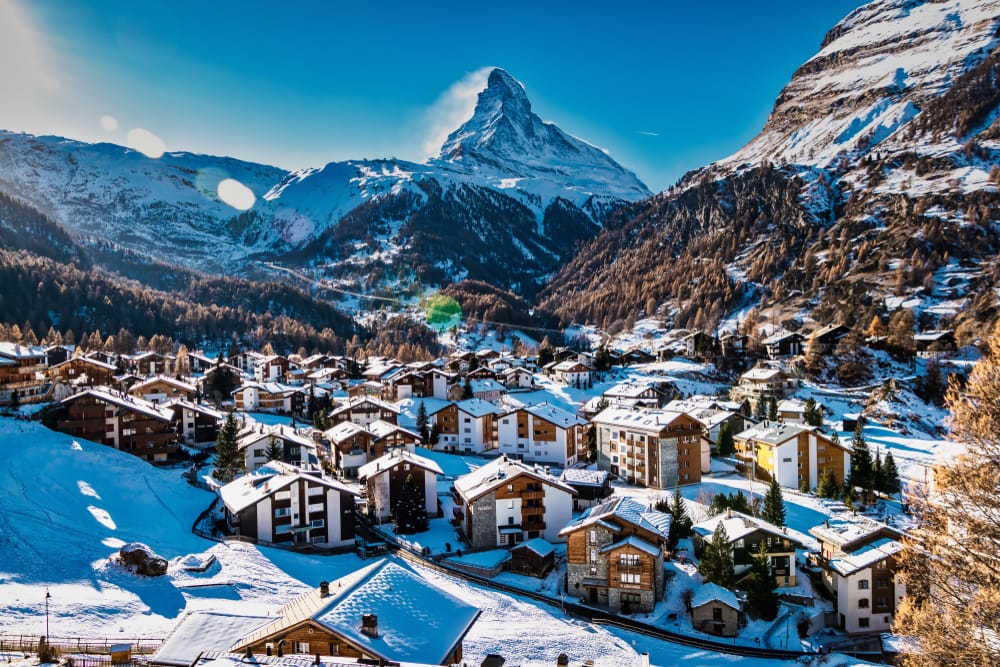 The Matterhorn Diamonds Ski School in Zermatt is a beautiful and well-regarded place to take your family for a skiing holiday. This school only offers private ski lessons, so if you're a beginner and you're looking to learn, this is where you should go. The Valais Alps surround Zermatt village, giving you a gorgeous vista while you ski, and if that wasn't enough then the slopes offered by Matterhorn Diamonds are simply unforgettable.
Saas-Fee is a beautiful Swiss Alps village located near the Italian border. This village boasts more than 100km of pistes for skiing, which makes it perfect for those who are already confident in their discipline. If you're super-advanced, you won't find anything here to test your skills, but intermediate skiers should find plenty to love in Saas-Fee. The village is also a beautiful place for food, taking in the sights, and creating unforgettable holiday memories.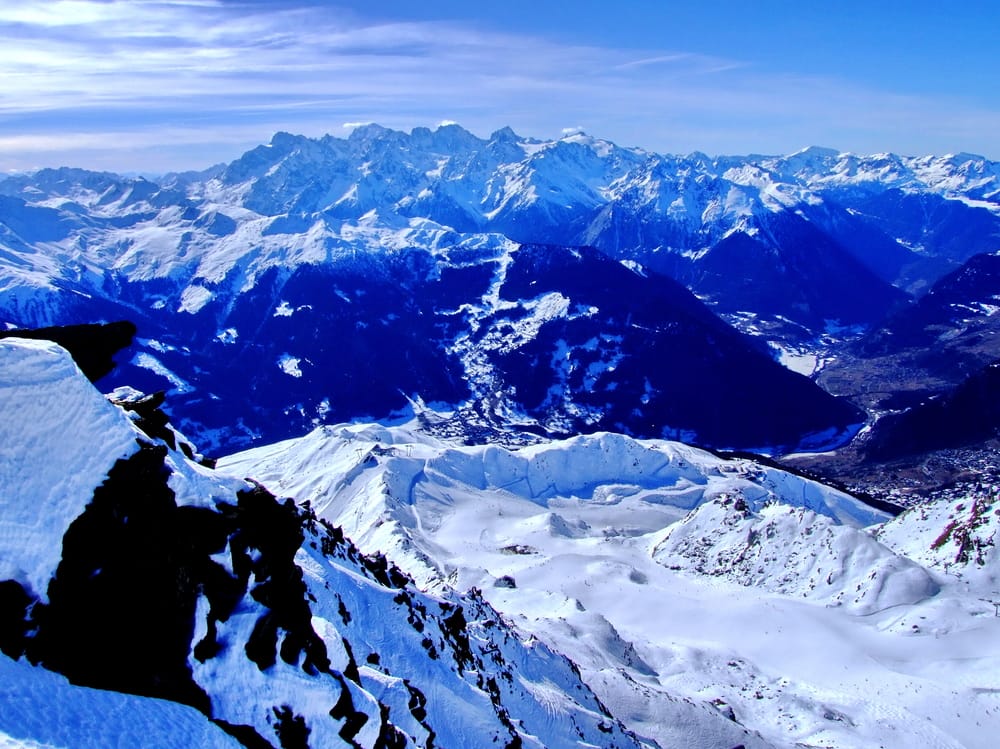 Now this is one for the experts. Verbier is full of terrain that's unfriendly to total beginners but perfect for advanced skiers to test their mettle. If you like off-piste skiing, this is where you should go. Naturally, you'll be paying quite a lot to stay in Verbier, but that's true of most of Switzerland so start budgeting for your holiday now if this is your chosen destination. There are also plenty of off-the-beaten-track accommodations for those willing to look a little harder.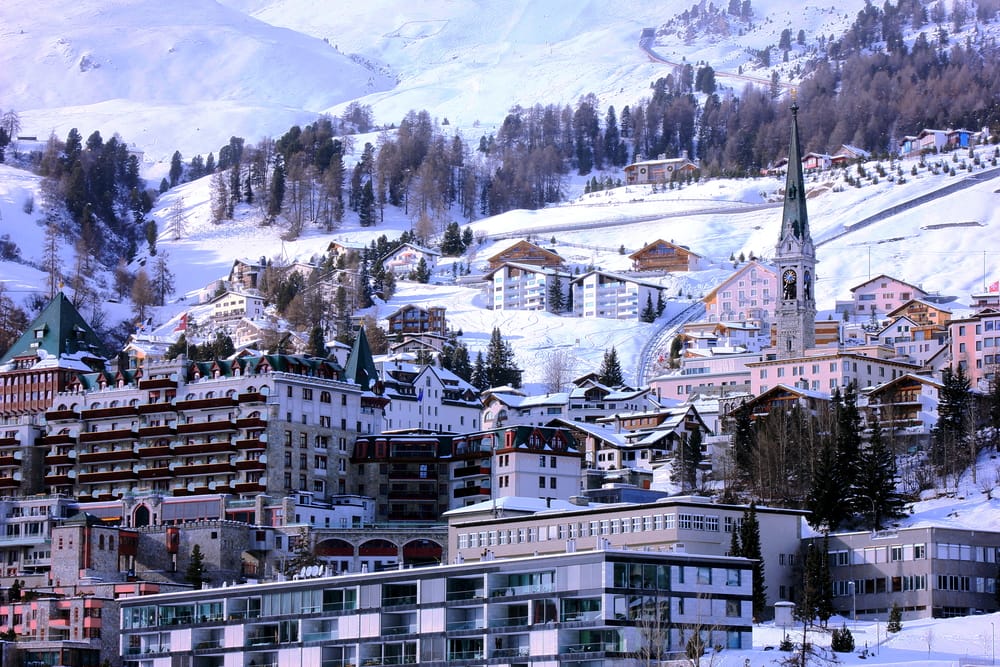 This place is perfect for those up on their history. Here's a fun fact: St. Moritz has hosted the Winter Olympics twice, but hasn't done so since 1948, which is pretty criminal given how breathtakingly beautiful this paradise is. St. Moritz is ideal for groups of students or friends rather than families; you can find family-friendly accommodation, but the lively social life here is probably better suited to those who like to party.
Arosa and Lenzerheide used to be two completely separate resorts linked by a long cable car. Now, they've joined forces to create one of the best resorts in Switzerland for skiers. You'll find over 225km of carefully crafted ski runs here for everyone from beginners to masters. If sunshine is important to you (and who can say it isn't?), then Arosa Lenzerheide is a record-breaker when it comes to sunshine in Swiss skiing regions. You'll love your time here.
Ah, Andermatt. This is one of the most picturesque and quaint villages you're likely to find in Switzerland. Snow-capped rooftops look out over a huge valley littered with pine trees. There's a beautiful shopping area here which is overlooked by a Radisson Blu hotel, so there are your creature comforts if you're looking for them. The snow in Andermatt is pretty much constantly great, so you'll get consistency from this sleepy little town as well as a great time skiing.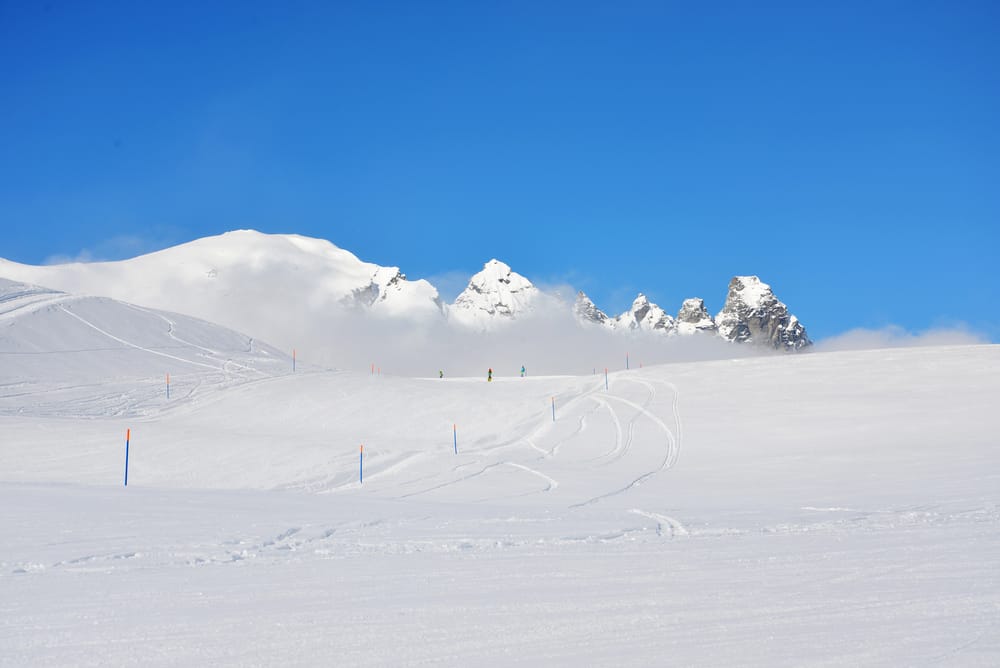 Although Flims Laax Falera has more of a reputation as a snowboarding resort, there's still plenty of fun to be had skiing on its slopes. The divisions here between easy, medium, and hard slopes are perfect, with around 50-60km for each slope. Best of all, Flims Laax Falera is just an hour and a half's distance from Zürich. If you're staying in the big city but you want a slice of rural skiing life, then Flims Laax Falera is likely to be your best option.
Engelberg is another Swiss town steeped in history. The village in this resort houses a genuine 12th-century Benedictine monastery, and it's still genuinely awesome to visit and see how monks used to live. If you like to ski for extended periods of time, Engelberg may not be for you; it's broken up into smaller trails rather than a single lengthy one. Still, Engelberg boasts a good number of slopes broken into different skill sets, as well as some great off-piste skiing for enthusiasts.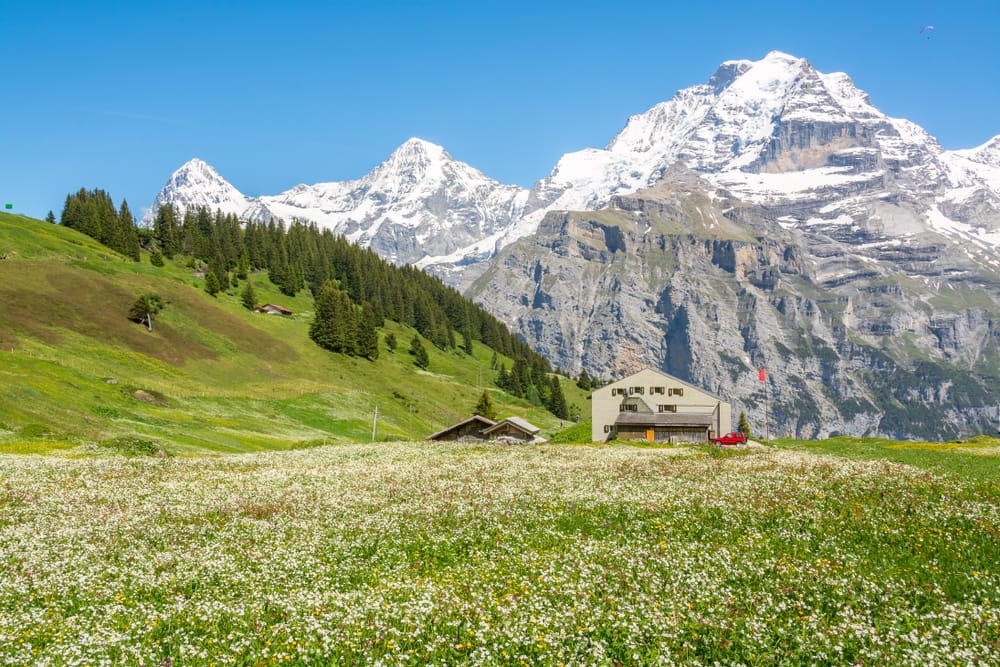 Mürren is home to the Schilthorn, a ski area that's perfect for intermediate skiers and experts. You'll get your money's worth near the top of the Schilthorn if you're an accomplished skier, but there are plenty of stations dotted around the slope that are perfect for those of differing skill levels. This village can be a little bit pricey, but there's lots to see and do here (check out the On Her Majesty's Secret Service exhibition if you're a film fan!).
Looking for a slightly more sedate skiing holiday? Adelboden-Lenk is definitely for you. This quiet, serene ski resort boasts some of the most beautiful winter walks you could hope for, which is ideal if you've brought people with you who aren't huge on skiing. If you do love to ski, though, this place is also home to the FIS Ski World Cup in January, which sees skiers compete for victory in a 1300-metre downhill race. It's something to behold.