When you think about quintessential England, you're probably picturing something that looks pretty similar to the Cotswolds. These rolling hills run all the way from the tip of the Thames river through to the Severn Valley, and along the way, you'll find plenty of picturesque English villages, built around babbling brooks and seemingly endless countryside.
To put it simply, if you're visiting England as a tourist or if you're planning a staycation in your home country, then you should consider the Cotswolds as a place to visit. Where should you stay, though? Today, we're here to help you with that conundrum. Here are the best places to stay in the Cotswolds 2023 has to offer. These places are good beyond this year, too, though!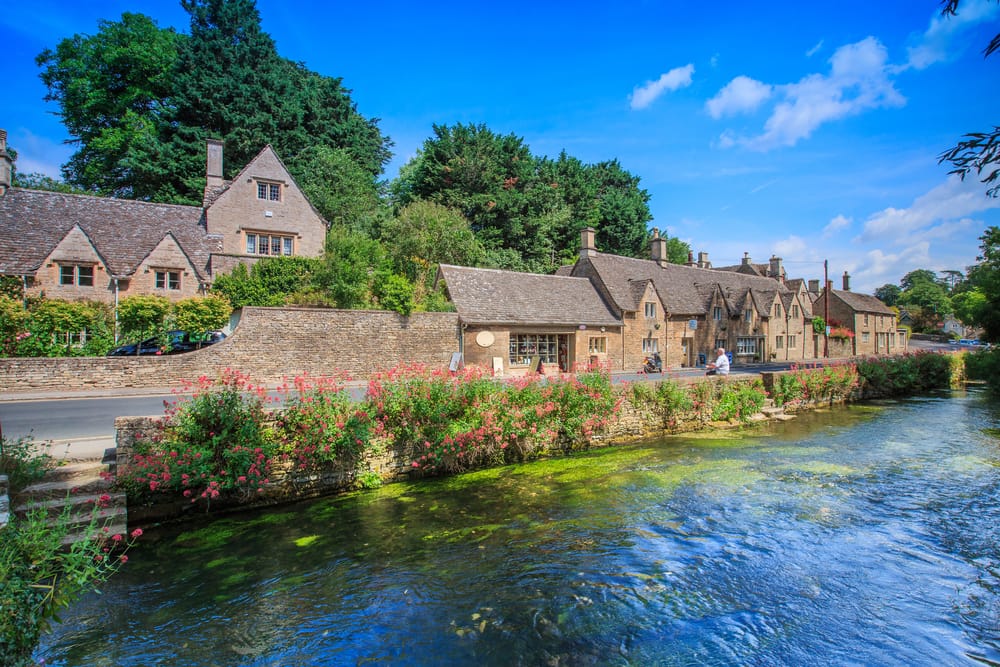 This charming village can be found just a short way from Cirencester, often considered the "capital" of the Cotswolds, so if you're staying there, you won't have to go far to find this place. Bibury looks like a scene from The Lord of the Rings, or some similar fantasy fairytale book; it's got beautiful rustic cottages, lovely walking routes, and some wonderful pubs where you can stop for a drink and meet some of the friendly locals. Accommodation here is top-notch, too.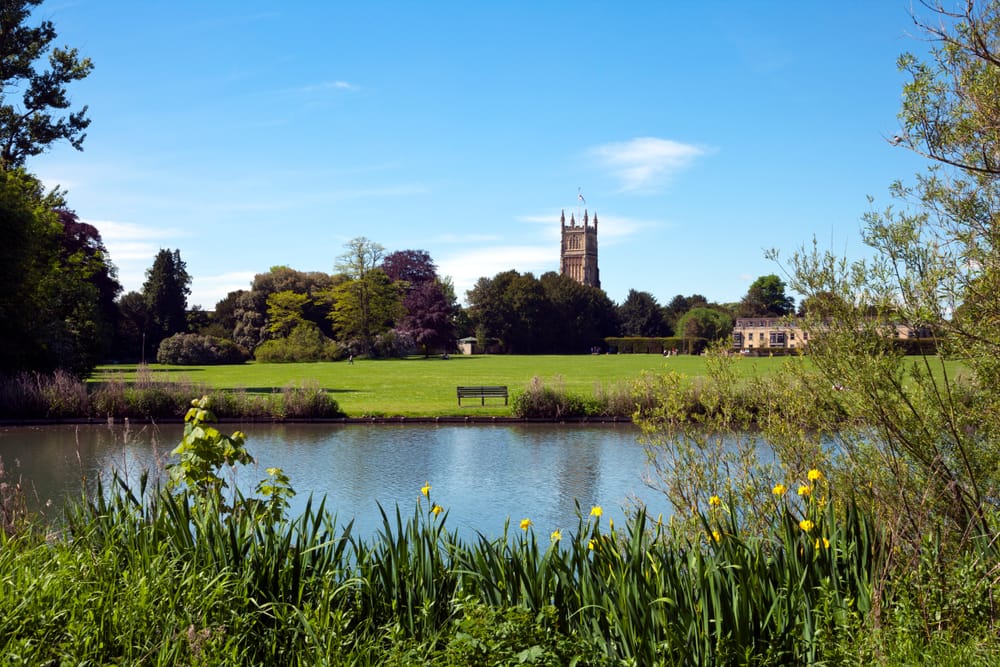 Since we're discussing the capital of the Cotswolds, it makes sense to include that very same town here. Cirencester is the largest settlement in the area, and it has a population of around 20,000, give or take, so if you want somewhere a little more bustling and active, this is where you should go. You'll find plenty of shops and other activities to enjoy here, and as a market town, Cirencester also has lots of local crafts and food to offer tourists and residents alike.
It's fair to say that many of the towns and villages you'll find within the Cotswolds almost sound invented; Tewkesbury is exactly the kind of name you would give a quaint English town if you were writing a period drama. However, it's real, and so are the many listed buildings that can be seen there. Tewkesbury is a great place to go if you have a love for the more historical side of travelling, since you'll see plenty of evidence of its eight-hundred-year history dotted around the place.
The official Chipping Campden website (that's right, such a thing exists!) describes the village as "one of the most beautiful tourist destinations in the UK", and if you've ever visited, it's very hard indeed to disagree with that. Nestled in Gloucestershire, Chipping Campden is a haven for anybody who likes to strap on some hiking boots and get walking; not only is the town itself a great walking route, but it's surrounded by the kind of rolling hills that characterise the Cotswolds, making it an ideal place to get lost on a daily walk.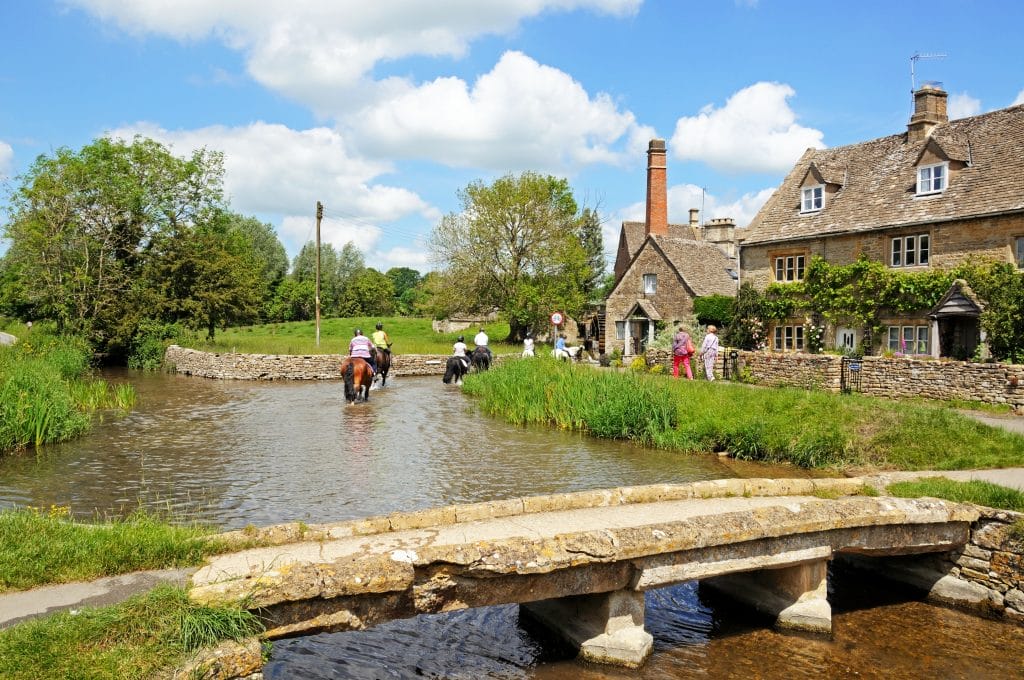 Don't let the alarming name for these lovely little towns fool you; there's no slaughter going on here. The word comes from the Old English for "muddy place"; although the etymology of the UK's Slough is not clear, it could well come from the same place. Upper and Lower Slaughter are both beautiful places to base yourself on a trip to the Cotswolds, and there's a particularly excellent cafe in Lower Slaughter that's situated near a mill which was recorded in the 1086 Domesday Book.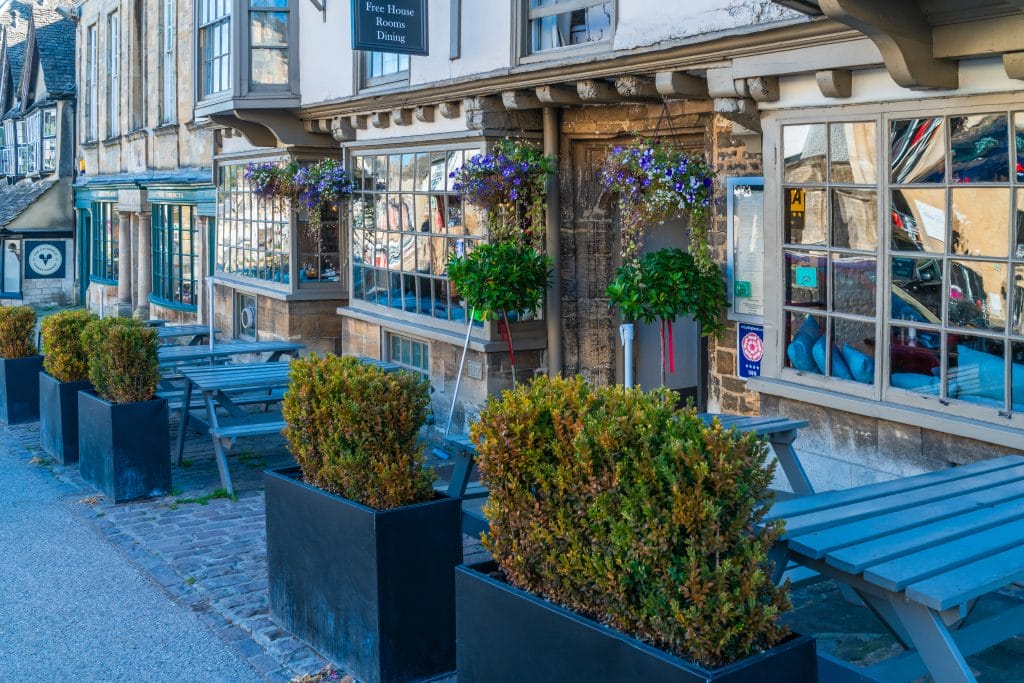 You will often hear Burford referred to as "the gateway to the Cotswolds" due to its location on the outskirts of the region. When you pass through Burford's quaint, winding streets and see its beautiful countryside, you'll know that you've arrived in the Cotswolds proper, so this is the perfect place to start if you've never been to the region before. This town is also only a handful of miles away from Oxford and Cheltenham, so if you're staying in either location, you won't need to travel far to get here.
Imagine if York's Shambles was a whole town, and you're not too far away from what it feels like to be in Stroud. There's a huge range of stuff to see and do here, as well as lots of local curiosities to buy; crafts, vinyl records, and more await you here, so make sure you're not too reluctant with your wallet! Of course, this being a Cotswolds town, you'll also find lots of local food and drink to enjoy, as well as cafes where you can sit and enjoy a coffee after a lengthy walk (or shopping spree!).
This is another town, like Tewkesbury, that almost feels like it was invented by an author. Stow-on-the-Wold bases itself around a bustling market square, and around that square, you'll find shops, inns, and other attractions to immerse you in the world of the Cotswolds. Supposedly, the Porch House, which is one of the most beautiful and luxurious inns in the town, is the oldest in England, and although we can't independently verify that, we do know the inn has been entertaining guests for more than a thousand years.
Here's another town that you'll frequently see referred to as a "gateway" to the Cotswolds. This is one of the more popular and well-known small Cotswolds towns, so don't expect to have the place all to yourself, even if you visit in the dead of winter. Still, the hum and buzz of tourists enjoying exactly the same sights as you are should make the town feel that much more alive as you explore its winding streets and snap photos of its gorgeous honey-hued buildings.
Now you've seen the areas to visit, it's time to see the best places to stay at in the Cotswolds.
Top-rated places to stay at in the Cotswolds
Name
Description
The Slaughters Manor House
A charming country house hotel located in the picturesque village of Lower Slaughter. Known for its luxurious rooms, fine dining, and stunning surroundings.

Lower Slaughter, Gloucestershire
The Old Stocks Inn
Located in Stow-on-the-Wold, this refurbished 17th-century inn offers boutique-style rooms, a fantastic restaurant, and a quaint, cosy atmosphere.

Stow-on-the-Wold, Gloucestershire
Cotswold House Hotel & Spa
A modern luxury hotel with a full-service spa located in Chipping Campden. Ideal for relaxation and exploring the nearby historic sites.

Chipping Campden, Gloucestershire
Ellenborough Park
A 15th-century manor house on the outskirts of Cheltenham, offering luxury accommodation, a spa, an outdoor pool, and beautiful grounds.

Southam, Cheltenham
Thyme
A country retreat located in Southrop with an emphasis on sustainability and home-grown produce. Offers beautifully designed rooms and cottages.

Southrop, Gloucestershire
Dormy House Hotel
A 17th-century farmhouse turned luxury hotel located near Broadway. Known for its spa, excellent restaurant, and countryside views.

Willersey, Near Broadway, Worcestershire
The Painswick
A stylishly contemporary boutique hotel located in Painswick, known as the 'Queen of the Cotswolds'. Offers chic rooms, fine dining, and gorgeous views.

Painswick, Gloucestershire
Calcot Manor
A former 14th-century farmhouse, now a luxury hotel near Tetbury. Features a spa, outdoor hot tubs, and family-friendly accommodations.

Near Tetbury, Gloucestershire
The Wild Rabbit
An upscale inn in Kingham offering organic, locally-sourced dining and individually designed rooms that blend rustic charm with modern elegance.

Kingham, Oxfordshire
Lords of the Manor Hotel
A beautiful manor house hotel in Upper Slaughter, offering Michelin-starred dining, elegantly designed rooms, and serene garden views.

Upper Slaughter, Gloucestershire
The Wheatsheaf Inn
Located in Northleach, it combines the charm of a traditional inn with modern luxury. Renowned for its culinary offerings and cosy rooms.

Northleach, Gloucestershire
No.131 The Promenade
A boutique hotel in Cheltenham with a modern aesthetic, renowned for its vibrant restaurant scene and eclectic, stylish rooms.

Cheltenham, Gloucestershire
Buckland Manor
A 13th-century manor house hotel located near Broadway. Known for its picturesque gardens, gourmet dining, and traditional, luxurious rooms.

Buckland, Near Broadway, Worcestershire
The Fish Hotel
A unique hotel in Broadway with various accommodation options including treehouses and huts. Offers an outdoor cinema and horse-riding facilities.

Farncombe Estate, Broadway, Worcestershire
The Rectory Hotel
A classic Cotswold hotel in Crudwell with beautifully furnished rooms, a heated outdoor pool, and a restaurant serving locally-sourced fare.

Crudwell, Malmesbury, Wiltshire