Scotland might not be a country that immediately comes to mind when you think of theme parks, but you should probably think again. Contrary to popular belief, there are actually some great days out for theme park enthusiasts in Scotland. If you're looking for the best theme parks in Scotland, then you've come to the right place; we're about to count down some of the greatest places you can visit in this storied country. Roller coasters, fun fair-style rides, haunted houses, and more await you in our guide, so let's take a look at the best theme parks you can currently visit in Scotland.
East Links Family Park
This family park offers a train-based safari on which you can feed a variety of farm animals. Families will love the cute little critters on offer, and you can also get yourself on a pony to ride it around the farm. If you're not too bothered about petting animals (although you should be), then not to worry; there's plenty to do here besides cuddling cute creatures. There's a fully-fledged adventure park attached to the farm, too, which will provide hours of fun for kids as they slide and jump their way around. Be sure to add this one to your itinerary if you're travelling towards East Lothian. You can check out its Facebook page for more info.

Location Address: East Links Family Park, Dunbar EH42 1XF.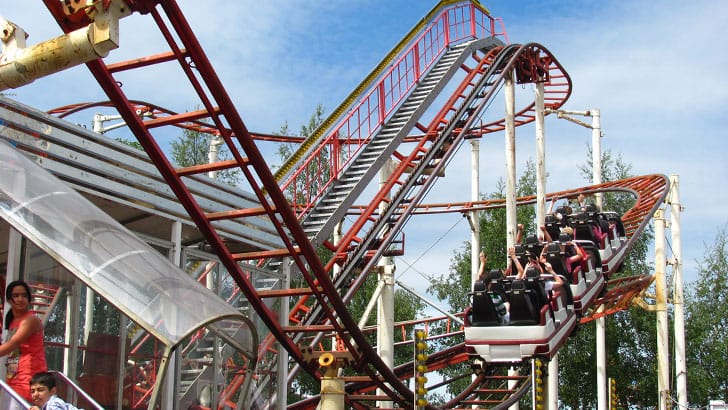 There's a good reason M&Ds has acquired the tag of "Scotland's theme park"; this is pretty much the premier destination for theme park addicts, and is truly one of the best theme parks in Scotland. You'll find all the theme park stalwarts here, including rides galore, but there are also fairground-style teacups and more unusual things like climbing walls. Naturally, you'll also find water-based rides like the White Water ride and the Disco Boats attraction. If you're looking for a place to take your family when you holiday in Scotland, then you could do a lot worse than M&Ds, which brings a premium theme park experience to Scotland.
Location Address:
Strathclyde Country Park, Bellshill, Motherwell ML1 3RT
This one is perhaps a little more of a museum-park hybrid; it doesn't have a lot in the way of rides, but it makes up for that with plenty of excellent recreations of historical dinosaurs. There's an educational element to Dino Park as well; you can learn about the dinosaurs and how they lived, and you can also learn about more modern animals like the komodo dragon and the gorilla. You'll also find a soft play area here, which is perfect for smaller children to busy themselves with while you wander around the park and take in the sights. Dino Park won't thrill roller coaster enthusiasts, but it will certainly satisfy your intellectual curiosity.
Location Address:
Hetland Garden Centre, Carrutherstown, Dumfries DG1 4JX.
Codona's offers experiences that all the family can enjoy. There are go-karts so you can test your speed against your friends and family, as well as minigolf and a kids' adventure area. You will also find bumper car-style boat rides here, so if you like to get splashed, Codona's is your venue. Of course, that doesn't mean the park doesn't have its fair share of rides as well. Test your mettle on the Dead Man's Drop or take a ride in the Grampian Eye and see everything Aberdeen has to offer. Make no mistake: though Codona's isn't often on worldwide lists, this is one of the best theme parks in Scotland and a great day out for everyone.
Location: Beach Blvd, Aberdeen AB24 5ED.
Situated in the picturesque Scottish village of Carrbridge, Landmark Forest Adventure Park is a great place to go if you're an outdoorsy type. Whether you visit during the summer or winter months, there's a tropical hot-house to walk through complete with adorable parakeets and quail to spot. You'll also find a dinosaur trail where you can learn about the great lizards that once stalked the earth, as well as the Bamboozeleum gallery, which is full of mind-bending illusions to warp your reality. If you want to experience something a little more hands-on, you'll also be able to check out the Ropeworx and Tarzan Trail, two physical courses intended for those who want to push themselves to their limits (while still having fun, of course!).
Location: B9153, Carrbridge PH23 3AJ.
Dalscone Farm Fun's website promises "hours of fun for kids of all ages", and that's certainly what you'll be getting if you visit (and kids of all ages obviously includes adults!). There's lots to do in this playground; between April and October, you'll be able to visit the various outdoor play areas, which include sandpits, a fort, and more. If you visit in winter, you'll find a Wacky Warehouse-esque play area in which your kids can immerse themselves in ball pits and explore to their heart's content. Of course, there's also a cafe area where you can grab a coffee and enjoy a sweet treat or two, making this an ideal place for everyone, no matter what you're after.
Location: Edinburgh Rd, Dumfries DG1 1SE.
Finally, we have an experience that isn't quite the same as a theme park, but offers plenty of varied activities to enjoy nonetheless. Argyll Adventure is an outdoor attraction offering the chance to enjoy horse rides of various skill levels; there are easier rides for beginners, expert treks for the more experienced rider, and everything in between. If you don't feel like a horse ride, then you can test your accuracy with crossbow shooting and laser tag, both of which are themed around zombie escape scenarios, adding a dash of fun and danger to an already thrilling activity. The dead of winter isn't the best time to visit Argyll Adventure, but during the summer, it's a riot.
Location: Inveraray PA32 8XT.