Moving can be a time of great stress, and no matter if it is a house or an apartment that you are having to move from, you will find yourself in need to have a place that you can store your items for a short time. This is, of course, until you can get your life organized and then begin to move things in slowly and in a controlled manner. I have been there and would like to take a moment to share some of the advice that I have learned over the years to help me make the move easily.
When you rent a house or apartment, you could discover that you need more storage space in the home or apartment. You are in luck since there are several storage choices on the market that may assist you in optimising the space in your living area and maintaining order among your personal effects. The following is an overview of the several typical storage solutions available to tenants.
Self-Storage Units
Renters who need more room for their possessions sometimes choose to store them in self-storage facilities, which are becoming an increasingly popular choice. These storage spaces are normally found inside a supervised facility and are available on a month-to-month rental basis. They are available in a variety of sizes, ranging from compact units that are able to store only a few boxes to enormous units that are able to store whole pieces of furniture and appliances. If you need somewhere to keep stuff that you don't use on a daily basis, such seasonal apparel or sports equipment, renting a self-storage unit is an excellent choice to consider.
Portable Storage
Portable storage provides both ease and adaptability. These containers are brought to your house for storage, but you also have the option of keeping them in a facility if you choose. They are available in a variety of different sizes and may be leased for either a short or a lengthy amount of time. Portable storage containers are an excellent choice to make if you need to keep goods that you will require quick access to on a regular basis, such as tools or items from the home.
Loft Storage
Renters who are restricted in the amount of floor space they have often choose to store their belongings in the loft. The use of racks or shelves that are installed on the ceiling or walls of a space is what is meant by the term "overhead storage." These racks or shelves have the capacity to store a variety of objects, from apparel appropriate for the season to decorations for special occasions. If you have high ceilings or a little amount of living space, then overhead storage may be a viable alternative for you.
Closet Organizers
Investing in closet organizers is one of the best ways to make the most of the limited amount of storage space you have in a house or apartment. These organizers are available in a variety of sizes and may be modified to meet the requirements of the user. It's possible for them to have shelves, drawers, and even rods for hanging clothes, and they may be used to store things like shoes, clothes, and accessories. If you need somewhere to keep things that you make regular use of, then closet organizers are an excellent choice for you to consider.
Storage Space Under the Bed
Having storage space under the bed is a terrific alternative for tenants who are working with a constrained amount of floor space. Using containers or boxes that have the ability to be moved beneath a bed is one method for achieving storage space. These storage bins or boxes are able to accommodate a wide variety of objects, including footwear, clothes, and bedding. Choosing to store your possessions under your bed is a smart move if you like to keep them out of sight and out of the way at the same time.
Shelves Installed on the Wall
Wall-mounted shelves are an excellent choice for renters who want to make the most of the storage space in their house while also giving it a more aesthetically pleasing appearance. These shelves may be attached to any wall and used to hold a variety of objects, including books, decorative items, and other items of a similar size. If you want to add a beautiful touch to your house but have limited floor space, installing shelves that are placed on the wall is a fantastic choice to consider.
Space Ottomans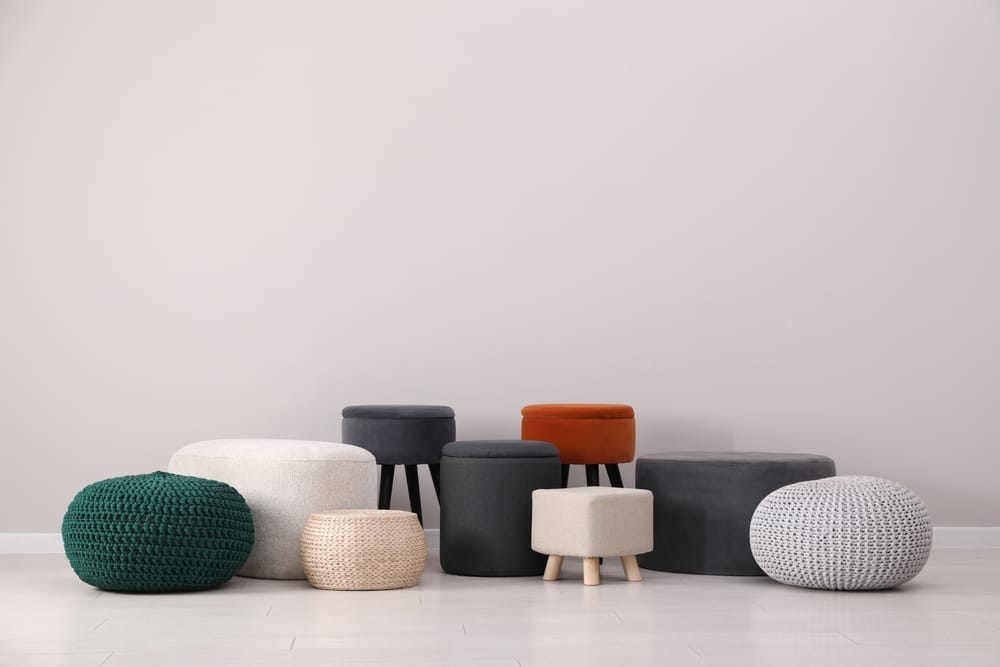 Space Ottomans with storage space are an excellent choice for renters who want to increase the amount of seats in their living area while simultaneously increasing the amount of storage space available. These ottomans may be used as storage spaces for a variety of things, including throw blankets, pillows, and other small objects. They are available in a variety of sizes and designs, and you may modify them to suit the aesthetic of your space. If you want to add more sitting to your living room and you also need additional storage, storage ottomans are a fantastic alternative for you to consider.
Hanging Racks
For tenants who have limited room in their closets, hanging racks are an excellent alternative to consider. These racks are versatile in that they may be put on any wall and used to store a variety of items, including shoes, apparel, and accessories. If you want to keep your clothes neatly arranged while also keeping it out of the way, hanging racks are a fantastic choice.
As you are able to see, there is not a lot that you need to worry about if you are careful in your decision-making process and use a place that is able to fit all of your needs and concerns. the more that you know in advance, then the better that your overall results will be.