Spain provides everything you might need for the perfect honeymoon – great weather, rich cultural life and delicious food. It is no surprise that for decades people have been coming to the land of sangria to celebrate their love. With so many beautiful beaches and one coastline on the Mediterranean, while the other – on the Atlantic –, it is the perfect destination to explore with the company of your loved one. With our help, discover the best beaches in Spain to spend your honeymoon at.
Cala D'en Serra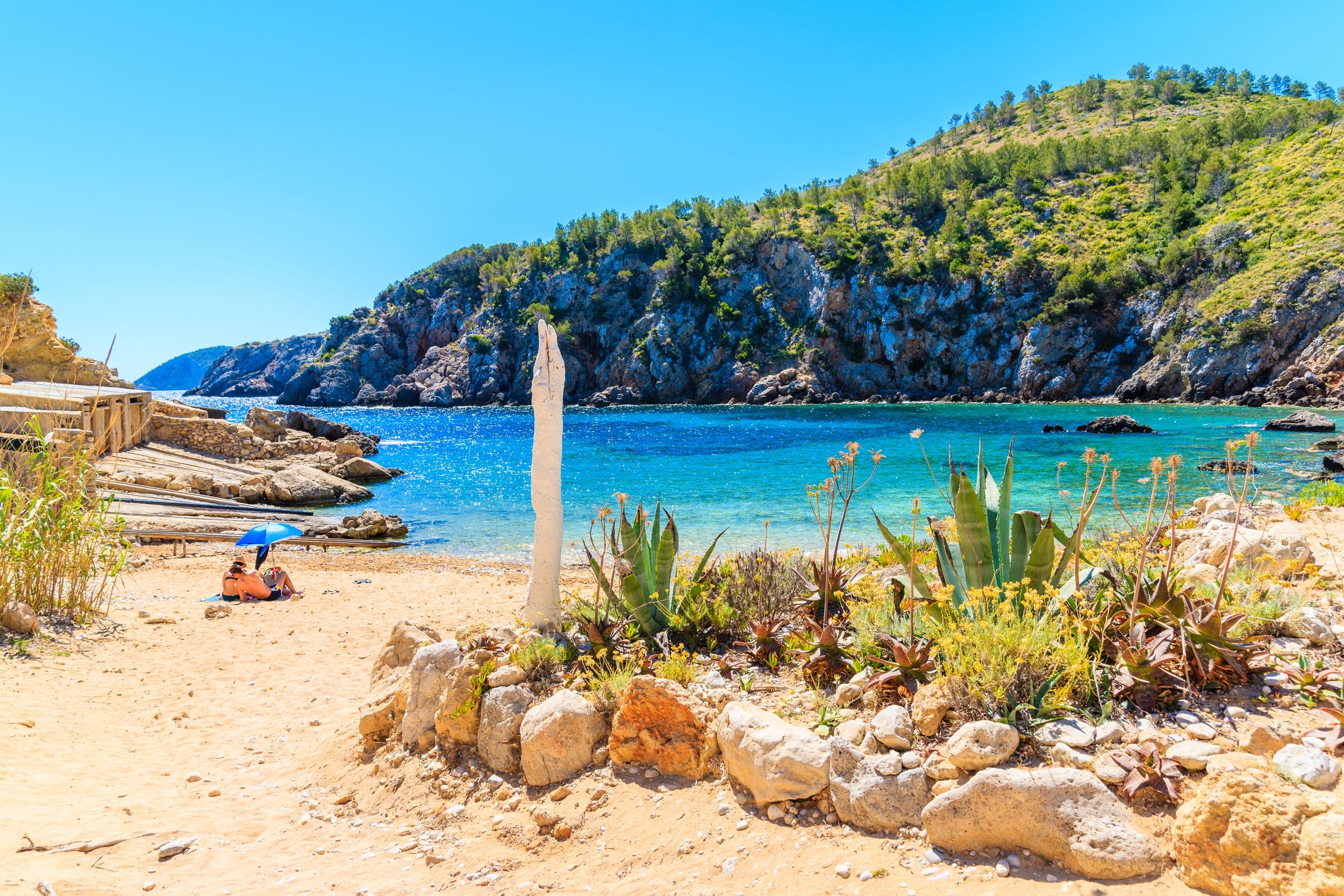 Looking to escape tourists with your travel buddy? Those honeymooners who love dancing their worries away will surely enjoy a visit to Ibiza – the world-famous party central. Although mostly known for its incredible nightlife, the island has more to offer, including stunning beaches. Cala d'en Serra is an egg-shaped beach that will seem like a hidden paradise. Getting there is not so easy since it is tucked away in a rocky enclave. But – once you get there – expect turquoise waters, powdery sand and a whole lot of fun. On the beach, you will find one beach bar that offers fresh sangria and fish, so you can quickly satisfy your hunger whenever it kicks in.
Playa San Pedro
There is nothing worse than packed beaches. After all – during your honeymoon, you want to get as much privacy as you can. When looking for the best least crowded beaches in Spain, don't overlook Playa San Pedro. Set in the Parque Natural de Cabo de Gata-Nijar, which includes some of the nicest beaches in the country, Playa San Pedro will be the perfect destination for a fun-filled day. Keep in mind it is only accessible on foot or by boat from Las Negras. What makes it even better is its spectacular surroundings – watch out for the ruins of a 16th-century castle. Together with the powdery sand, it is a combination quite like no other.
Playa de la Concha
Nestled in the heart of San Sebastian, Playa de la Concha will be an unexpected discovery for honeymooners seeking refuge on the beach. Since Playa de la Concha is set so close to the city, you get the best of both worlds. Enjoy some of the best gastronomic hotspots of Spain, refresh at the turquoise water and take a walk admiring the beautiful surroundings – whatever you choose to do, you are bound to have a great time with your significant other in the place that has often been named as the most beautiful city beach in Europe.
Isuntza beach
When it comes to the most beautiful beaches in Spain, the Isuntza beach surely comes high on top. Set between Bilbao and San Sebastian, it is one of the most romantic places in the area. The beauty of the coast is revealed at low tide. That is when a gorgeous path is uncovered, which then leads to San Nicolas Island. Explore the secluded area, admire the stunning surroundings and enjoy the unique experience. Just remember to get back before the path has disappeared again!
Aiguablava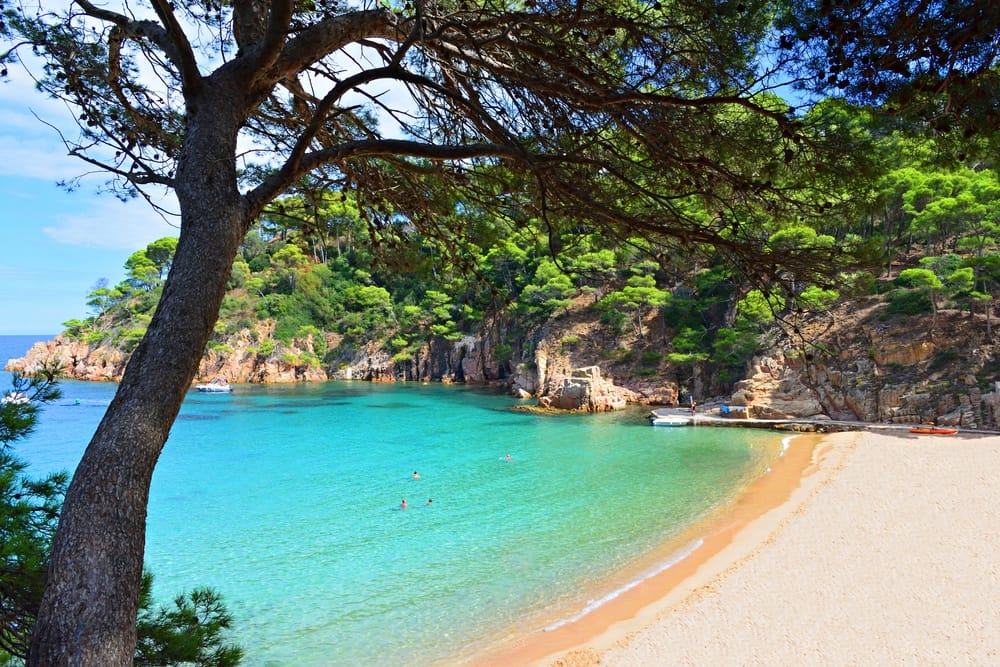 Looking to make the most romantic memories of your life? If you are searching for the perfect place to have a relaxing holiday with your loved one, then Aiguablava is the right pick for you. Located in Girona, the beautiful beach is considered one of the best in Catalonia. Thanks to its pristine waters, it is possible to do some snorkeling as well as diving. Whenever you get tired of exploring the beach, there are plenty of fun things to do in the surrounding area and villages. If you and your significant other are fans of history, you will surely enjoy a visit to Begur that features a beautiful mediaeval castle.
Praia des Catedrais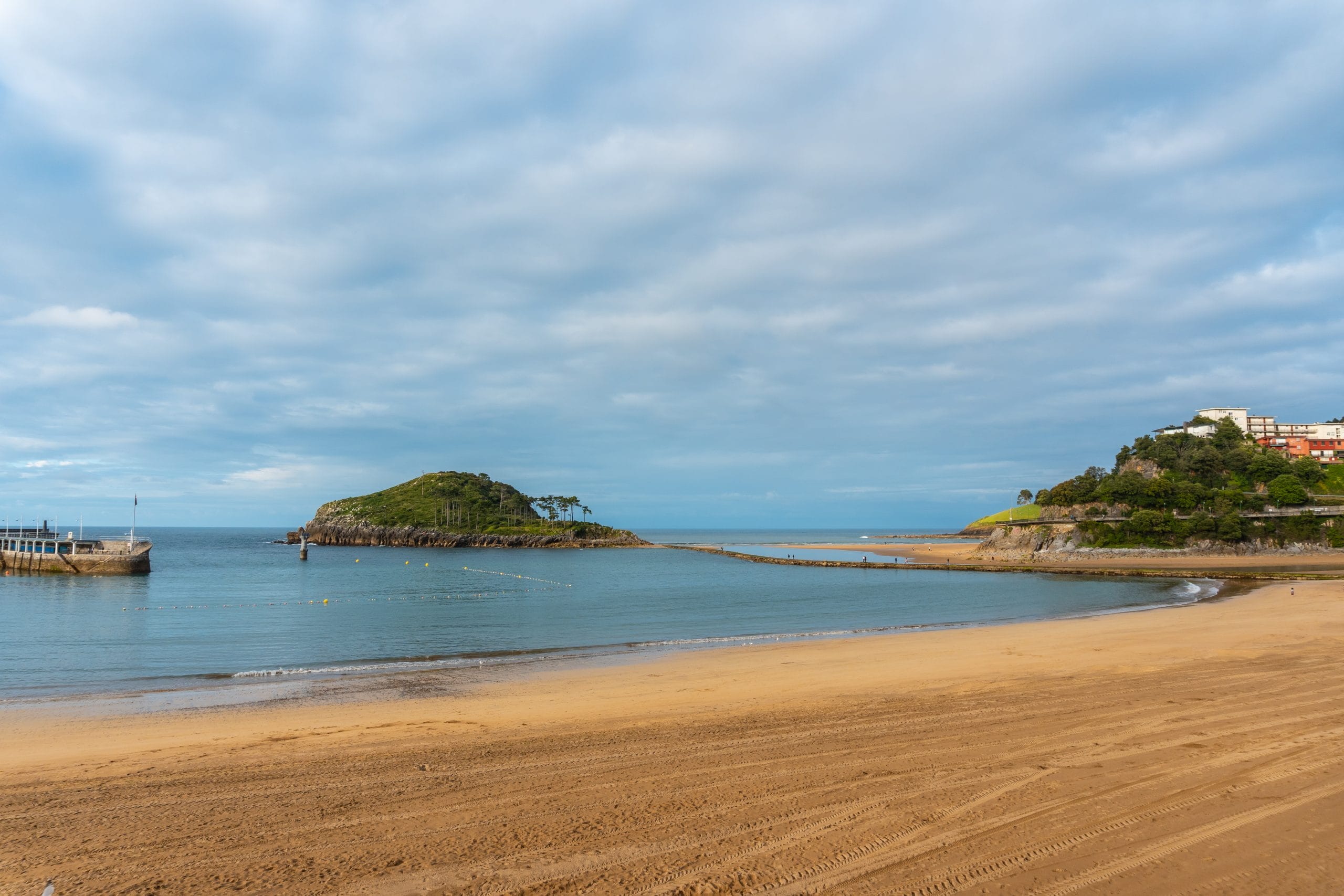 A perfect destination for honeymooners and admirers of natural beauty – the beach of Cathedrals is famed for its impressive arches of rocks between the cliffs. Similarly to the Isuntza beach, the magic of Praia des Catedrais can only be enjoyed in the low tide when it is possible to walk beneath the incredible rocks. Despite the fact swimming is not allowed, you will still have a great time, discovering the raw beauty of the surroundings. Furthermore, the exotic beach has been declared a Natural Monument by Galicia's Department of the Environment, which is another reason you should consider seeing it.
Playa de Bolonia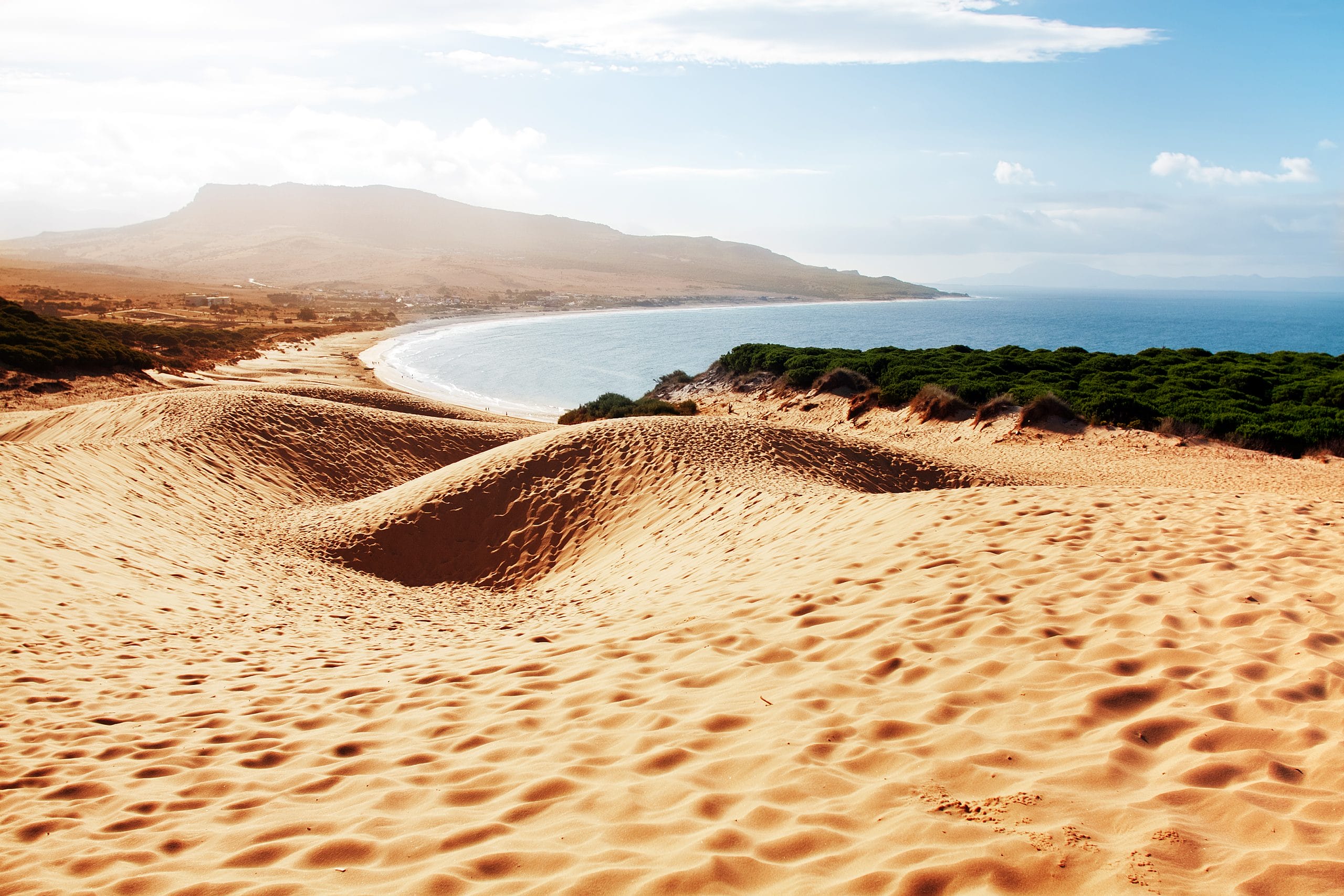 Those looking for an idyllic getaway will have a wonderful honeymoon at Playa de Bolonia. Part of a traditional fishing village, it has become a local favourite. Although in recent years it has become increasingly popular also amongst tourists, it still hasn't lost its charm and remains relatively quiet. Expect powdery white sand dunes, crystal clear water and gorgeous surroundings. Hoping to catch some waves? That is possible too. Tarifa is considered to be an "it" place for Spain's kitesurfers. In the area, you will easily find surf schools and shops. So whether you are looking for a tranquil getaway or an active honeymoon, Playa de Bolonia will be a pleasant surprise.
Es Pujols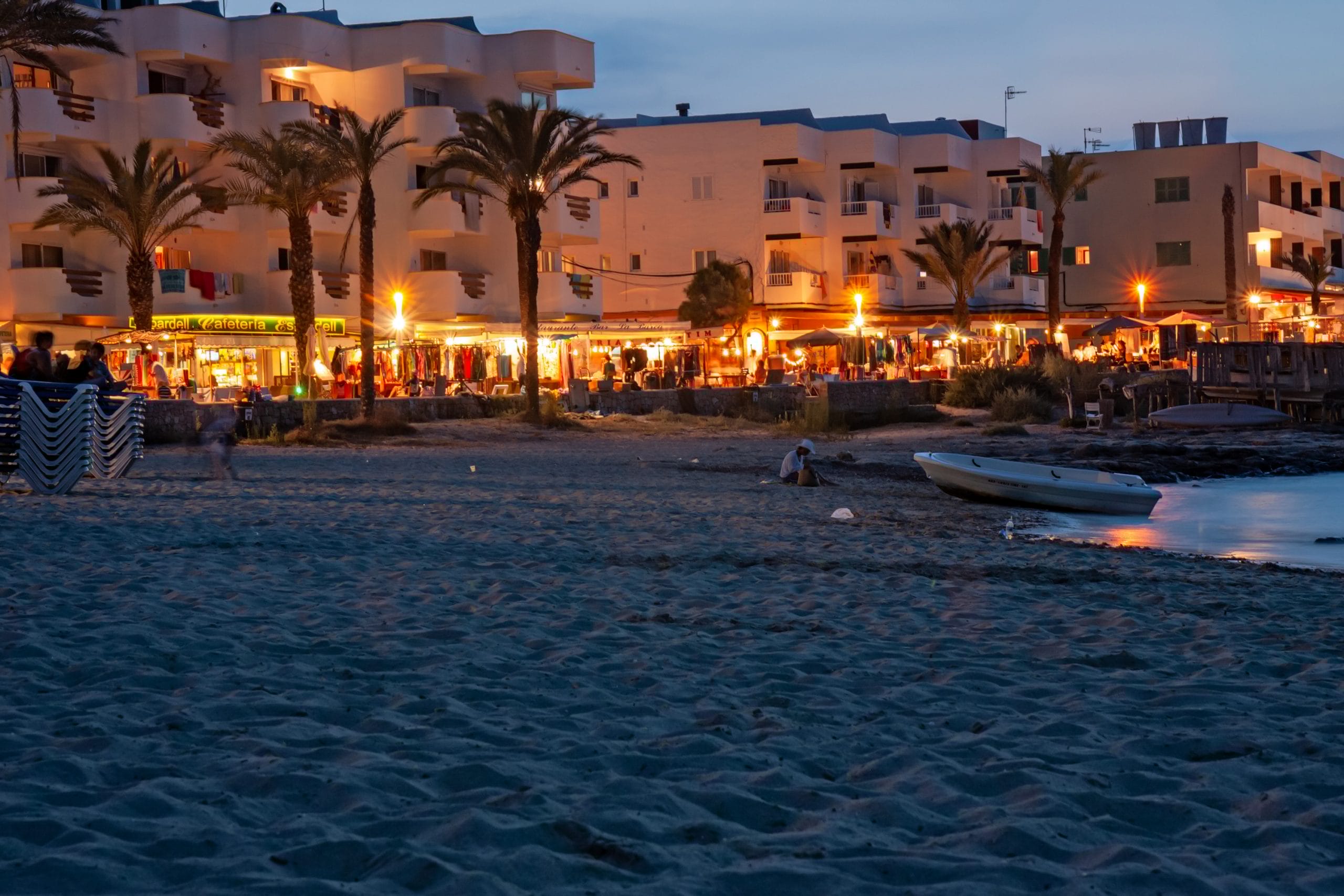 Formentera, an island that can be found near Ibiza, will capture your heart as soon as you lay your eyes on it. The ride between Ibiza and Formentera takes about 30 minutes with a ferry, but it will seem like you have travelled to a whole another place. If there is paradise on earth, then it surely looks something like Es Pujols. Bright, white sands, incredibly blue-green water, which seems almost impossible for Europe. Along the beach, you will also find plenty of cafes and restaurants to satisfy your hunger. Spending your honeymoon in Formentera will be a true dream!
Bogatell
For many decades, Barcelona has been a loved honeymoon destination. It is no surprise – since it is Spain's second-largest city and surrounded by fantastic beaches, there is plenty to do and see. The best one in the area is surely Bogatell, which is easily accessible, yet not as crowded as Barceloneta beach. The man-made beach is clean and equipped with all facilities one may need. While visiting Barcelona, don't miss out on Bogatell – it is a great place to go for a swim and try windsurfing and kitesurfing.
Almunecar
Looking to enjoy Spain's natural beauty with your boo? Then pass up the resorts and visit the less crowded Almunecar. Filled with soft white sand and pristine water, the long curving beach features many restaurants, hotels and shops. Therefore it's the perfect combination for those who love being in nature while still being close to all amenities. In some ways, the beach and the little town surrounding it resemble the South of France yet still capture the charm of Spain.
Whether you are a couple who enjoys active beach days filled with surfing and swimming or prefers a more laid-back way of travelling, there is no doubt that Spain and its stunning beaches will be the perfect choice for a romantic honeymoon. After all – what is better than enjoying powdery white sands and turquoise water with your loved one! So, are you ready for the most romantic getaway of your life? Remember to bring a bathing suit!