For you ultimate guide to visiting Fiji, one of the world's most spectacular locations in the world, have a read of this.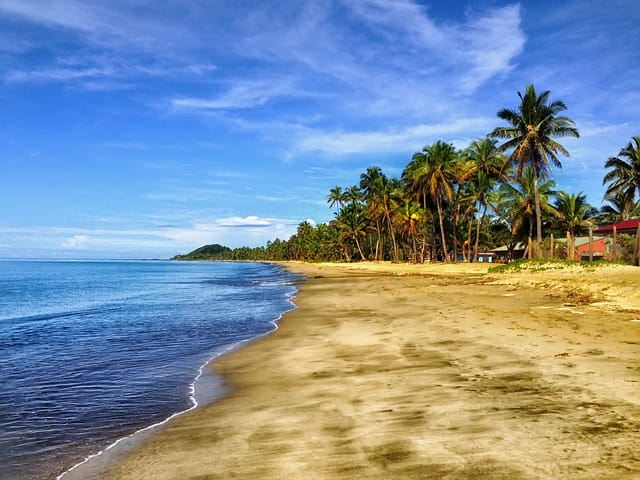 (Photo source)
What to expect from Fiji
Picture white sandy beaches, deep sea lagoons and hammocks swinging from coconut trees, aka the perfect holiday paradise, and that is what you can expect from Fiji.
Famed as one of the most exquisite locations in the Pacific, it is easy to expect a lot from Fiji. Like any holiday location, what you get from your visit depends on where you stay, the time of year that you visit and what you plan on doing with your time whilst you are there.
With a warm tropical climate, Fiji is considered a year-round vacation spot. Peak season is from July to September when the weather is slightly cooler and the heat more bearable. This is also the time when the waters are clearer and best for snorkeling and deep-sea diving. In terms of the weather, Fiji has two main seasons. The dry season that lasts from June to October, and the wet season that spans from November to April, whilst the dry season tends to be mild, the wet season is hot and humid.
Establish a budget
Before planning out your holiday, it is best to establish a sensible and realistic budget. This will help you plan a trip that you can afford. Sit down and work out the cost of each part of your holiday, from flights and accommodation costs to day trips and dinner expenses. By planning your holiday costs in advance, you will be able to enjoy your time away without worrying about over-spending. If you are planning on sending travel postcards home to friends and family members, save yourself time and money by printing off your stamps before you go. To do this, visit an online site, such as http://onlinestamp.net/print-postage-print-stamps-online/.
Consider where to stay
Split into hundreds of different islands, each offering visitors its own unique charm. Picking your dream Fijian holiday can seem somewhat daunting. It is important to remember that most of the islands are uninhabited. Making them perfect for a day trip but nothing more. That being said, there are still various resort boasting islands to choose from, including the three biggest islands, Vanua Levu, Tavelini and Viti Levu.
Book Flights and Accommodation
Once you have established the budget for your trip, the next step is to look into your flight and accommodation options. Of course, the flights and accommodation you choose will ultimately depend on your needs and spending amount.  For anyone on a tight budget, an all-inclusive deal is often a good choice. Especially as it can include everything from flights and transfers to breakfast, lunch and dinner, however this is often far below luxury travel.
Despite popular belief, a visit to Fiji doesn't have to break the bank. As well as all the luxury resorts on offer, there are also some slightly cheaper and more family friendly alternatives.  Although most of Fiji's resorts are located close to at least one beach, the term resort is used loosely in the country. So it is important do you research before your trip so that you are not disappointed. Regardless of where you are staying, be it a luxury hotel complete with an infinity pool, spa and high-end restaurant or a family-friendly alternative. It is always a good idea to book through a reputable company. It is always a good idea to check that your chosen resort accepts children before booking. As Fiji is a popular traveler and couples location, some resorts are adults only.
Make the most out of your stay
With so much to see and do, and so many islands to explore you may feel slightly overwhelmed by the amount that Fiji has on offer. To make the most out of your stay, plan your days out and activities in advance. This will ensure you do as much as you possibly can.