The Vittoriale was the home of the poet Gabriele D'Annunzio (1863-1938), an immensely influential figure in 20th century Italian literature. But he was more than a poet – he was a man of action, whose exploits have become legendary. During the First World War he took part in bombing raids, though his most famous flight came in 1918, when he showered Vienna with subversive leaflets. 1918 also witnessed his involvement in a potentially dangerous excursion, in which three small motor torpedo boats entered the straits of Buccari hoping to inflict damage on Austrian shipping. The following year he led the armed column that seized the Yugoslavian port of Fiume.
The Vittoriale complex consists of a villa and museums set in a 90 hectare park, which won a major award in 2012. Of the three ticket options available, only one includes entrance to the villa (guided tours). The villa is a major attraction: school parties regularly visit, so be prepared to queue. You are conducted around the villa in a guided group – explanations are in Italian, though information sheets in English are available. If you can muster a group of 10 an English speaking guide can be arranged.
D'Annunzio acquired the 18th century villa together with its grounds in 1923, and began the long process of creating both a home and an enduring monument to his life. The fabric of the villa was substantially improved: the crumbling façade, for instance, was replaced by emblems, bas-reliefs and statues, which had associations with his life. A warren of rooms, corridors and landings are crammed with an enormous, eclectic, array of objects, ranging from casts of well known statues to bric-a-brac – most items having been carefully positioned by D'Annunzio, with self-confident aesthetic judgement. Heavy curtains, coupled with stained glass or painted windows, restrict the natural light in many rooms. There is so much to see that the tour might be described as 30 minute visual storm.
As you wander around the extensive hillside park you will encounter a massive amphitheatre (seats 1500 and hosts cultural events in the summer), several works of art (the most striking being the prominently displayed statue of a horse by Mimmo Paladino) and a motor torpedo boat, which may have been used on the Buccari escapade. But most extraordinary of all is the huge prow of the warship Puglia. This 60th birthday present from the government was hauled up and set into the hillside.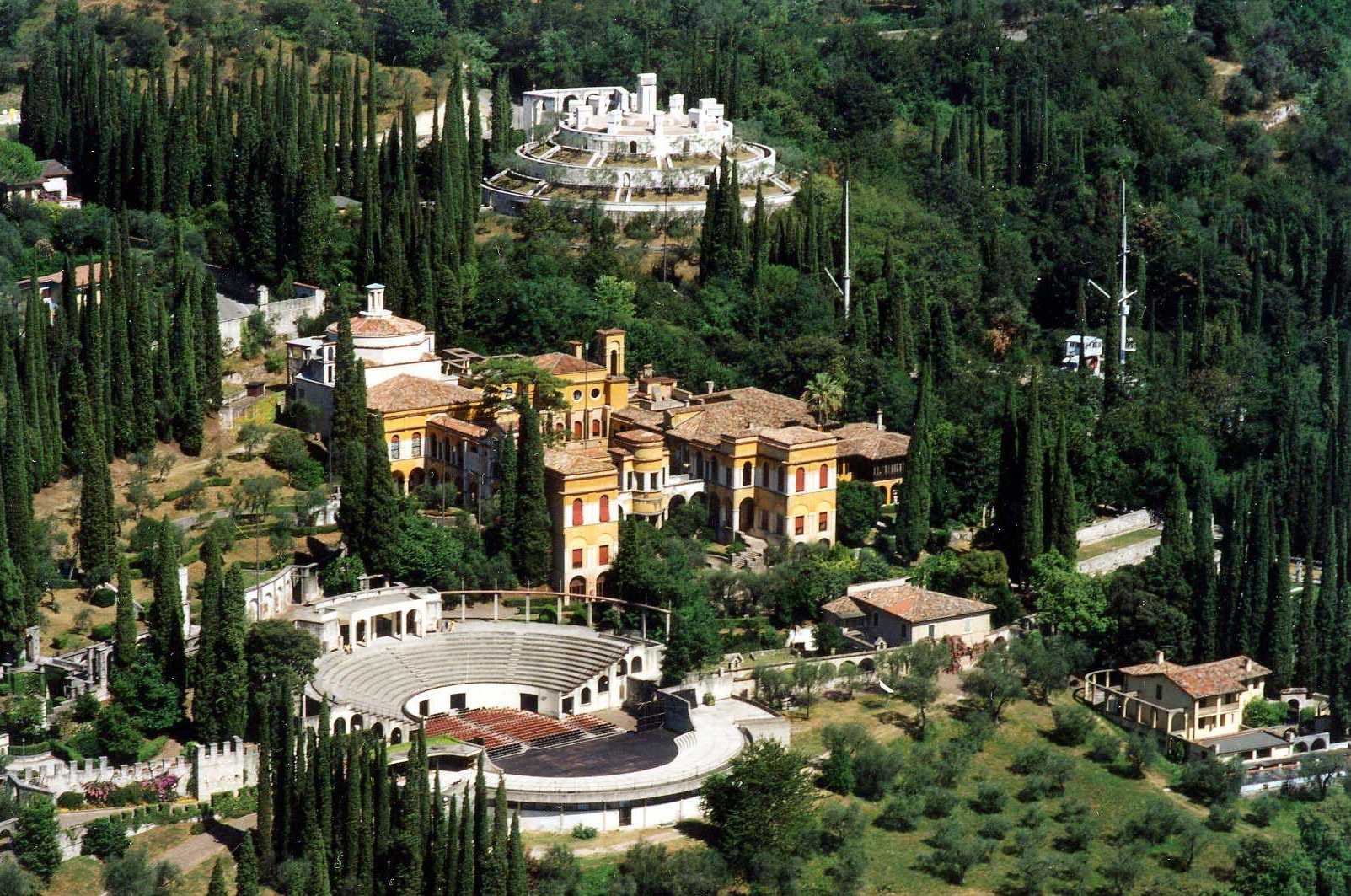 Other military items, including his 'Vienna' aeroplane along with many personal items are on view in the museums.
At the highest point of the park there is an extravagant mausoleum, at the centre of which is D'Annunzio's huge sarcophagus. He lies surrounded by tombs of former military comrades and that of his architect Gian Carlo Maroni.
By the end of your visit, particularly if you opted for the villa tour, you are likely to have learned much about the life of Gabriele D'Annunzio, and you may even have gained some insight into the complexities of this larger than life, poet-adventurer.