As one of the world's premier holiday destinations, Dubai naturally has its fair share of theme parks. In amongst all of the other places that are worth seeing for tourists in Dubai, it's well worth making the time to visit a theme park while you're there; Dubai's best theme parks can compete with even those in the US or Europe. Whether it's roller coaster thrills or haunted house scares you're after, Dubai will provide, so make sure you add a theme park to your itinerary. Here are some of the best theme parks in Dubai.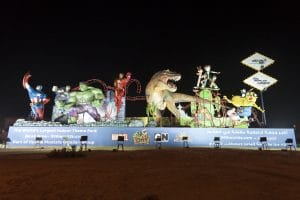 Dubai plays host to the world's largest theme park located entirely indoors, so if you're not feeling the outdoors – or if the weather isn't particularly clement – then IMG Worlds of Adventure should be on your list. It's a pretty incredible venue with plenty of licensed rides; you can hang out with the Avengers, take on a challenge next to Finn and Jake from Adventure Time, or foil crime alongside the Powerpuff Girls, to name but a few things you can do in this excellent park.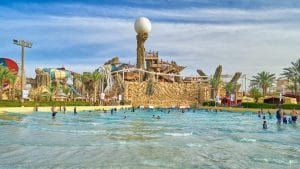 Located just outside Abu Dhabi, Yas Waterworld is, as you might expect, a water park. It boasts more than 40 distinct rides to splash around in, and if you visit during certain times of the year, you'll find events to enjoy as well. Yas Waterworld also has five rides you won't find anywhere else in the world, so if you're looking for a unique experience, you could definitely do a lot worse. Make sure to check this one out if you're in the mood for an aquatic adventure.
We're stretching the definition of "theme park" for this one, but we think the Dubai Aquarium and Underwater Zoo is an essential visit, so we're listing it anyway. You'll find thousands upon thousands of beautiful water-dwelling animals to see here, with more than 140 different species on display. There's a massive underwater tunnel that feels incredibly immersive to walk through, and as you do, you'll be surrounded by denizens of the deep like sharks and rays.
Mattel Play! Town
You'll find the Mattel Play! Town park situated on Dubai's City Walk. It's been running since 2018 and offers a wonderfully immersive play area for younger kids, featuring many familiar characters like Bob the Builder and Fireman Sam. If you've ever wanted to wander through the worlds of these characters – or if your child has – then you'll love Mattel Play! Town. Each world has its own dedicated area, so you can spend as much time with characters as you like.
There are several Legoland destinations around the world, so it stands to reason you'd find one in Dubai as well. This park is perfect for kids between the ages of 2 and 12 and features a range of Lego-themed activities and rides to enjoy. There's also the excellent Legoland Water Park, which is perfect if you've had enough of coaster thrills and want to splash around in the Dubai sun. Our favourite rides include the Dragon coaster and the Dragon's Apprentice, which is a great first-time roller coaster for younger kids.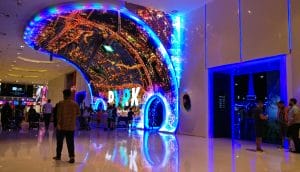 Now here's an interesting attraction: a park entirely designed with VR in mind. All you need to do is strap on a headset and you'll be enjoying a huge variety of rides and experiences within minutes. Have you ever wanted to jump off the top of the Burj Khalifa (and survive, of course)? Well, in the VR Park, you can do just that, and you won't need to worry about safety implications. You'll also find a wonderful cafe here that serves lots of treats; it's almost worth the visit in and of itself!
It's worth noting that The Green Planet isn't really a theme park in the traditional sense. Rather, it's an immersive rainforest biome, complete with lots of species of plant and animal that you can interact with. Dubai is currently in the middle of a drive to reduce its carbon footprint and be a more eco-friendly city, and venues like The Green Planet are helping it get there. This is a beautiful experience, and it will humble you to spend time with nature after being in a built-up environment like Dubai for a long time.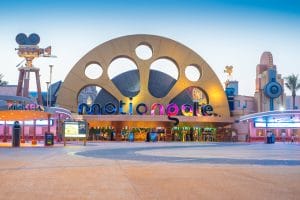 Movie-lovers, your time has come. As you might expect from the name, Motiongate houses lots of movie-themed rides; it's the biggest park inspired by Hollywood in the Middle East, so if you're a lover of cinema, you must add Motiongate to your itinerary. There are entire zones dedicated to brands like Lionsgate and Columbia, not to mention the adorable Smurfs Village that serves as a wonderful way for children to experience this immersive park.
This park is the first one in the world to exclusively carry the Ferrari brand, and it's just as exciting and immersive as you'd expect. If you love speed and racing thrills, Ferrari World is very much for you. Naturally, you'll get the chance to drive your dream Ferrari, but you can also enjoy Ferrari-themed roller coasters, attend one of the shows inspired by the famous racing brand, and eat some of Dubai's best Italian food. Add this one to your list if you've ever watched Formula 1 with white knuckles, dreaming of the day you'll be behind the wheel.
These are just a few of our favourite theme parks in Dubai. There's a huge list, and if you visited every single park in the city, you'd have a huge holiday ahead of you! Which parks did we miss? What's your favourite theme park in Dubai? Let us know!