California is undeniably one of the most beautiful places in the world. Whether you're exploring massive cities like Los Angeles or you're wandering through nature, you'll find plenty to love in California. Perhaps one of the most underrated elements of California would be the national forests you can visit; the state has a preponderance of breathtakingly beautiful natural spots, but we don't immediately and automatically associate California with its forested regions. That's a shame, because if you're visiting California, its forests can be one of the best ways to spend a day out. Here are the best California national forests you can visit.
Tahoe National Forest
The range of elevation in Tahoe National Forest makes it a sight worth seeing. Lowland areas give way to vertiginous mountains, all dotted with beautiful trees, giving the impression of a huge, unending expanse. The forest also has plenty of hiking and walking trails for your family to enjoy (or for you to tackle solo), so even if you're just looking for a gentle stroll through a site of natural beauty, the Tahoe National Forest will suffice for your needs. Make sure to add this one to your itinerary if you're visiting California.
Sierra National Forest
When people are planning trips to California, they don't often mention the Sierra National Forest, which is a shame, as its lakes, mountains, and wooded regions are absolutely gorgeous, especially in twilight. There are plenty of activities to enjoy in the forest, too; you can enjoy disciplines as diverse as cycling, skiing, and off-roading, and there are lots of walking trails, too. This is the perfect place to simply pause and take in the quiet ambience when modern life gets a little too overwhelming.
Armstrong Redwoods State Natural Reserve
If you've never seen a redwood before, then you owe it to yourself to visit the Armstrong Redwoods State Natural Reserve and observe one of these majestic trees in all of its glory. Redwoods are unfeasibly huge; they must be seen to be believed, and thankfully, this reserve has plenty of them to see. If you're looking for somewhere a little more off the beaten track, then this is the perfect place to visit; it's a quiet, serene forest that doesn't get quite as many visitors as California's more popular forests.
Klamath National Forest
The USA is a remarkably huge country. It's easy to forget, given just how much of it is technically uninhabitable, but its biodiversity is immense. Nowhere is that better encapsulated than in the Klamath National Forest, where you'll find a massive elevation range and plenty of beautiful wildlife. This forest is also home to the Siskiyou mariposa lily and is the flower's only home, so if you're looking to spot a few, then make sure you explore thoroughly to find them.
Muir Woods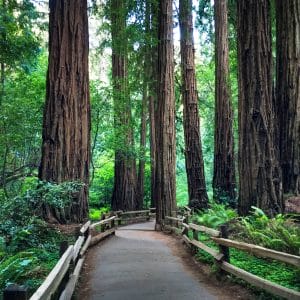 Another redwood forest, Muir Woods is the home of some of the country's last remaining giant redwoods, which are a seriously impressive sight. Muir Woods is close to the Pacific Ocean, which means that it often gets fog rolling in, protecting the plant life and providing a great environment in which wildlife and plants alike can thrive. There are several trails to walk here, but you'll need to set aside a significant portion of your day to take them on, as the longest of them can run up to two hours.
Six Rivers National Forest
If you've ever visited California and lamented the lack of rainfall in the state, then you need to visit the Six Rivers National Forest. This is a rain-soaked region that sees upwards of 200 inches of rainfall every year, and although that number can vary, it's a safe bet that you'll meet with rain when you visit. The titular "six rivers" run through the forest valley, and if you can get to high ground, you can watch them run. It's a supremely peaceful sight, just like the rest of the forest.
Shasta-Trinity National Forest
Sites of natural beauty are at their absolute best when unspoiled by humanity, and that's the case with the Shasta-Trinity National Forest, which is breathtaking. Here, you'll see rising peaks, flowing waterfalls, and vast, beautiful lakes full of fish, as well as several species of bear, deer, and coyote. You'll find plenty of hiking trails on offer here, and they range from beginner-friendly treks all the way through to daring mountainous climbs, so no matter what your level of hiking expertise is, you'll find something for you.
Los Padres National Forest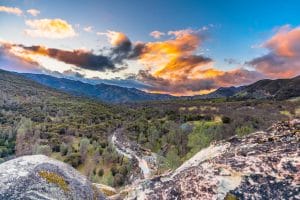 Los Padres National Forest is something of a "greatest hits" for California forests. It has everything you could possibly want from a site of natural beauty in California; you'll find giant redwoods here, of course, but you'll also find arid pseudo-desert landscapes and huge expanses of meadow filled with grass. For a truly breathtaking moment, scale one of the forest's peaks and look out over its sulfur pools. Let it never be said that there's nothing beautiful left to see in the world.
Sequoia National Forest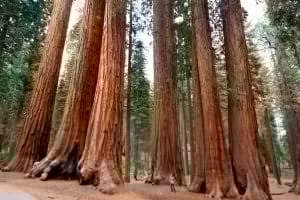 We couldn't finish this list without mentioning Sequoia National Forest, which contains the world's largest single-stem tree that's still living. General Sherman is, of course, the main draw of the forest, but that doesn't mean there's nothing else to see. Wandering through the shaded canopies and wooded trails, you'll struggle to convince yourself that there isn't magic at work in the Sequoia National Forest. Of course, there are hiking trails on offer if you're looking for a little structure, too.