Canada's largest city, Toronto is a multicultural mecca and the most diverse city on the planet. As soon as you arrive in Toronto it feels like home. The locals are extremely welcoming, cultures seem to be living happily alongside each other and the vibrant city and its surroundings have a rich mix of food, culture, and history. From eating local unique Canadian cuisine to wandering around the spirited Kensington Market, if you only have a few days or a week to spare in the city here's how to see Toronto in five easy steps:
Eat Poutine at Poutini's House of Poutine
If you have never heard of Poutine then you have missed out on an established French/Canadian concoction from Quebec, that is essentially fries topped with cheese, gravy and other delicious ingredients. A traditional Poutine is made with cheese curds and gravy, but Poutini's House of Poutine, on cool Queen Street, sells a number of varieties, including one with beef brisket and pull pork on top – and it is divine. All of the ingredients are locally sourced and the fries are hand cut.
Tip: The portions at Poutini's are slightly confusing, a regular is actually huge, and a "Teeny Weeny Tiny" is quite small, we shared a regular for lunch and it was more than enough.
Shop at Kensington Market
Kensington Market is a National Historic Site of Canada made up of pedestrian lanes and roads lined with quirky restaurants, bars, grocers, and vintage clothes shops. The unique streets in this bohemian neighborhood have retained their originality and host a number of festivals throughout the year, including Pedestrian Sundays in the summer and the Annual Festival of Lights in December.
Tip: Grab a burrito at Big Fat Burrito on Augusta Avenue – the wraps are delicious and as fat as they say they are!
Watch a Blue Jay's Baseball Game
If you are visiting Toronto during baseball season (summer) you must catch a Blue Jay's game. Held at the Rogers Center in downtown Toronto, the giant field and stadium is positioned just in front of the CN Tower, so as you watch the innings happen in front of one of Toronto's most iconic sights. Games last around three hours and the stadium has a number of bars and restaurants that are great value for food and drink before and after the game.
Tip: Get to the stadium about an hour before the game to soak up the pre-game atmosphere and maybe even buy some half-price merch!
See the Horseshoe Falls at Niagara Falls
You can't make a trip to the city without visiting nearby Niagara Falls. You can take an organised tour to the Falls, which usually includes the boat tour on the Hornblower and lunch, but we decided to save a bit of money and take the Mega Bus there and booked the boat separately (you probably save about $40 each). The Mega Bus takes about an hour and a half and stops a 30-minute walk away from the Falls, and once you arrive at the Falls everything else is close by and easy to navigate. The queue for the boat is very well organised and every visitor receives a free rain mac, which you will be thankful for later. There is also plenty to do in Niagara Falls town, but it is a little on the tacky side and is aimed primarily at children so don't expect it to keep you entertained all day.
Tip: You will get VERY wet on the Hornblower cruise, but it is the best way to see the Falls and there is no way round it. Be prepared and make sure you bring a waterproof camera to take pictures.
Visit Ripley's Believe It or Not! Aquarium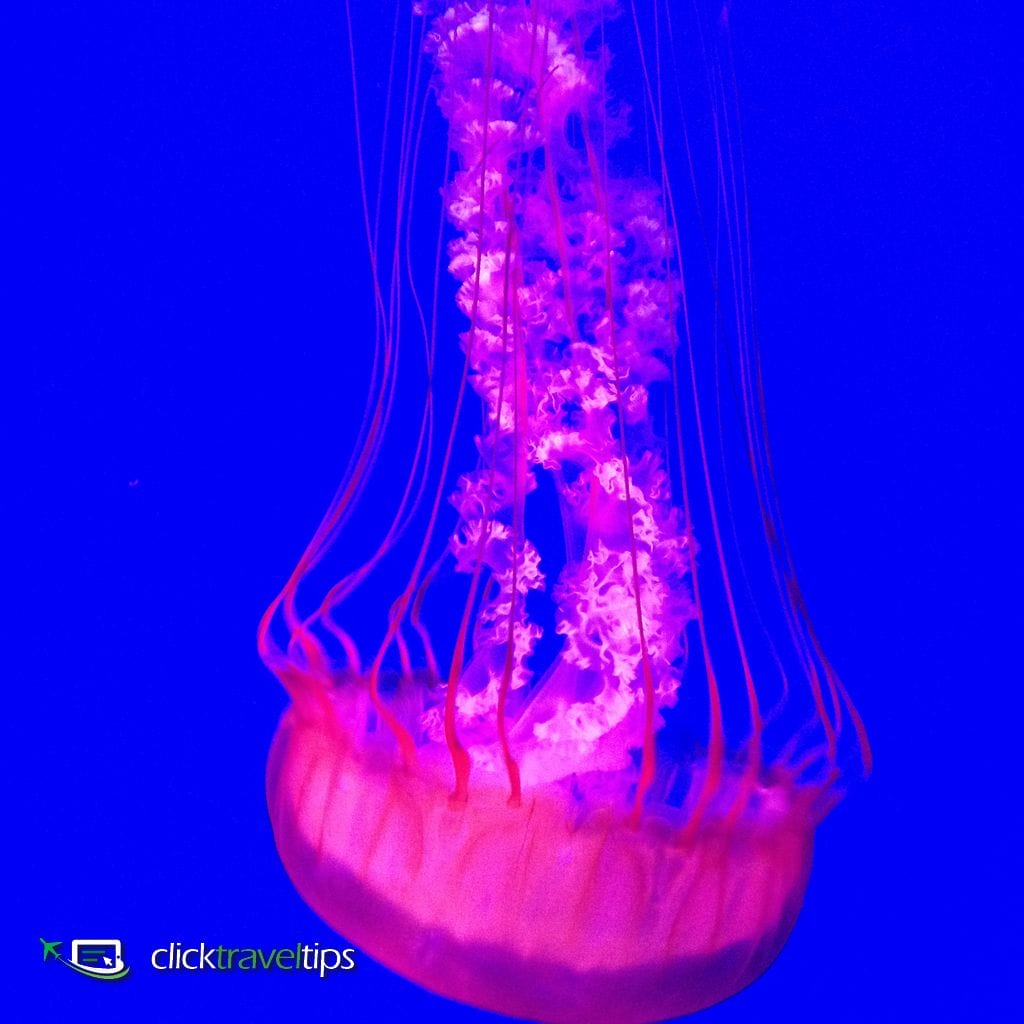 I may be a little bias, as I used to work for Ripley's Believe It or Not!, but a visit to their downtown Toronto aquarium is well worth it, even if you aren't the biggest fan of aquariums (like me). One of the best experiences is the Dangerous Lagoon where sand tiger sharks, sandbar sharks, green sawfish and green sea turtles swim in a tunnel above your head as you stand on a moving walkway. The jellyfish in Planet Jellies, towards the end of the aquarium are also pretty spectacular, with five different species of jellyfish lit up by changing colored lightbulbs.
Tip: Every 2nd Friday of the month the aquarium hosts a jazz night – a pretty spectacular and unique venue to see jazz.