The United States of America has incredible cities and beautiful landscapes from coast to coast. There are endless amounts of sights and hidden treasures just waiting to be discovered by travelers. While the most popular cities to visit in the US tend to be New York, Los Angeles, Chicago, or Miami, many more underrated places still deserve a stop on any American adventure. 
Let's take a look at 5 different American cities that aren't as popular or well-known, and why they should be on your radar for your next trip to the United States.
Boise, Idaho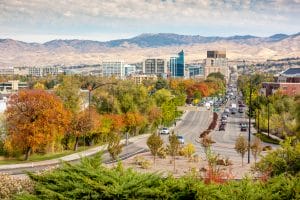 The bustling city of Boise, Idaho, is the least visited state capital in the entire country. It has been voted as one of the most walkable and livable cities, as well as ranking high in safety. It is a great place for nature lovers, as the Boise River Greenbelt is located right on the outskirts of town, and offers visitors a wide variety of walking trails and water activities. 
Boise is famous for its, and there is never a shortage in the city. It is a hub for American cuisine and foodies, as there are hundreds of restaurants and cafes spread out all over the city. Most restaurants pride themselves on using local ingredients, so you are sure to get fresh food no matter where choose. In addition to the city itself, outside the surrounding areas of Idaho, many natural highlights such as waterfalls and indigenous reminders make for a great day trip from Boise. 
Juneau, Alaska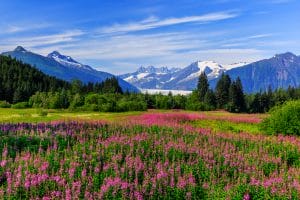 While Alaska is often overlooked by many travelers due to its far northern location, the charming city of Juneau, Alaska deserves to be at the top of any outdoor lover's bucket list. Located between Mount Juneau, Mount Roberts, and the sea, the city is jam-packed with wildlife and natural mouth-watering sights of the Gastineau Channel.
In Juneau, visitors have the opportunity to partake in some of the best whale-watching in the world, in addition to views of sea lions, porpoises, and otters. Bald eagles can be seen perched in trees no matter where you look, and the occasional black bear will even be spotted in the nearby forests. Despite the city being small compared to others, the amount the Juneau has to offer makes it one of the most underrated cities in the US.
St. Augustine, Florida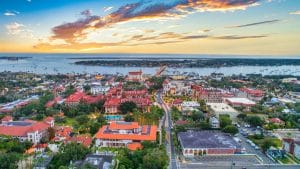 When heading south to the sunshine state, a great alternative to the metropolitan cities of Miami or Orlando is the quaint beach town of St. Augustine, Florida.  It is a dream destination for history lovers as it is the oldest city in Florida, with mesmerizing architecture, historical landmarks, and many 'haunted' and ghostly spots with a legend behind every corner. 
St. Augustine is located on the Atlantic coast of Florida and is home to some of the most gorgeous and peaceful beaches in the state. White soft sand stretches for miles up the coastline, attracting residents and visitors all year round. Florida is loaded with an abundance of attractive cities, but St. Augustine is highly underrated and shouldn't be missed. 
Memphis, Tennesse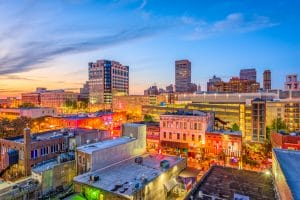 Often overlooked by the flashy city of Nashville, Memphis, Tennesse is a must-see destination, and honestly, deserves a longer stay than just a few days. The "Birthplace of Rock-n-Roll" sits right on the western state border and is known for its music and history. Elvis Presley fans and civil rights history buffs will fall head-over-heels in love with the city of Memphis. 
Sun Studios, one of the must-see attractions in the city, is responsible for the success of many musicians such as B.B King, Jerry Lee Lewis, and Johnny Cash. It is also where Elvis recorded and released his very first record album. 
The former Lorraine Motel, the location where famous civil rights movement leader Martin Luther King Jr. was shot, is now home to a fascinating history museum. Just walking up Beale Street in Memphis is enough to fill your soul with an abundance of music, history, and food, that you will never want to leave. 
Flagstaff, Arizona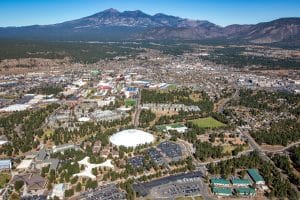 The city of Flagstaff, Arizona is one of the best places to uncover the real natural beauty of the state. The college city is home to several breweries, and restaurants catering favorably to gluten free and vegan cuisine. It is an easy drive-through town while adventuring to the Grand Canyon or the Painted Desert, but has enough quality to deserve its own stop as well. 
Flagstaff is tucked between the largest pine forest in the country. It is home to some epic scenery sights, and enjoys all 4 seasons, catering to winter fanatics, and summer lovers as well. Making the detour off of Route 66 to Flagstaff will bring visitors some great surprises and a chance to experience some of the best burgers in the world. 
Salt Lake City, Utah
The city of Salt Lake City, Utah, is known for its mountains and a surprisingly large amount of Mormon population. The world-class ski mountains and spectacular backdrop alone are enough to keep visitors coming back year after year. The city tends to stick to its religious roots but is open and friendly to all visitors. 
Utah is famous for its gorgeous naturalistic landscapes, and Salt Lake City is a prime location to experience everything the state has to offer. In addition to outdoor activities, the downtown area has a happenin' nightlife, with dozens of bars, pubs, and restaurants for tourists and locals to enjoy. And don't forget, Salt Lake City is the home place of the first KFC restaurant in the world. Between the city itself and the surrounding scenery, it is hard to believe Salt Lake City is as underrated as it is. 
New York and Miami will always be attractive cities in the United States, as they should be, but there is so much more to discover than the same 3 or 4 cities over and over again. On your next journey stateside, try to take the road less traveled, and check out some of these unrated cities; we promise you won't be disappointed.