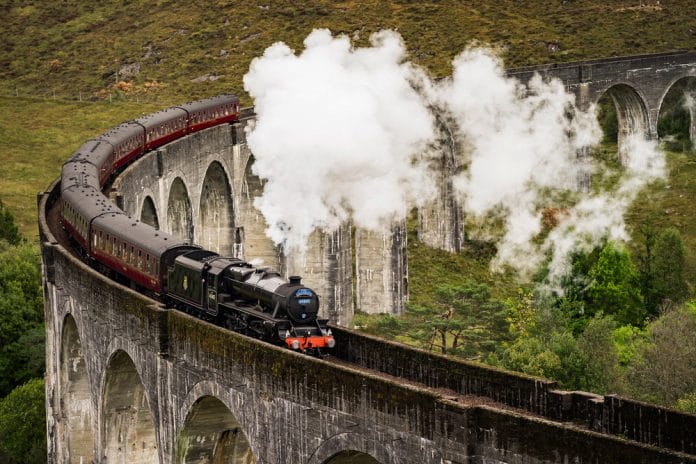 (Last Updated On: January 28, 2022)
Train journeys are making a strong comeback in the UK. From bustling cities to historic towns, the UK boasts pristine scenery that will enchant even the most seasoned travelers. The bygone era of grand train journeys is being revived by many travelers who want to enjoy the experience of a rail journey while relaxing amidst the breathtaking countryside as the train makes its way to its destination. To discover some the nation's most breathtaking routes, consider climbing aboard a train to make their fabulous journeys.
Durham to Berwick
Majestic sea views and historic castles make this one of the UK's best rail journeys, according to an article in the Telegraph. The route is filled with breathtaking scenes—one hates to take one's eyes from the window! While many people may prefer to bring along a book or newspaper for the journey, this is not one of those times! Durham, with its Norman cathedral and medieval ruins is the perfect destination for history lovers while the route to Berwick is filled with scenic enchantment!
East Yorkshire and Hull
This lovely part of the UK is easily reached by train. A simple online search will locate various trains to Hull as well as parts of East Yorkshire that attract visitor throughout the year. The marvelous coastline and its magnificent views are utterly unsurpassed while the city of Hull is regarded widely as pleasant and filled with many attractions—like the New Hull Theatre and Burton Constable Hall, an Elizabethan manor. Wherever you're journeying from—London or Manchester, the entrance to this section of Yorkshire is splendid in terms of scenery and well worth the trip!
Inverness, Thurso, and Wick
According to an article in the Guardian, this route is the "wildest," and also, perhaps, the most breathtaking and remote. To truly get off the beaten path and get away from it all, head north to the majestic Scottish Highlands and get lost in their beauty. This dreamy route is deal for nature enthusiasts and photographers—there's barely a stretch without a spectacular view.
London, Fort William, Mallaig
This long journey to the Western Highlands is one of the UK's most spectacular. Travelers will enjoy rolling in sleeper cars and waking up to jaw-dropping scenes as they draw into the northern lands. Views of Loch Treig and Rannoch Moor are typically highlights of the journey; yet reaching Mallaig and its quaint delights will be worth the trek. As the ferry terminal, Mallaig is a great jumping off point for a trip to Skye and other Scottish islands.
Welsh Highland Railway
For a historic journey by rail, consider this narrow gauge rail journey that takes passengers along the foothills of Snowdonia. The steam locomotive begins its journey outside of the Caernarfon's castle walls and heads into the hills before reaching its destination at Porthmadog. The steep and dramatic views make this a must-experience rail journey.
As some of the UK's most revered rail journeys, these trips will not disappoint! If you're in the mood for a getaway, consider purchasing a ticket and setting out for a grand adventure—and you don't even have to drive!