Switzerland, apparently, has more museums/art galleries per head of population than any other country. Two of the best are located in Bern, which is easily reached by rail from Interlaken and Thun. The Kunstmuseum is in the city centre, and a short bus ride will take you to the ultra-modern Paul Klee Centre. Rail journeys of around two hours will bring the great galleries of Basle, Lucerne, Lausanne, Martigny and Zurich within reach. The Swiss Pass, which entitles you to free travel by train, bus or boat, is also valid as a Swiss Museum Pass and gives you free entry to most museums and art galleries.
But there are three gems closer to hand. The Kunstmuseum Thun, the largest of these, hosts 5-6 temporary exhibitions, by important artists, throughout the year. The Kunstmuseum also manages the Thun-Panorama in Schadau Park which has recently reopened to the public following restoration and extension. The Kunsthaus Interlaken is a much smaller exhibition space that caters for the arts in general. Sammlung Suter, Steffisburg, features works owned by the collectors Hans and Marlis Suter. Two exhibitions are held during the summer months and are an absolute joy.
In addition to these three it is worth checking out Schloss Spiez. In some years it hosts a temporary art exhibition in the castle museum.
Many of the exhibitions are by Swiss or other artists who have a connection with the region. This might suggest a rather restricted parochialism. But this is not the case. The drama and beauty of the Bernese Oberland has always magnetically attracted Switzerland's best e.g. Hodler and also prominent artists from other nations e.g. August Macke.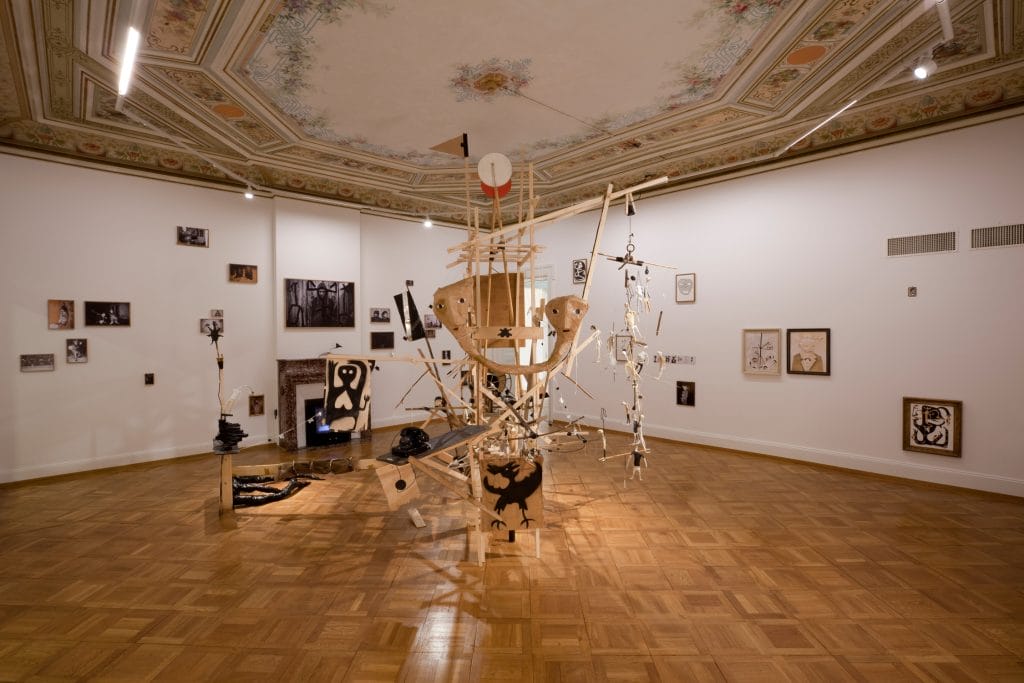 The Kunstmuseum Thun
The majestic Kunstmuseum, formally the Grand Hotel Thunerhof, stands proudly between the Thun to Interlaken road and the fast flowing Aare. Very close to the city centre, it can be reached by an attractive short walk along the river bank, then across an old, flower bedecked wooden bridge, and another few metres along the opposite bank.
Each year the museum holds 5-6 temporary exhibitions, often drawing from its own large collection of Swiss art, whose genres include classical modern, Pop Art and contemporary. The stated main aim, however, is to introduce visitors to 'contemporary positions' that relate to its collection.
I have visited the museum each summer for over 10 years, and have never been disappointed. The exhibitions have been bold, imaginative, thought provoking and sometimes confrontational. Some represent the cutting edge of contemporary art, exemplified by Christian Marclay's 2004 exhibition. Film can play a predominant role as it did in the 2008 exhibition 'In Silent Conversation with Ingmar Bergman'. 'Sea of Tranquillity', the film that was the centre-piece of Hans Op de Beeck's 2011 exhibition is deeply etched in my memory.
In 2013 there was the blockbuster 'It is almost too beautiful here' … on Lake Thun, August Macke and Switzerland. The tragic young German expressionist lived in Oberhofen from October 1913 to June 1914, shortly before he was killed in the First World War.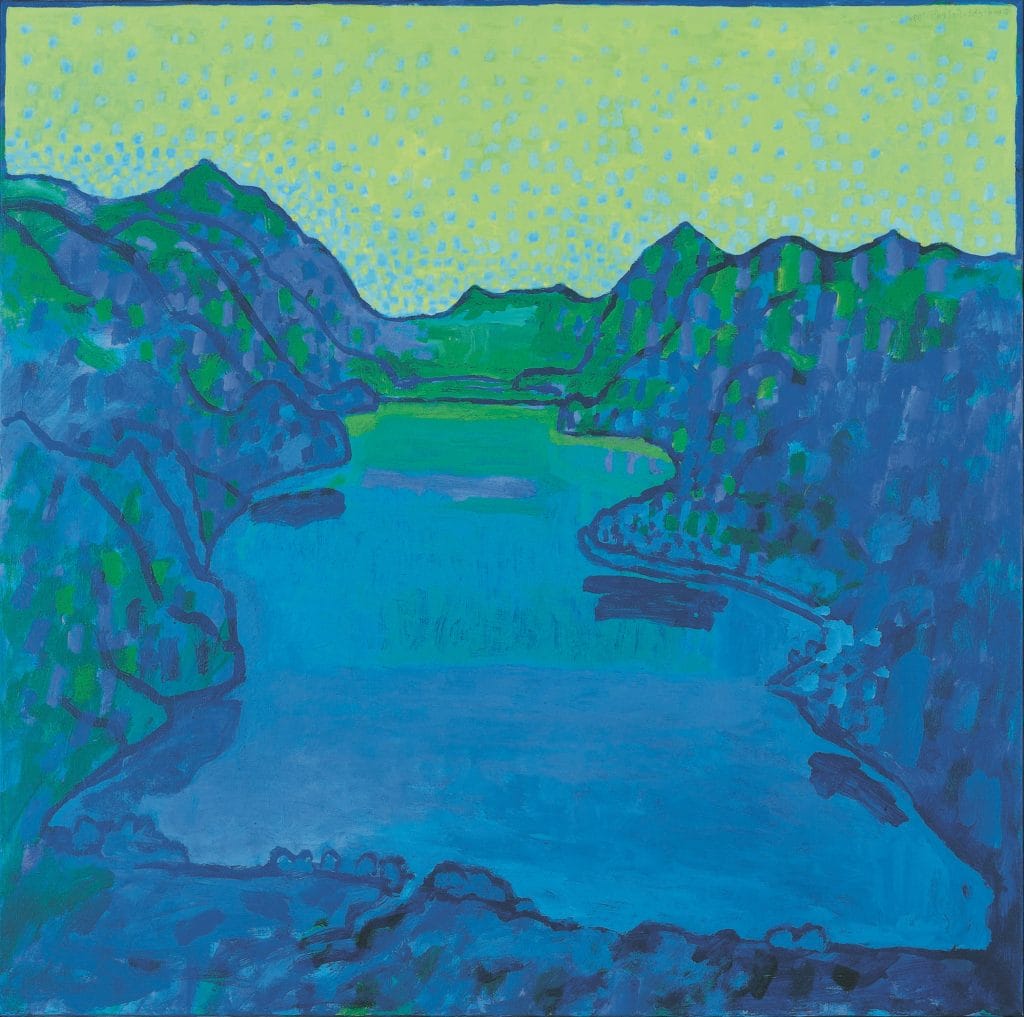 The leading figure in the summer's (2014) exhibition was the Canadian artist Marcel Dzama. His work was supported by smaller retrospectives featuring the young Swiss artists Augustin Rebetez and the U5 collective. Their works included paintings, drawings, models, film, collage, dioramas, photographs and sculpture. Dzama's large and very detailed images demanded close inspection – the result of this, however, could shock.
Although variety plays a key role in the museum's aim of reaching a wide cross-section of the public, the choice and curation of the exhibitions ensures that the objective of creating an intelligent and sometimes confrontational dialogue is not compromised.
Free, well presented, multilingual leaflets offer clear, insightful explanations and guidance, useful to both non-specialist and specialist visitors.
Visitor Information
Entry: CHF 12- /10-
Children under 16 are free
Swiss Museum Pass is accepted
Opening hours
Tuesday – Sunday 10am – 5pm
Wednesday open until 7pm
Mondays closed
Between exhibitions the gallery is closed but the shop remains open (normal hours)
There is a restaurant with an attractive terrace that overlooks the Aare.
For up-to-date information: https://kunstmuseumthun.ch/
Current exhibition: 5.9. – 22.11.2015
Der Kontinent Morgenthaler
Thun Panorama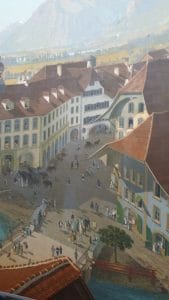 This glorious, huge (38.3m x 7.5m) 360? panorama of Thun and its inhabitants was painted by Marquard Wocher (1760 – 1830) and is the world's oldest surviving example of the genre.
In 1809, perched on a roof in Thun old town, Wocher produced the sketches that he used over the next few years to complete his masterpiece. Until 1887 the panorama was housed in a 19.5m high round building in Basel. It was then gifted to Thun, where it almost sank without trace until a new round building was constructed for it in Schadau Park. It eventually opened to the public in 1961. Recently, to boost its attraction, it was renovated and an impressive, sympathetic extension to the building was added.
In the rotunda there is a central viewing platform with circular walkways at various levels. Go to the top and you are immediately transported back to that morning over 200 hundred years ago when Wocher began to sketch. The distant alpine landscape is unchanged, the characteristic roof tops seem vaguely familiar, two cats perched on a nearby roof are about to squabble. You can peer into living rooms and classrooms, while below you the streets and alleyways teem with people going about their day to day business. Move down to the lower walkways, and the slight change in perspective seems to draw you closer to the action. With over 300 characters depicted there is much to see and enjoy.
Schadau Park is about 800m from Thun railway/ bus station. The walk along the road that heads between the railway track and the boat landing stage is not very inspiring. Alternatively you can take the bus (service no. 1 in the direction of Spiez) and disembark at the first stop, near a small historic church, which is close to the entrance to Schadau Park.
Opening Hours
Easter and May-October: Tuesday-Sunday 11am – 5pm
It is open on public holidays.
Entry price: CHF 8
Reduction CHF 7 (students/seniors)
Children up to 16 – Free
Combi ticket with Kunstmuseum CHF 15
Reduction – CHF 12
Swiss Museum Pass valid
Sammlung Suter – Steffisburg, near Thun
Each summer the historic Höchhus, Steffisburg hosts exhibitions of 50-100 works of art, mostly paintings, which have been carefully selected from the impressive, lovingly assembled collection of Hans and Marlis Suter.
It is 50 years since Hans, a consultant dermatologist and university teacher and his wife Marlis, a schoolteacher, began their collection which now amounts to over 2000 works. Their focus has been on 20th century, classical modern Swiss artworks by high quality artists, mainly from the Thun region and the Canton of Bern. The works in their collection reflect the exquisite taste, sensitivity and warm humanity of Hans and Marlis.
Their collection includes pieces by Cuno Amiet, Arnold Brügger, Etienne Clare, Werner Engel, Marguerite Frey-Surbek, Bendicht Friedli, Nell Graber, Regula Hadorn, Adrien Holy, Robert Indermaur, Knud Jacobsen, Eugéne Martin, Chantal Michel, Otto Morach, Ernst Morgenthaler, Meret Oppenheim, Helene Pflugshaupt, Henry Roulet, Albert Schnyder, Fred Stauffer, Victor Surbek and Hugo Wetli. Many of these artists have been or still are friends of Hans and Marlis.

For their 2015 exhibitions they have selected works by Hugo Wetli and Adrien Holy (16. August – 20 September 2015) and Fred Stauffer and Albert Schnyder (30. September – 1. November 2015)
From 2004 to 2011 the exhibitions were held in Oberhofen, in the prominent Wichteheer museum building on the main road between Thun and Interlaken. Steffisburg is slightly removed from the main tourist area, and consequently the number of tourist visitors has dwindled. This is a pity. Steffisburg is very easily reached by public transport, with buses running regularly from the terminus outside Thun train station. You disembark at Steffisburg Platz, where you will see a sign pointing towards the nearby Höchhus. Entry is at the rear, and the exhibition is on an upper floor.
We have been to most of the exhibitions staged since 2004, and a visit to Sammlung Suter has become a highlight of our holidays in the Jungfrau region. Thank you Hans and Marlis for sharing your wonderful collection with us.
Visitor information
Opening times: Wednesday to Sunday from 14.00 to 17.00
Admission: CHF10
Children free and discounted entry for students and groups of 8
Swiss museum pass accepted
For details of current exhibitions visit: www.sammlung-suter.ch
Hans Suter's professional expertise and artistic insight combine in his highly acclaimed book 'Paul Klee and His Illness', which is available in English translation, and was for sale at the recent Paul Klee exhibition at the Tate Modern Gallery, London.
Kunsthaus Interlaken
Located in Jungfraustrasse, close to Central Platz, the Kunsthaus opened its doors on 12th June 2009. Along with hosting art exhibitions it is also a space for events in film, literature, music, theatre and dance.
Although the exhibition space is relatively small and intimate, its design allows peaceful contemplation of the exhibits. I have visited five of its summer exhibitions and have been impressed by the quality and variety. Exhibitions have included classical modern, modern and contemporary paintings, sculpture, photographs, videos and installations.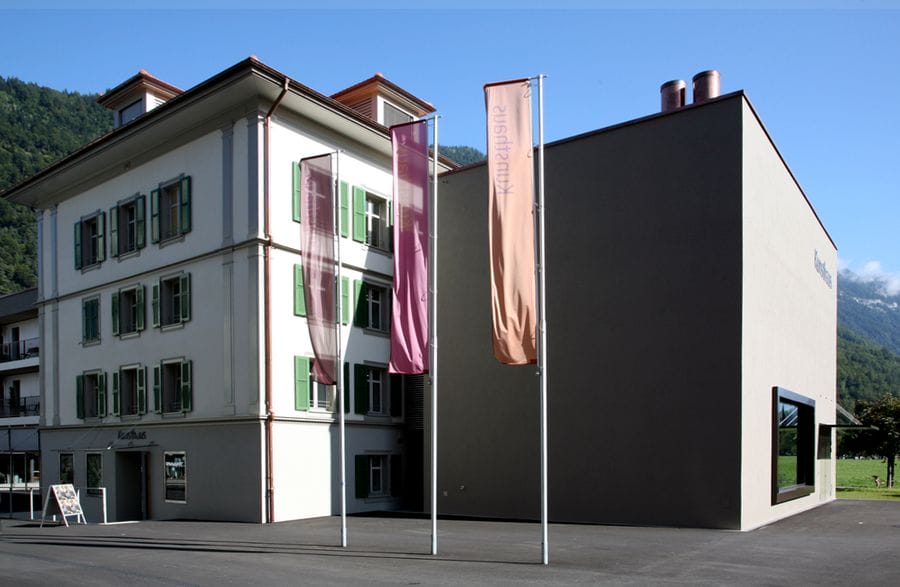 The opening exhibition in 2009 featured work by Arnold Brügger, Pierre Haubensak and Marianne Flotron. The following summer brought 'Lake Brienz and its environs' – loaned works by important 18th – 20th century Swiss artists. George Steinmann was one of the contributing artists in 2011, and this prompted us to take the midday post bus to the mountain village of Saxeten, to view his outdoor installations. In 2012 the 100th anniversary of the death of Clara von Rappard was marked by displaying some of her works in the summer exhibition, which also featured, among others, Meret Oppenheim.
This summer (2014), to commemorate the 150th anniversary of Japanese – Swiss diplomatic relations, the exhibition was dedicated to 'Japan Art Today'. It was composed of pieces by six Japanese artists, who are working mainly in Europe. The gathering at the opening ceremony was addressed by Crown Prince Naruhito – a considerable coup for the Kunsthaus and an amazing surprise for delighted Japanese holidaymakers.
Visitor Information
Entry: CHF 8 –
Students CHF 5 –
Children under 16 are free
Opening hours
Wednesday to Saturday 3pm – 6pm
Sunday 11am to 5pm
Monday and Tuesday closed
For up-to-date information: www.kunsthausinterlaken.ch
Schloss Spiez
Prominently located above the boat landing stage, the romantic Schloss Spiez casts a watchful eye over Lake Thun. The castle museum houses a permanent exhibition which relates to the history of the three families, who have owned the castle, and a temporary exhibition which in some years is art based.
The last three art exhibitions were:
2011 Adolf Hölzel – an artist and teacher who influenced Swiss modernism.
2009 Rembrandt – 40 etchings from the collection of the Bern art dealer Eberhardt W. Kornfeld.
2007 Louis Moillet – an important Swiss painter who in 1914 accompanied Paul Klee and August Macke on their famous visit to Tunisia.
I have been advised that a Picasso exhibition is planned for 2015.
Outside, however, there is a bonus for art lovers. In a small gallery, to the left of the main building, hang ten or so paintings by Marguerite Frey-Surbek (1886-1981) and her husband Victor Surbek (1885-1975). Although resident in Bern they spent their summers in the village of Iseltwald on the shore of Lake Brienz. It is interesting to compare Victor's mostly strong images with the subtle interplay of light and colour that characterise Marguerite's post impressionist paintings.
Getting there:
From the boat landing stage it is a short, uphill walk to the castle. The train station and the adjacent bus station are in the town, and it is a 10 to 15 minute downhill walk to the castle. If the weather is bad or you don't fancy the uphill walk back you can catch the bus that runs from the boat landing stage to the town.
Visitor information
Schloss Spiez is open from Good Friday to Mid October.
Opening hours
Tuesday to Sunday 10am – 5pm (6pm in July and August)
Monday 2pm – 5pm
Admission to Castle Museum and temporary exhibition (you cannot separate them)
Adults CHF 10-
Children CHF 2-
Swiss Museum Pass is valid
For up-to-date information: www.schloss-spiez.ch
I wish to thank Hans Suter, Marlis Suter and Helen Hirsch, the director of Kunstmuseum Thun for their cooperation in the preparation of this article.