Bhutan is a lesser traveled location in Asia that offers incredibly diverse terrain ranging from mountains to lush green valleys and rivers. This country weaves legends, isolated monasteries, delightful food, and rich history into paradisical land.
This country is one of the only countries that measures its residents based on a Grosss National Happiness level instead of the economic development. Using this measuring method has created a region where the people are more important than economic gain.
While remote, Bhutan has a long list of cultural activities, exciting landscapes, and unique locations to visit. Below is a guide and travel tips for exploring Bhutan, the happiest country around.
This guide will allow you to decide if a trip to Bhutan aligns with your travel needs. Though, it's challenging to say no to the incredible views and spicy food found here.
Where Is It?
Bhutan is located in the central area of Asia, towards the south. It sits next to the Himalayan Mountain Range and is well-known for its remoteness. This isolation is partially due to its location and strict government access laws.
This country is bordered by China on the north and India on the south, creating a natural bridge between the two nations.
Things to Carry While Travelling to Bhutan
Packing for Bhutan can be challenging as you'll be traveling by foot for most of the trip. Because of this, you'll want to pack lightly. However, Bhutan is also a conservative country leading to expectations of modest dress, especially when visiting holy areas like monasteries.
Below you'll find items necessary to carry/bring while traveling to Bhutan.
Clothing
As Bhutan is home to diverse terrain, it's best to pack comfortable, loose-fitting clothing. Comfortable shoes or hiking boots are also necessary as trips will likely include hiking or walking for quite a distance. Otherwise, heavier jackets and layers are ideal for morning and evening travel when the temperature drops.
Female Travel Bhutan
If you're a female, travel Bhutan without tight clothing. It's considered inappropriate to wear short skirts, low-cut tops, or any clothing that's too tight. However, as most traveling is done in the outdoors, it's generally more comfortable to wear flowy, long tops and pants anyway.
Solo Travel
Any solo traveler can expect to bring the same items as listed above. Some additional items you may want to consider bringing are a camera, toilet paper, hand sanitizer, sunglasses, and hand warmers.
Documents
Traveling to Bhutan requires documentation, including a valid passport and a visa. Double-check your passport expiration date before traveling to Bhutan. Like many countries, you won't be allowed to enter if your passport expires within six months of your travel dates.
Bhutanese visas are necessary to enter the country as well. These visas need to be approved in the capital of Bhutan and have a $40 fee. A requirement for receiving this visa is to book the trip through a locally licensed tour operator.
Cash
Bhutan is known for not having ATMs available beyond the walls of its major cities (Thimphu and Paro). It's best to bring cash with you for any souvenirs or purchases made outside of these cities. US dollars, rupees, and Ngultrum (Bhutanese currency) can be used for purchases.
Best Months to Visit Bhutan / When to visit
Wintertime (December through February) in Bhutan brings the monsoon season, as does summer (June – September). While travelers can visit during this time, it's not ideal as the weather will be windy and wet. Spring season, aka peak season, is the best time to visit Bhutan as it brings with it clear skies and bright sunny days. This weather is the ideal environment to explore the varying outdoor destinations in Bhutan.
Spring season runs from September to November each year and holds the most available cultural activities and festivals in Bhutan. Fall is also a pleasant time to visit Bhutan, with dry weather and changing colors. This season is an excellent time to view the beautiful golden-brown rice fields.
Bhutan Travel Cost
Bhutan's government has a fixed rate for visiting per day, depending on the season. This sustainable development fee allows the government to ensure tourism does not overwhelm the country. Plus, the daily travel fee covers development in Bhutan. Below is a breakdown of the expenses you can expect to pay.
Spring + Autumn – $250 per day
Summer + Winter – $200 per day
One-time visa payment (as noted above) – $40
Additional Fees:
Those who wish to solo travel – $40/day
Those traveling in pairs – $30/day
Bhutan Safety and Security
Bhutan is a top country in terms of safety. Crime rates are incredibly low, including petty crimes. This country is an excellent location for solo travelers and female travelers to explore. As per usual, it's best to remain cautious and keep personal items within sight. However, there are no outward concerns when traveling to this destination.
A few notes for travelers: climbing high peaks is prohibited as it is believed spirits are found at the top. Buying and producing tobacco is illegal, as is catching fish and hunting. Keep these in mind, and you'll have a smooth trip.
Foods and Drinks to Experience in Bhutan
Bhutan offers many traditional foods and drinks that you can try for the complete Bhutan experience. Below are a few options that you'll want to experience while visiting the country.
Ema Datshi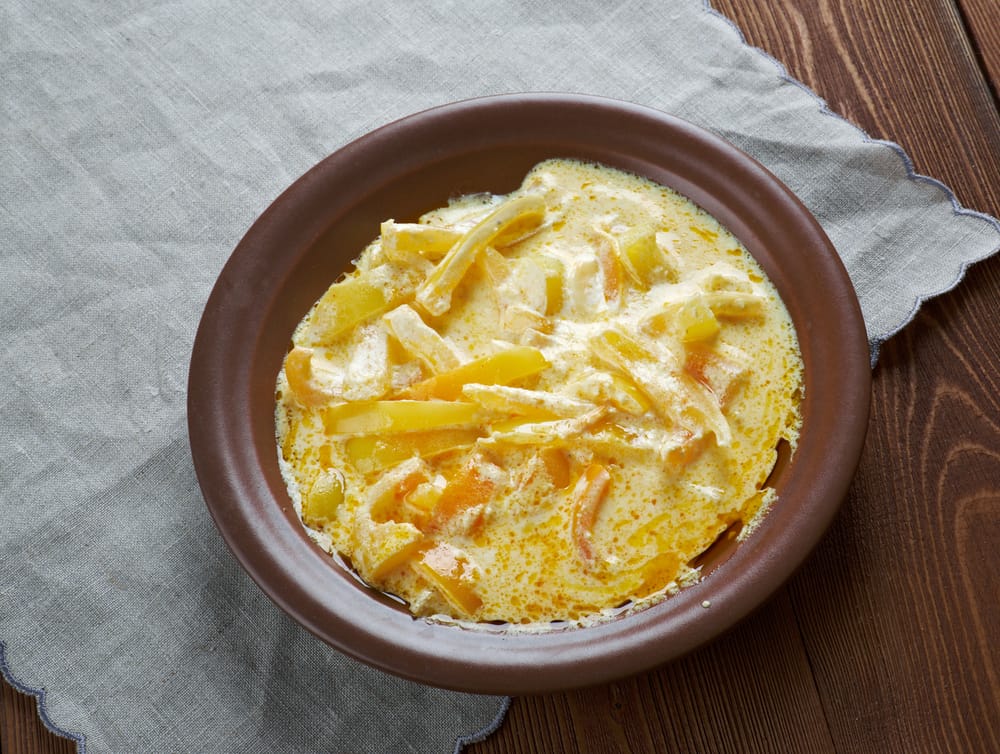 Ema Datshi is a necessity to eat while traveling in Bhutan. This dish is a type of food eaten daily by the locals and consists of chilis, yak's milk cheese, onions, and tomatoes in a stew format. This stew is served on top of red rice. Expect this dish to be quite hot, so only consume it if you have a high heat tolerance.
Momos
Momos are a delicious treat similar to dumplings you may find in China. Each dumpling is filled with meat or cheese and spices.
Misty Peak Whiskey Bhutan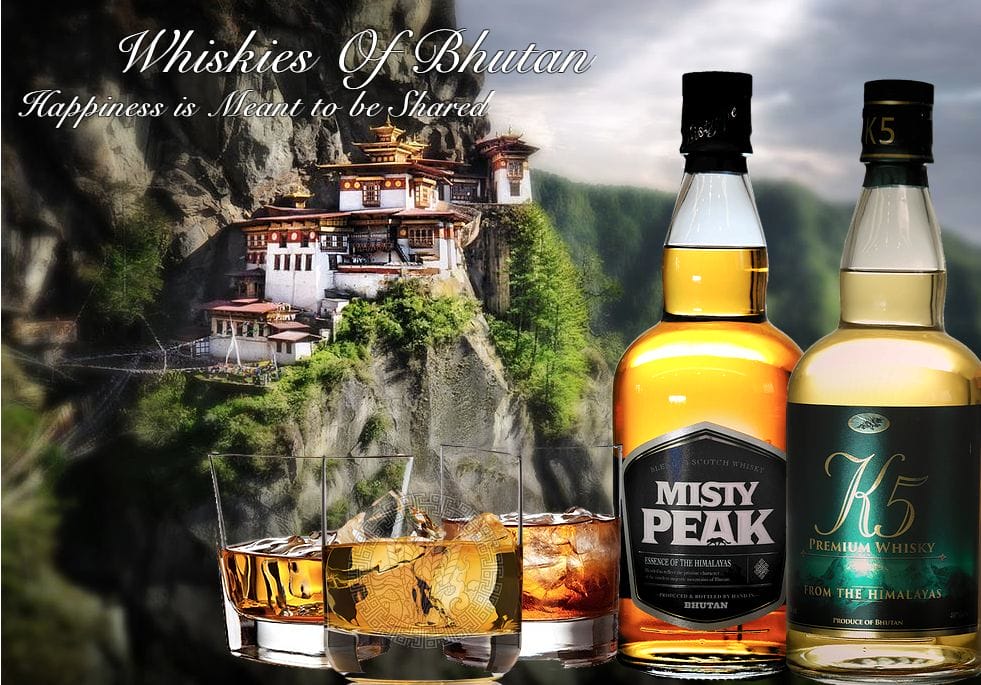 Whiskey, in general, is a largely consumed drink in Bhutan. This variety is inspired by the high peaks that are situated around Bhutan. Misty Peak Whiskey is created from two different whiskeys (Scotch Grain Whiskey and Blended Scotch Malt Whisky) plus Himalayan Natural Spring Water creating a unique flavor.
Best Places to Visit in Bhutan
Bhutan has many offerings for visitors, making it challenging to narrow down the locations to visit. Here are a few must-see destinations while in Bhutan.
Thimphu
Thimphu is the capital of Bhutan. This large city is situated in a lush green valley next to the Wang Chhu River. Many historic sites are available to see in this city, including a monastery/fort that once held Bhutan's civil leaders. Thimphu is also ideal for those seeking modern luxuries like restaurants and shops before taking a trip to more remote locations.
Buddha Dordenma Statue
The Buddha Dordenma Statue is a stunning bronze statue on a golden pedestal. This 52-meter statue was built in honor of Jigme Singye Wangchuck, the fourth king of Bhutan. The Kuensel Phodrang Nature Park surrounds the statue allowing visitors a tranquil place to explore and relax.
Taktsang Monastery
Taktsang Monastery, also referred to as Tiger Monastery, is situated on a cliff partway up a mountain. Legends surround this holy site as it is thought to be the location of Guru Rinpoche's meditations, the individual who brought Buddhism to Bhutan. This monastery is reachable by foot or horseback and offers a picturesque view of the Paro Valley from 800 meters up.
Punakha Dzong
This Dzong, aka monastery, is the second oldest building in Bhutan and the second biggest. It features incredible artifacts and relics from the Drukpa Lineage of the Kagyu School of Buddhism. This monastery was part of the first live broadcast when a royal family wedding occurred in 2011.
If you have additional time in Bhutan and have seen the above sites, take the time to venture into eastern Bhutan for additional scenic areas. You may also see some locals participating in the national sport, archery, here.
Transport Options in Bhutan
There are a few methods for traveling around Bhutan. If you're not a resident of India, the Maldives Islands, or Bangladesh, your transport will need to be arranged by your tour company.
Expect to fly into Paro International Airport through Druk Air or Bhutan Airlines if you're arriving from overseas, as this is the only international airport in Bhutan.
Depending on the number of people in your group, you'll be arriving at destinations via minibus or SUV.
If you're not sure which tour company to book through, Bhutan Green Travel is a reputable and popular option for visits to Bhutan. As noted, they'll arrange transport for you.
Other forms of travel available in Bhutan include domestic flights and helicopter rides. Helicopter rides can be quite pricey, with some routes having a fee of $12,000+. If budget is a concern, it's best to avoid these methods of transport.
Find more activities in Bhutan by visiting the Tourism Council of Bhutan's website.
In conclusion, while the travel restrictions may be challenging for some, the views, friendly locals, food, and historic locations more than make up for this. If you can budget a trip to this majestic location, it's a worthwhile destination.
Visiting Bhutan is an excellent excursion for anyone, though it's particularly great for those who want a solo trip and female travelers due to the high level of safety found here.