Gibraltar is a unique location in the southern point of the Iberian Peninsula. While it is located in southern Spain, it's a British overseas territory with a fascinating history. With views of North Africa, including Morocco, and a closeness to the Mediterranean Sea and the Atlantic Ocean, this hidden away "island" is a must-see.
Its history dates back thousands of years and spans across multiple landowners from Romans to Spaniards and finally, in 1704, the British. Evidence of its long history presents itself around the island in its historic locations like a Moorish castle and the famous Rock of Gibraltar. While on the smaller side (about 2.6 square miles), this peninsula offers incredible wildlife views, natural points of interest, outdoor activities, festivals, delicious food, the list goes on and on.
We've put together a Gibraltar city guide with Gibraltar travel tips to ensure the best possible trip and to help you determine if you should visit. (Spoiler, you'll want to head to this beautiful location by the end of the article!)
Getting Around Gibraltar
There are various methods for getting around Gibraltar during a visit, with the most popular (and budget-friendly) being by foot. As the peninsula is only a few square miles, it's easy to get from edge to edge by walking.
Of course, there are other methods like taxis, buses, and bikes that you can rent. If you're comfortable driving in different locations, you can try a rental car. For those who want to avoid a two-hour hike to the famous Rock, you can walk or ride to the cable car station for a ride to the top for stunning views from the lookout.
With plenty of transportation options, it's pretty easy to explore Gibraltar.
Getting to Gibraltar
Even the methods available for getting to Gibraltar are exciting and offer incredible views. To visit Gibraltar, travelers can take airplanes, boats, helicopters or drive to this destination. Let's dive into each more in-depth.
By Boat
This peninsula is a popular spot for cruise ships to stop at, making it a fantastic destination to visit by boat. Plus, the airport is nearby, offering opportunities to take a day trip to the UK easily.
By Airplane
The Gibraltar Airport brings in flights from the UK as well. To reach the peninsula, visitors will need to fly into the UK and fly from one of the many available airports. Interestingly, when you arrive via plane, the main road is closed to allow the plane to land.
By Helicopter
This option is only available for those traveling back and forth between Gibraltar and Malaga. No other locations are supported by this traveling method.
By Driving
If you're already spending time in Spain (perhaps on your honeymoon), for example, this is an enjoyable way to visit Gibraltar. It involves driving down the Costa del Sol, a stunning coastal route, for about an hour. Many opt for this choice for a day trip to Gibraltar. This option requires visitors to drive (or walk) across the airplane strip to access the peninsula.
Best Time to Drive into Gibraltar (from Spain)
As you might imagine, many people want to explore the sights in Gibraltar. Because of this, traffic can pile up quickly. Head to Gibraltar in the afternoon or evening to avoid the long lines. These two options are the best time to drive into Gibraltar from Spain.
Avoid driving to Gibraltar in the morning, as you will very likely encounter the most traffic at this time. This is one of the cases where sleeping in is the best option. Otherwise, seek a tour with transportation so you can relax during the trip.
Gibraltar Sightseeing
As mentioned, there are quite a few sights to see in Gibraltar. Below are some of the top offerings to add to your must-see list while visiting the peninsula. Don't forget to explore the multiple UNESCO World Heritage Sites – the Mediterranean Steps and Gorham's Cave Complex.
Rock of Gibraltar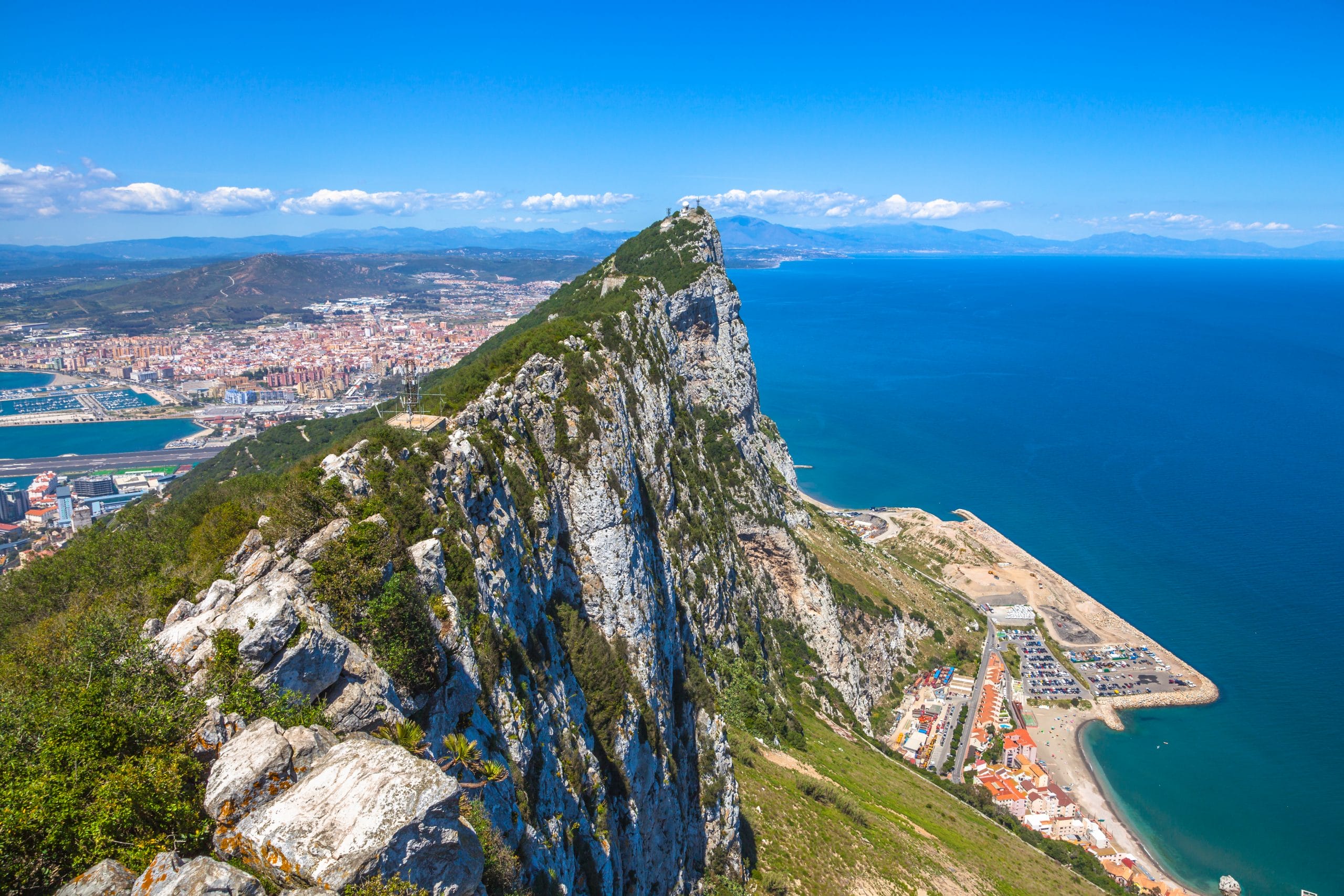 Let's start the list off with the Rock of Gibraltar, as many people correlate the peninsula with this landmark. This Rock is not a rock at all. It's a detailed route of passages previously used to protect the area. From the outside, the "rock" appears more like a mountain and offers excellent viewpoints of the peninsula and North Africa on a clear day. Visitors can explore the exterior by ebike or walking. Here, you'll find the Gibraltar Nature Reserve, where most travelers spend at least a few hours exploring the sites.
Upper Rock Nature Reserve
Visitors can reach the Upper Rock Nature Reserve by foot, cable car, or taxi. This reserve is a protected piece of land inhabited by curious Macaque monkeys. There are quite a few historical sites to explore in this area, including the below.
Great Siege Tunnels
These tunnels are a popular tourist destination and hold historical significance. When the British protected the land in the late 1700s, they created the Great Siege Tunnels as a defense system. Visitors can explore the tunnels, which run from one edge of the Rock to the other, and take a step into local history at the same time.
Windsor Suspension Bridge
Walking across the Windsor Suspension Bridge is an excellent activity for adventure seekers. The bridge, opened in 2016, is situated over a gorge offering beautiful views. This bridge intended to create a passageway that does not affect the surrounding land yet allows travelers to explore the land more fully.
St. Michael's Cave
These natural caves, created by rainwater running between the rocks, are filled with stalactites and stalagmites. There is even evidence of ancient civilizations using these caves as shelter, shown through the cave art found on some walls. Travelers will want to spend at least an hour exploring the caverns to enjoy the underground sights.
Europa Point
This area sits right at the edge of the Rock, at the southernmost part of the peninsula. There are additional attractions here, including a mosque, a lighthouse, and the Shrine of Our Lady of Europe. Include this area on an itinerary if you have additional time, as it's worth exploring the historic sites.
Additional Activities
There are plenty of activities for all interests in the various towns and villages. For example, Cathedral Square holds the Cathedral of the Holy Trinity, hiking trails, and other historic sites. There are art galleries, nightlife options, botanic gardens, animal experiences (on land and in the water), shopping areas, museums, and even thrill-seeking events like coasteering in surrounding towns. Regardless of your interests, there's something here for everyone.
Touring Gibraltar on Your Own
As always, keep basic safety rules in mind when traveling alone. Be cautious with money handling and keep your valuables in sight. Otherwise, the locals are amiable in the area. If you happen to get lost, don't be afraid to ask for directions. They will be more than willing to help. Here are some additional tips to use while visiting.
Keep an Eye Out for Monkeys
This might seem like a random tip, but these curious monkeys enjoy exploring travelers' bags and sneaking away with items (especially items in plastic bags that might be food!). Keep a close eye on your belongings when exploring the Rock.
Call Taxis Ahead of Time
Unlike larger cities in other countries, it's not easy to hail a cab in Gibraltar. These taxis are zipping around, catering to locals and tourists alike. Visitors who want to take advantage of this method of travel should schedule their taxi trips beforehand.
Avoid Overnight Stays for Budget-Friendly Travel
Accommodations in Gibraltar are on the pricey side; if you're budget-conscious, stay in a location off of the peninsula. Or, head to Gibraltar for a day trip.
Check Your Bill Before Tipping
Most eateries here include a tip already, so ensure you double-check the bill before including one. Otherwise, you may accidentally double tip.
Check out the official Tourist Board website here to learn more about activities and the history of Gibraltar.
In conclusion, we highly recommend adding Gibraltar to your bucket list -especially if you're already planning on visiting Spain. Whether you spend a day here or longer, you'll find plenty of activities and sites to keep you occupied. Couple the number of attractions and things to see with the friendly locals, and you have a stunning destination to visit.