Contrary to popular belief, Dover isn't the online place in Europe famed for its brilliant white cliffs. Quite to the contrary in fact, as to take a trip to France's stunning Alabaster Coast is to marvel upon natural beauty that's been inspiring artists for centuries. From Pisarro to Bouding to Monet, the 'White Cliffs of Normandy' have stirred the souls of the all-time greats.
Known formally as Côte d'Albâtre, this incredible 80-mile coastal stretch is made up of pretty pebble beaches, white chalk cliffs and some of the most charming towns and villages in France. Bearing an incredible likeness to the famed White Cliffs of Dover, these towering chalk walls proved particularly inspiring for impressionists like Sisley and Monet. You only need to catch glimpse of the Côte d'Albâtre at the right time of the day to understand why!
While it's possible to head to the Alabaster Coast on a brief excursion, it comes highly recommended to stick around for at least a full day or two. A glorious stretch to cycle, there's so much to see and do for adults and kids alike – particularly during the warmer months of the year. Along with the striking vistas all along the coastline, you'll want to take the time to visit at least a couple of local highlights.
Le Havre
There's a strong chance you'll exit the ferry at Le Havre from Portsmouth, which in its own right is more than worth exploring in full. One of the most important port cities in France, today's Le Havre is a dynamic modern city with a liberal sprinkling of deeply historic buildings. Those with a fondness for art will revel in the echoes of famed poets, painters and architects, which resonate across the entire town. Perret's Eglise St Joseph is perhaps the most standout building of all, with its impressive 107-metre tower. Sample the local cuisine, take a stroll through the historic town centre and begin getting a taste for the gorgeous region you're only just beginning to discover.
Etretat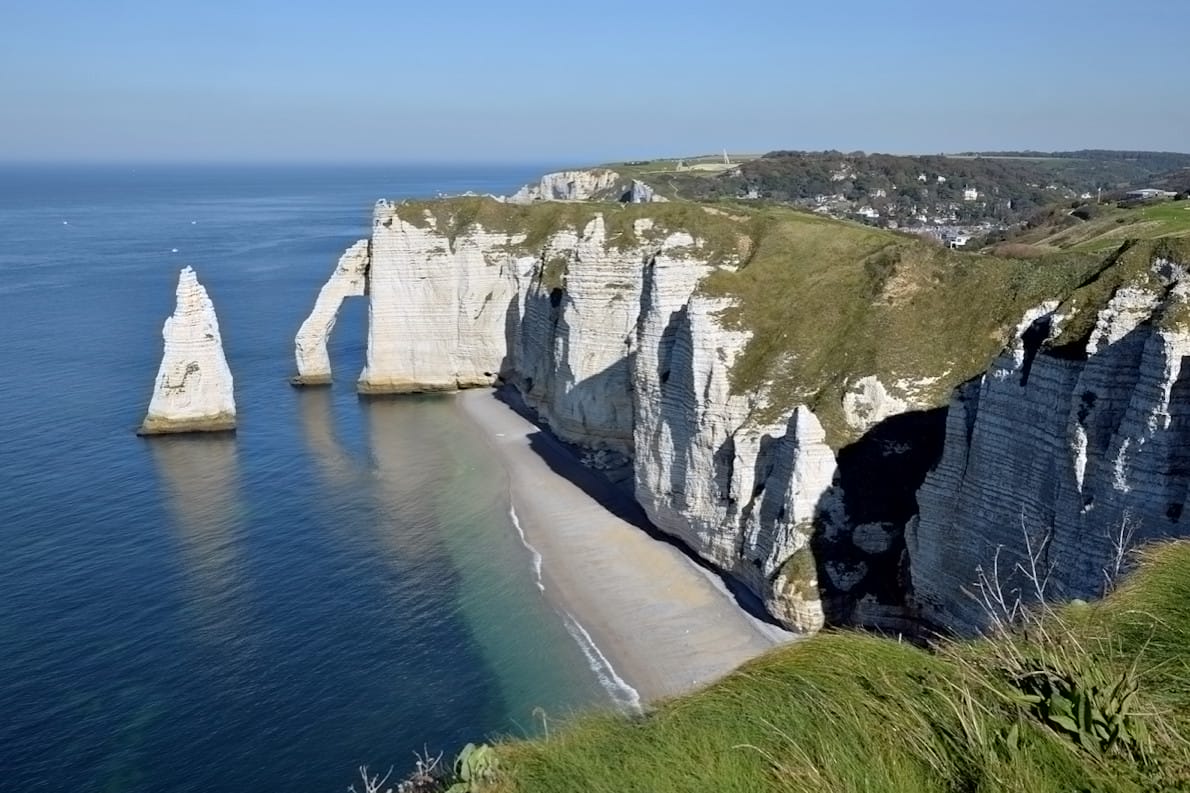 Perhaps the single most characteristic landmark on the Normandy coast can be found at Etretat. All the images in the world of l'Aiguille (The Needle) cannot do this striking rock formation justice. Suffice to say, you'll be left speechless when you see it in person. The view is quite spectacular from any vantage point, but for a real treat it's worth embarking on the simple hiking trail that goes along the edge of the cliff. Along with a quite spectacular golf course right on the cliff, Etretat is also a mecca for seafood lovers – local fishermen everywhere selling their daily catch.
Fécamp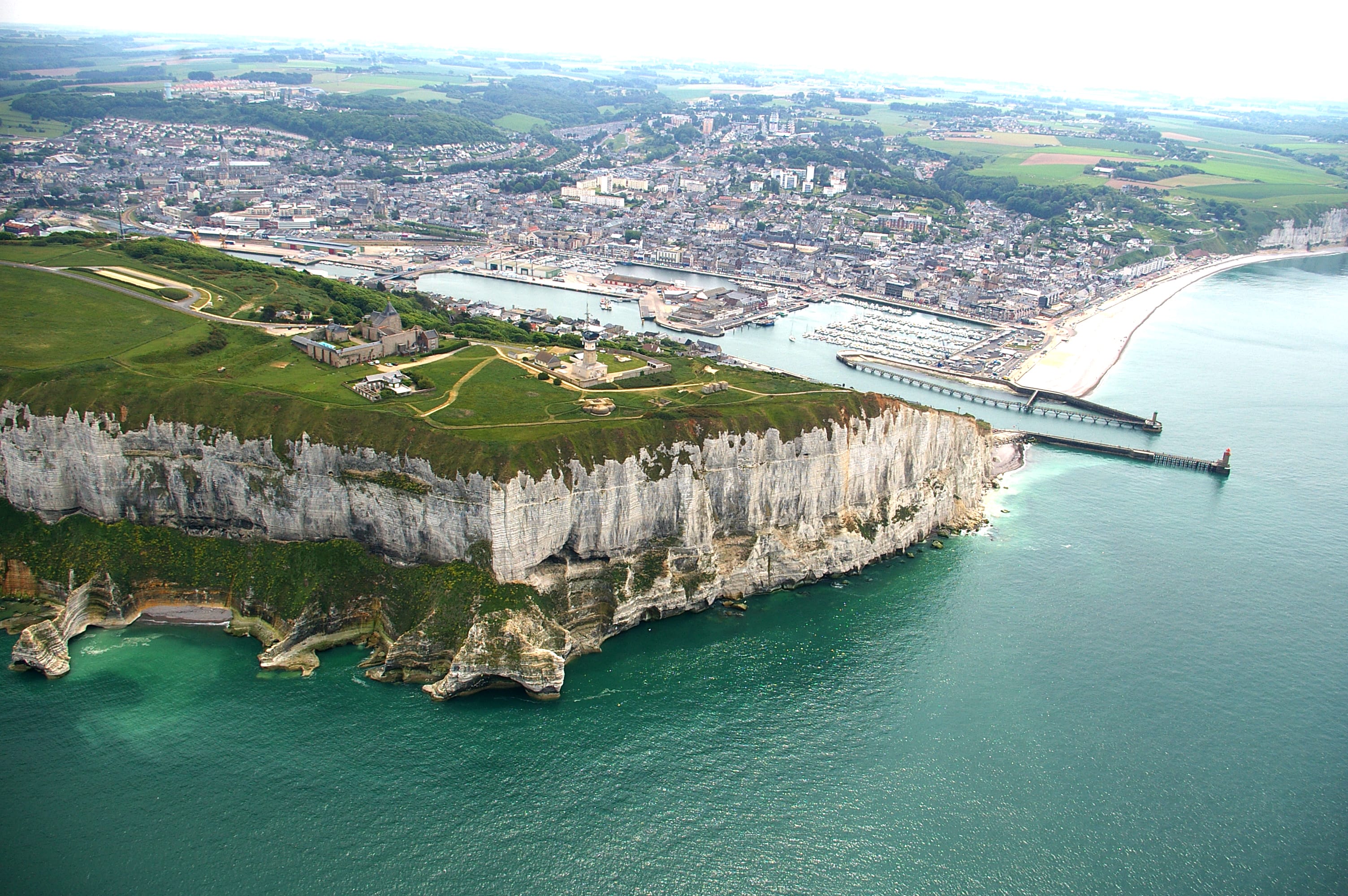 Monet in particular was impressed by the very highest of Normandy's cliffs, which is easy to understand upon laying eyes on them personally. The cliffs at Fécamp stand a towering 300-feet above the bay below – a sight that simply must be taken in from the beach. Or better yet, why not take a brief boat trip out into the bay and enjoy an even better view from the water? Along with being a popular place for yachting, fishing and generally soaking up the local atmosphere, Fécamp is also home to the Benedictine Palace – birthplace of the famed Benedictine liqueur.
Dieppe
A trip to the Alabaster Coast without visiting Dieppe would be a shame, which since the 19th century has been an extremely popular and fashionable holiday destination for France's rich and famous. Its charms become immediately apparent for newcomers – stunning architecture, beautiful beaches and an extremely rich maritime history. Dieppe is also one of the gastronomic highlights of France as a whole, serving up arguably the best seafood in the world.
Côte Fleurie
Last up…and if time permits…a short drive from Le Havre will take you to Côte Fleurie – another region bursting with exquisite and once-exclusive seaside resorts. If possible, be sure to check out Honfleur, Deauville and Trouville. Deauville in particular is a firm favourite among luxury vacationers – the so-called 'Queen of Beaches' having welcomed many of Hollywood's elite to its annual American Film Festival. The nearby town of Cabourg serves up more of the same chic seaside fun and games, if you're still hungry for more.