If you're one of the few but proud people who dare to call themselves mountain climbers then you've probably fantasized about traveling to some remote destination in search of new challenges, right?  Well, we're about to take a look at some of the most fascinating places for climbers, each location featuring it's own unique beauties as well as challenges.
Tanzania – Kilimanjaro
Mount Kilimanjaro is well-known as being Africa's tallest mountain, but what many might not realize is that it's actually made up of three extinct volcanoes.  Needless to say, if you've got the will to complete this climb you'll be treated to some simply exquisite views unlike anything you might have ever imagined.
Switzerland – The Matterhorn
Most Europeans should already be familiar with the Matterhorn as it's been a distinctive landmark and point of conversation for ages.  Many people feel that mounting this peak really separates the chaff from the wheat, so to speak.   Its rugged rocky terrain will certain challenge even the most self-assured mountain climber, but isn't that the point?
Nepal – Annapurna & Mount Everest
In the Himalayan mountain range of Nepal sits Annapurna.  Simply put, this is a very demanding mountain to climb and is well-known as being one of the world's most dangerous as well.  However, nothing is impossible and many have successfully climbed this behemoth over the years; will your name also be written among them?  Of course if you're actually traveling to Nepal, you'll probably want to visit legendary Mount Everest, which is certainly the most well-known and celebrated peak throughout the world due its rank as having the tallest peak (coming in at 29,035 feet or 8,856 meters).
Peru – The Andes
Deep in the heart of Peru are the Andes Mountains which play host to the incredible ancient civilization of the Incas.  If you're interested in climbing there you'll definitely want to drop by the enigmatic and mysterious ancient site of Machu Picchu, which has delighted and amazed visitors for ages now.  The mountains of the region are diverse and range from medium to extreme in terms of difficulty; all in all, Peru is arguably one of the better destinations for people that are serious about mountain climbing.
Russia – Mount Elbrus
If you're interested in taking a trip to Russia, you should consider a stop off at Mount Elbrus.  Largely considered to be the tallest mountain in Europe, Mount Elbrus is both picturesque as well as perfectly suitable for climbers who consider themselves to be of modest experience.  While you're there you can soak in the local cultures and bask in the natural beauty of the region.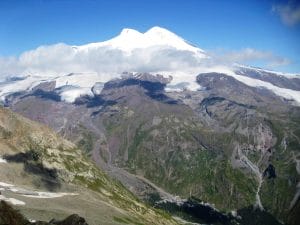 Mexico – Cilaltépetl & Iztaccíhuatl
When most people think of mountain climbing, Mexico isn't probably the first place that springs to mind.  The truth is, there are some excellent peaks located in Mexico, chief among them being Cilaltépetl & Iztaccíhuatl, which are volcano sites.  These are also some of the highest mountains in North America and should be considered quite the challenge, even for veteran climbers.