When it comes to looking for a travel destination that's able to offer a nice hot climate there are more than a few countries one should consider sticking on their list.  As one would expect, many of these target areas are located in tropical or subtropical regions as well which is certainly an added bonus for anyone that's primarily used to living in a temperate zone.  There are two distinct "flavors" of hot climates, if you will – those which are humid and others that are arid.  Humid areas are characterized by "mugginess" or a high concentration of water in the air.  If you visit a hot, humid region, expect to perspire quite a lot (this isn't necessarily a bad thing, especially if you are near a body of water most of the time, for example).  By contrast, an arid region features a general lack of moisture in the air; areas in the Middle East are typically characterized as being arid, for instance.  Those who suffer from extreme allergies tend to find arid regions pleasant because of the positive effect that the environment might have on their condition.
Bahamas
The islands in the Bahamas are well-known for their intrinsic beauty and incredible treatment of tourists.  People have been coming to the Bahamas for ages now and basking in the glow of the near-perfect warm climate and weather of the region.   The Bahamas also host some excellent music festivals as well as many opportunities to experience their unique and exciting culture.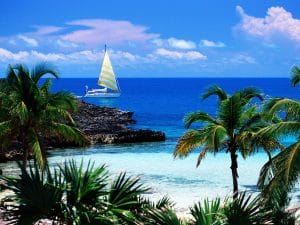 Mexico
In spite of its somewhat beleaguered international reputation, Mexico has a number of very popular international tourist spots which play host to some of the richest and most powerful people in the world.  Aside from sporting a generally arid climate, Mexico has some very beautiful beaches and a rich cultural heritage, including a number of historical sites for those who like ruins and pyramids.
Costa Rica
Costa Rica is a place where you'll find a great deal of climate diversity.  For example, if you stay mostly in the San José and the Central Valley you'll be treated to what many have deemed an "eternal spring".  However, as you venture toward the coasts you'll find that the temperatures dramatically increase.  Likewise, Costa Rica is a place of incredible beauty that also features a diverse amount of wildlife (flora and fauna).
Dominican Republic
Aside from being a place of natural beauty with a nice tropical climate, the Dominican Republic is also a place that thrives on tourism.  Having said that, if you decide to visit this Caribbean paradise, expect to find a number of fresh hotels and other amenities.  Furthermore, the region contains some great historical ruins as well as world-class botanical gardens, zoos and aquariums.
These are just a few of the noted international travel destinations out there with nice hot climates of course, but they're certainly among the most desirable.  Each one of the aforementioned places are very popular among tourists and will certainly satiate your desires for escape and/or adventure.