It might be a tongue twister for those who aren't familiar with the Welsh language, but Lake Vyrnwy is a real asset to nature. This lake has an interesting historic background to it and is a stone throw away from England. After visiting numerous times, I'm ready to tell you why this lake is worthy of a visit. Let's begin.
Wales is blessed with amazing scenery, much of it easily accessed thanks to the size of the country. With roads weaving between the brilliant locations, a car is your best option when it comes to touring Wales, and visiting Lake Vyrnwy. If you don't own a vehicle or are from a different country, then consider car rental. Other than this, there is a bus route.
After punching the directions into a satnav, I and my companions were ready to begin our journey to this Welsh lake. Of course, travelling on the roads was enjoyable, allowing for the opportunity to pull into laybys and experience some impressive Welsh scenery (and pollution-free air).
Next stop? Lake Vyrnwy. Enclosed and surrounded by forest trees, you only get to take a glimpse as you immediately enter the area – otherwise, you are eagerly kept in suspense. With your retinas on high alert, as the lake comes into full view, it is as though you've entered a gateway to a heavenly world.
Now it is time to find somewhere to park up. Thankfully, the parking options are free, so you won't be scrambling for spare-change. Head to the large reservoir bridge, and located close by is a car-park and tea-room / shop. If you need the toilet you can visit the shop, it is free to use. Also, if you don't have a drink, now would be the perfect time to get one.
As you leave your wheels to go on foot, you need to decide what you'll be experiencing on your stay at Lake Vyrnwy. Pre-planning is advised. How about a long walk that skirts around the lake? Perhaps if you are daring enough, you might consider hiring a canoe and heading across the lake armed with little more than paddles and a life-jacket. One brilliant aspect of visiting Lake Vyrnwy is that there are many activities available.
For me, the lake's deep blue colour was very inviting, enough to warrant a canoe hire. The weather was sunny and calm, making it an easy decision. Located not far from the mentioned car park, it isn't hard to find. There are many canoes are resting close by on the shore of the lake, a wooden hut is where you need to go in order to rent your canoe. Pricing was reasonable, costing around £15 for two, and that was for one hour (this may vary depending on factors, including the season and demand that day). There is even a friendly dog that guards the hut – harmless, though.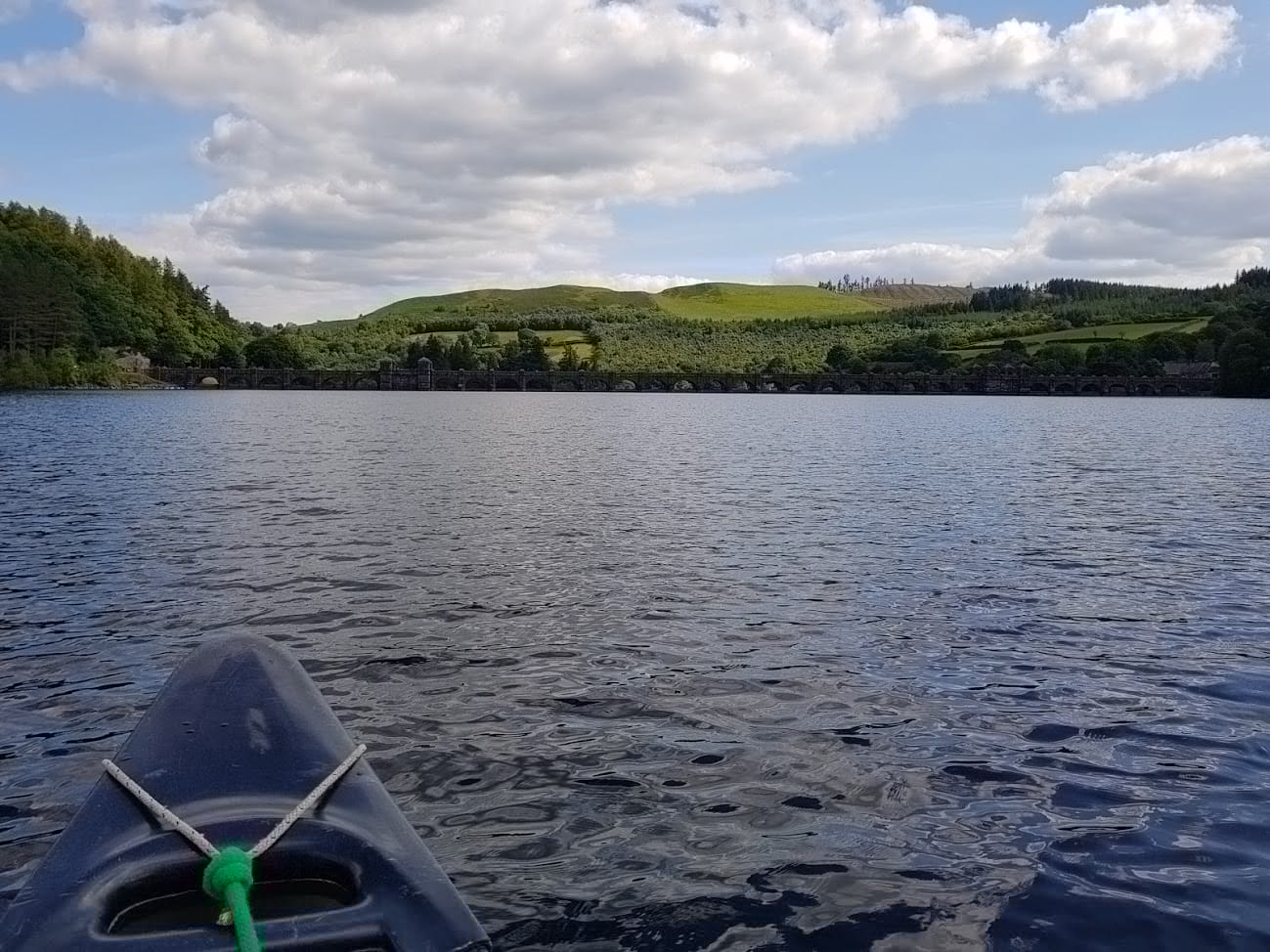 You'll be given a few tips from the owner and from here, away you go. As mentioned, you are given life-jackets, which protects you from disaster. And, yes, it is possible to overturn a canoe – they wobble around easily. What's more, they are confusing to steer. With that said, I and my companion had a fantastic time and were able to head past the center of the lake, then returning back to shore. I highly recommend this, but it won't be for everyone.
With one hour well spent, we then decided to take a long hike around an area of the lake. There are various walks that sprout out to different areas, however, we simply remained on the road, which is extremely quiet, depending on the season you visit. You can walk around the entire lake, meeting back from where you started, but be prepared, since it is a long walk (over 12 miles). In fact, it is far more suitable to bike around the lake than it is to walk, easily rentable at the shop where you can park at.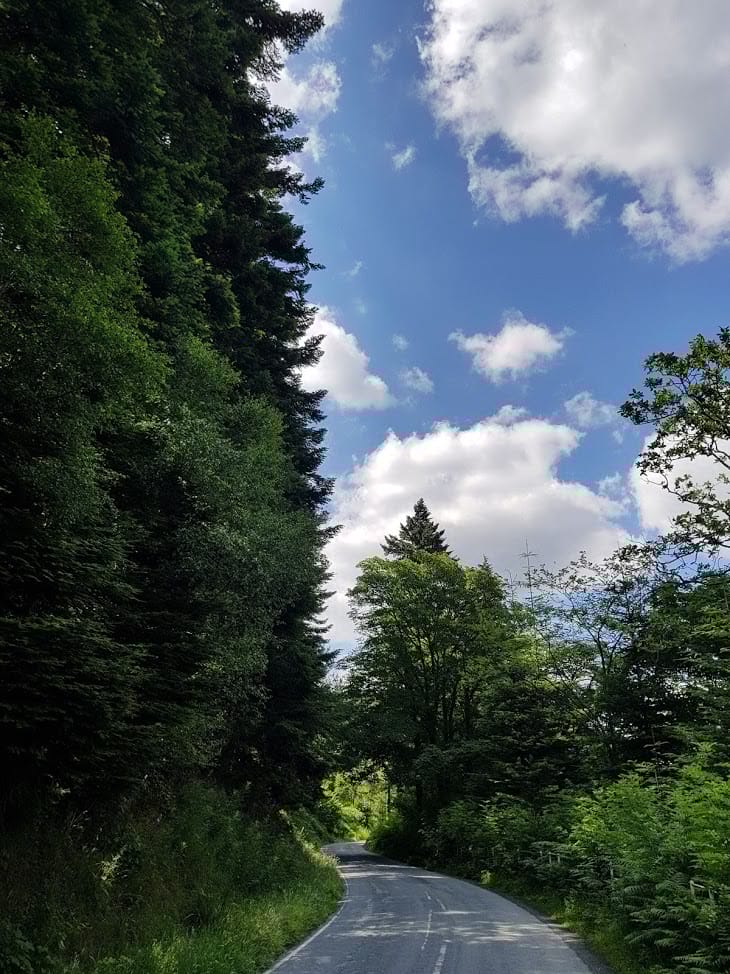 The walk is shadowed by huge trees, rich in colour. Squirrels hopping about, bees buzzing by. Your nose is also a guide, since the scents of pine and plants draw you in. It's all very peaceful, quiet and scenic. There are many entries to the lake, from which you can see through the trees. The lake is always beside you. If you enjoy taking photos, you'll be lost for choice.
On a different visit to the lake, in the autumn, we attempted to walk the entire lake, however, after achieving 5 miles of walking (close to half-way, give a mile or two), we decided to head back. The weather was increasingly deteriorating (wind and rain), and it was becoming dark (past 4pm). It was a wise decision to turn back. We were all alone, minus phone signal, in the dark, with terrible weather.
In fact, the only human activity we heard along the walk was five exotic cars, of which roared past doing a lap of the lake, illegally. As we rushed back to the car, we even wondered if the car park would have an exit barrier that would close off after 6pm, thankfully this was not the case. At around 7:30pm, we eventually reached the car, exhausted – we managed to do approximately 10 miles in a matter of hours.
To conclude: Lake Vyrnwy is a stunning place, and there is plenty to do. However, it is the scenery that makes the location such a diamond. I will be visiting again soon, hopefully, and will continue to update this article with more tips and information. Lake Vyrnwy is currently one of my favourite destinations.