The town of Interlaken, Switzerland, is a popular destination for tourists, generally due to its picturesque surroundings and good transportation connections. However, there are many villages situated nearby that you could consider staying at which provide a quieter and possibly cheaper experience. In this article we take a look at the village of Wilderswil, which is less than a 10 minute drive away from the town of Interlaken.
If you enjoy mountain hiking and great scenery, but want to stay in an area that is somewhat peaceful within the vicinity of Interlaken, then the Village of Wilderswil should certainly be at the top of your list.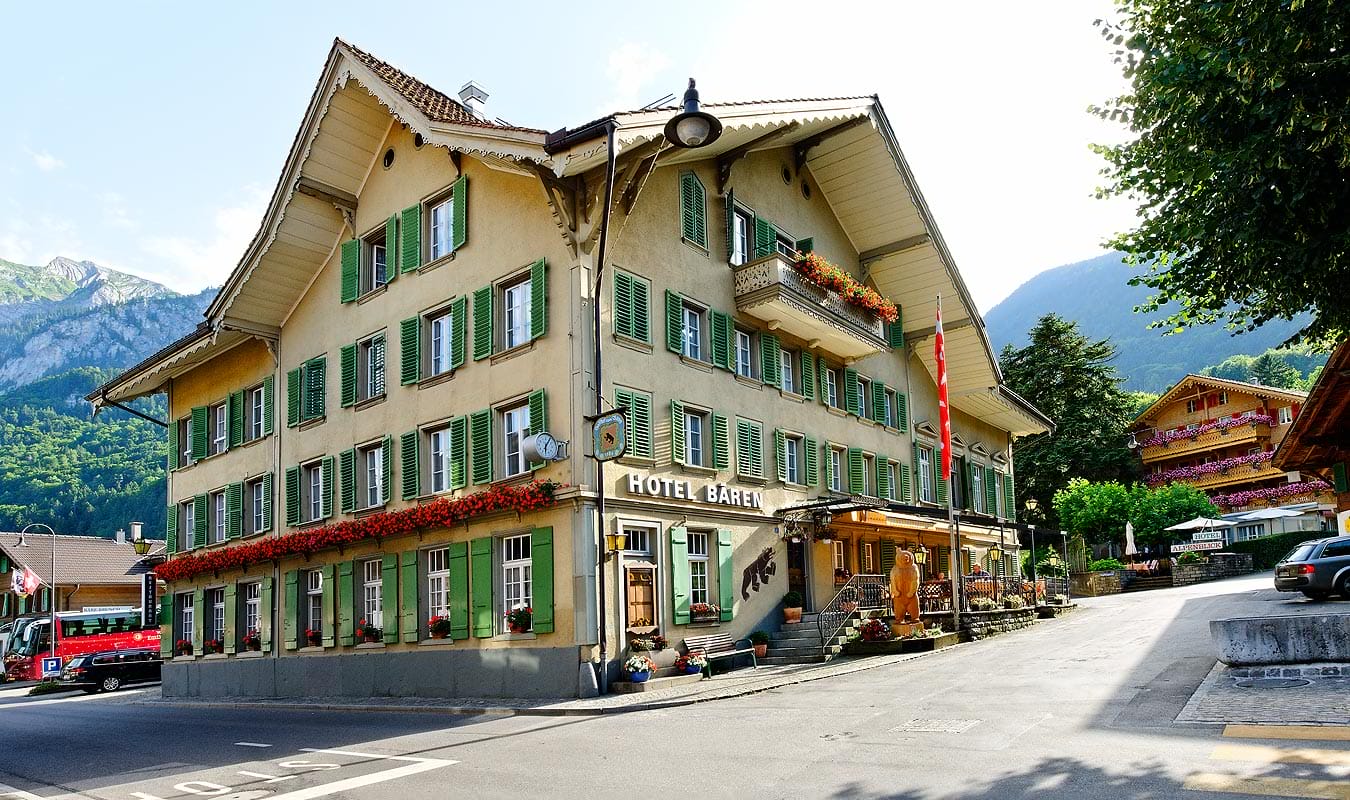 The population of Wilderswil is less than 2500, and the village is well prepared for tourists with approximately 16 hotels, 300 vacation homes, and one camping site. (See further down for local hotel recommendations).
If you're thinking about booking a hotel, then you should certainly get one with a balcony, the views are stunning! Obviously some hotel balcony views are better than others, do your research and use Google Street view to get an idea of what the area looks like and the type of views you can expect from the hotel you're thinking of booking with.
Getting to Interlaken isn't difficult thanks to the efficient bus service and the Wilderswil Railway Station. Depending at which part of the village you stay at, both the railway station and bus stop are usually no more than a 10 minute walk away.
Wilderswil Railway Station doesn't just give you speedy access to Interlaken (6AM to 19:05PM with a train running every 30 minutes). You can also visit the Schynige Platte from Wilderswil station, which is a mountain that offers stunning views to many of the other nearby mountains and two lakes. You might also want to consider a trip to Lauterbrunnen Valley which has stunning scenery and great walks.
Whilst the village is generally quiet, you can expect plenty of fireworks, activities and atmosphere on Swiss National day, which is held on the 1st of August each year. If the local celebrations aren't enough then you can travel to Interlaken, which usually puts on a huge fireworks display.
Some of the hotels in the area put on regular traditional music concerts for all to enjoy. The majority are held outside of the Hotel Baeren.
Evening strolls around the village can be enjoyed in peace; there are very few cars, which is perfect if you want to explore the local area. If you have children then you might want to visit the local park which also has a barbeque area. There is also a river which runs through the village with walking routes nearby.
If you're looking for a peaceful place to stay at near Interlaken, then Wilderswil should more than serve your needs. The fantastic transport options combined with the vast amount of hotels / vacation homes, etc. make Wilderswil a great village to stay at.