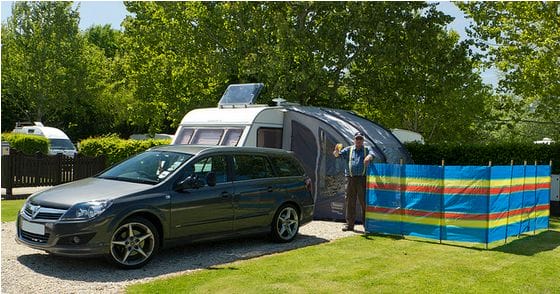 Thanks to Barry Skeates for this image
Many people think back and cringe at the holidays they were forced to endure in freezing and damp caravans when they were children. Some of these people have come to realise that they were good times despite some of the hardships, and have bought a caravan of their own. Now it is the turn of their children to endure the hardships of caravan life, or is it? Caravanning isn't what it used to be and is now more popular than ever.
If you are wondering why caravan holidays are more popular than ever in 2014, it is lucky you stopped by. Here is a convincing argument that may spur you to go out and purchase a caravan of your own.
Mobility
A touring holiday offers the possibility to see many more sights and experience more places than a static holiday. If you find one place is not up to your expectations, move onto the next. Touring is an easy and relaxed way to see any country.
The Vehicles
Modern vehicles are powerful and efficient. Towing a caravan is not as scary as it used to be and, thanks to the reliability of cars these days, you can expect to reach your destinations without any mishaps. Comfort in the vehicles has improved too thanks to the availability of air conditioning in most models. In car entertainment offers a couple of ways to pass your time. Music has been in cars for decades, but now television screens are available built into the headrests. Video systems are also available as an aftermarket extra for a couple of hundred pounds. With a comfortable car and good entertainment it may be a few hours before you hear those dreaded words, 'are we nearly there yet?'
The Caravans
Modern caravans are hotel suites on wheels that come with every modern convenience. Here is what you should expect a typical caravan from the Caravan & Camper Megastore to feature.
Air Conditioning.
Blown air heating. This is similar to central heating, but vents blow hot air around the caravan instead of using radiators.
Hot Water
Shower
Full Cooker
Television Reception
Comfortable Beds
Flushing Toilet. These are far removed from the buckets of yesteryear. If it is the thought of using the toilet that puts you off caravaning, rest assured that the new models are easy to use, odour free, hygienic, and simple to empty without getting your hands dirty.
Let's not forget that all of these things are in luxurious surroundings that you wish you could afford at home. They are capable of sleeping up to eight people comfortably, depending on which model you buy, and the new aerodynamic shapes combined lightweight construction materials help to keep towing fuel costs down.
Extra storage is supplied by using an awning on the side of the caravan. Inner tents are used as extra bedrooms there too, so it is just like camping for those who choose to sleep there.
Are you convinced yet? People are always complaining about the number of caravans on the road. If they experienced a holiday in one, they might not be so quick to dismiss them. They may even feel a little jealous when they see others heading off into the sun. Everyone should experience a caravan touring holiday once, so put it on your bucket list today.