The gorgeous island nation of Sri Lanka is well known for its miles of pristine coastline filled with sandy, seductive beaches, however, it'd be a shame to journey there without heading inland and discovering the cultural, spiritual and historical offerings off the shore.
UDAWALAWE NATIONAL PARK
Besides the beaches, Sri Lanka is also famous for its vibrant wildlife. Monkeys dart through temples, colourful birds ill the skies and elephants roam the green earth below. To see the pachyderms up close, your best bet is to safari through Udawalawe National Park, a few hours west of Colombo. A 4×4 jeep led by park staff will weave its way along dirt road to pass by stunning scenery and, if you're lucky, lumbering elephants. The park is also home to water buffalo, jackals and crocodiles, to name a few.
MUTHURAJAWELA: LAGOON SAFARI
If bird watching and river cruising is more your style, you can connect with local villagers for an authentic tour by water. See first-hand tons of rare bird and water-borne species on this boat ride along the slow, tranquil river that gives life to surrounding villages. Keep an eye out for colourful Kingfishers and herons, as well as floating water monitors.
NUWARA ELIYA: PICKING TEA LEAVES
The centre of southern Sri Lanka is filled with rich soil and lush greenery, which is ideal for growing tea leaves. Many of these estates welcome guests to take tours of the factory to learn more about one of Sri Lanka's main agricultural resources. At the Pedro Tea Factory in Nuwara Eliya, you can actually use the equipment that assists in easily spotting young tea leaves to be picked and dried for consumption. If you race your companions, whoever picks the most leaves is rewarded with a complimentary cup at the small café.
KANDY: TEMPLE OF THE TOOTH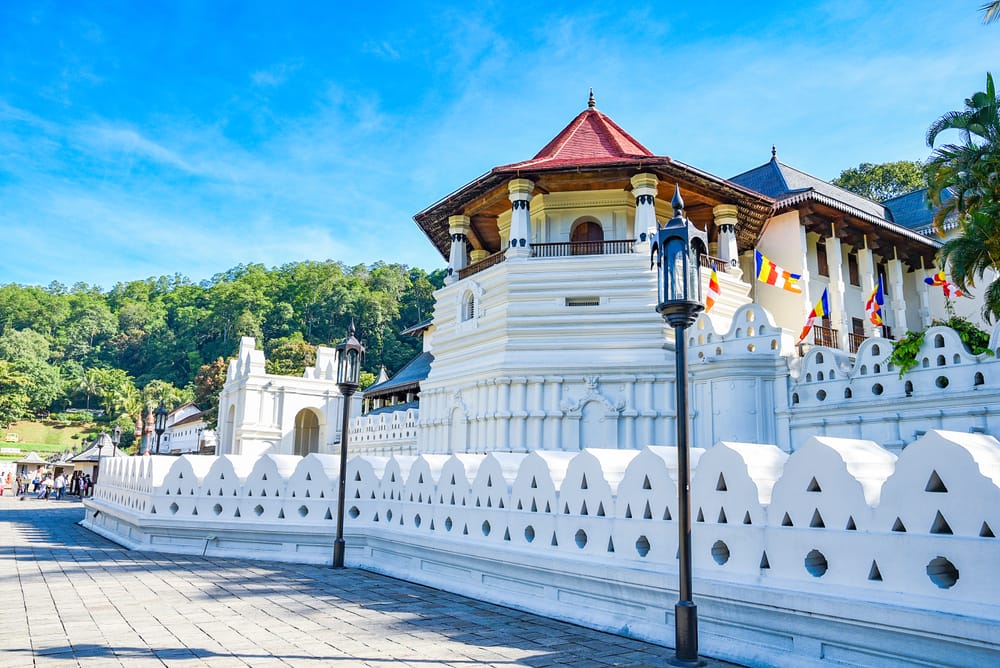 Sri Lanka has a strong vein of spirituality pulsing through their daily life. Buddhism is one of the main practices of the country, evident in countless temples that pay homage to the sacred sage and his teachings. The most holy is the Temple of the Sacred Tooth Relic, or Sri Dalada Maligawa. Visitors can see the relic of Buddha in an amazing dark wood room often full of flower offerings. The rest of the complex is just as grand to explore.
NUWARA ELIYA: TEA-INFUSED MOJITO
Just up the road from the Pedro Tea Factory is Jetwing St Andrew's, a beautiful hotel modelled after old English Tudor design. If you want something a little stronger with your tea, this is the place to have a perfectly crafted cocktail to cool off. In fact, the signature drink is a mojito made with local tea infused with rum, sugar and mint.
DAMBULLA: CAVE TEMPLE
This is another incredible temple that was built around jutting rock formations and caves. Since the first century BC Sri Lankans have considered this space sacred and have embellished the walls with golden statues and painted murals. Each of the five separate caves are part of the overall World Heritage site. The views surrounding the cave temples are also worth noting, featuring rolling green hills and dramatic sunsets.
DAMBULLA: HOT AIR BALLOON RIDE
The centre of Sri Lanka is rugged and often untamed. It's something difficult to grasp when on the ground. However, this is the perfect chance to see the country's sheer beauty from above when you take a hot air balloon ride over mountains, rivers, lakes and trees. Rides start at sunrise and drift slowly through the air, passing Sigiriya Rock and villages where many people will look up to wave as you pass by.
SIGIRIYA: ANCIENT ROCK CLIMBING
If you want a more active adventure, you can make the trek up the sacred Sigiriya Rock. This was home to Sri Lankan royalty and still hosts some of its elegant past, including giant lion statues and intricate rock paintings. The views from the summit are unrivalled.
COLOMBO: TUK TUK SAFARI
Back in the capital, there's so much to do in the bustling urban sprawl of Colombo. To take it all in at once, you can head out with the great staff from Tuk Tuk Safari to get a lay of the land. It's the perfect way to sample some classic street food led by local taste buds and see some city temples and shops. The drivers love letting the top down so you can sip a cold Lion beer and feel the breeze while you tuk-tuk along the busy streets.
MIRISSA: CATAMARAN BOAT ADVENTURE
Yes, Mirissa is a beach town. But there's so much else to experience in the area that doesn't include building sandcastles. For instance, there is a large whale and dolphin population in the open ocean near town that people can observe from tour ships during peak season. If you want a more relaxing and luxurious experience, it is well worth renting a private catamaran tour instead to see the marine life up close. Gather a few friends and have a fully staffed vessel to yourselves, complete with homemade meals, tunes and snorkelling options for only a bit more cash than the crowded whale watching ships.