The Dragon Boat Festival, also known as Zhongxiao in China, is one of the country's most important holidays. It's celebrated everywhere on the mainland; sometimes huge displays of professionalism. Taking place every year (at a different time according to the Chinese lunar calendar), finding your way around this celebration of family and respect, can sometimes make you feel like you need a China travel guide. 
Well, luckily for you, Agness, a travel blogger of Etramping Adventure Blog has put together one such China travel guide to the Dragon Boat Festival. Here, you'll find information on what the festival actually is, where it comes from, who can take part, and where the best places to go are! 
What is it?
A China travel guide only looks at the dragon boat races which take place every year. However, the Dragon Boat Festival isn't just about 'dragon boats' and water sports (although they are included). The festival actually aims to celebrate what is called filial piety, a Confucian principle that relates to showing respect to your elders. 
The most well-known origin story (in modern times) is that the festival celebrates the death of a famous poet and minister named Qu Yuan. It is said that he lived over 2000 years ago in around 278 BC, during a time of great unease in China – the warring states period. Unfortunately, he kind of found himself on the losing side. When his home was captured by the powerful Qin, it is said that he tried to commit suicide by drowning himself. The locals who loved his poetry ran to their boats and raced to save him, but unfortunately, it was too late. Now, each year dragon boat races take place to mimic the actions of those locals and show respect towards the late Qu Yuan. 
How it's Celebrated
There are three main components to any decent Dragon Boat Festival; Zongzi, Dragon Boat racing, and drinking. Each of them makes this celebration one of China's favorite national holidays. Remember though, don't overdo any of them, or you'll end up with a rather full stomach!
Zongzi
China's known for some great food, but did you know about Zongzi? Zongzi is a triangular treat of sticky rice and an assortment of other food, wrapped inside Bamboo leaves. The different flavors are various. You can select a meat option, in the form of beef, pork, or ham. Alternatively, you can always go with a vegetable alternative. Red bean, cabbage, nuts, or hard-boiled eggs are a favorite.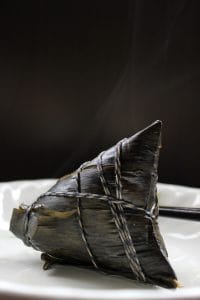 Zongzi are usually steamed, but you might happen to find boiled varieties. Opening them up can be a mess. If you haven't tried it before, make sure to have something to cover your fingers, because it's likely you'll make a bit of a mess. The trick is to open the leaf in one motion, instead of picking at it slowly. 
Dragon Boating
Racing Dragon boats are the best part of the dragon boat festival (for some). If you've seen the Dragon Boat festival in a China travel guide, then you've probably seen the iconic 'dragon heads' on the boats. These races look incredibly exciting when you capture them by flying a drone!
The races take place all over China, Taiwan, Hong Kong, and even the rest of the world. If you live in another world capital, keep an eye out for places where you might be able to get involved there.
The best places to go
Beijing's Xiadu Park
The biggest Dragon Boat race takes place in China's capital and one of the top cities: Beijing. Being such a big place, it's not as easy to join in with the actual racing as in other places. Still, make sure to show up a few days early. Xiadu Park, where the races and activities take place, tends to run a bunch of other activities to help get people's feelings of traditional going. There is also a temple fair, for anyone curious, and rice dumpling-making competitions (it's not as easy as you might think!).
Hangzhou's Xixi Wetlands
Any China travel guide will tell you that one of the best places to experience Dragon Boat races is in Hangzhou. Named by Marco Polo as "without a doubt the finest and most splendid city in the world", Hangzhou is incredibly beautiful, and the Xixi wetland setting for the Dragon Boat races is incredible.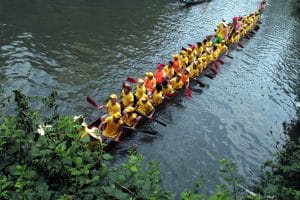 The Xixi wetlands is less than 5 km from the city's iconic Westlake, so pretty easy to reach by taking a bus. The day of tradition consists of taking part in (or just watching) dragon boat races, making Zongzi, and several live performances, such as the Xixi Kungfu Show. It's a place you don't want to miss. 
Suzhou's Taihu Cowboy Country Club
"There is heaven above and there is Suzhou and Hangzhou below", or so the saying goes. Located quite close to Hangzhou, Suzhou has been referred to as the Venice of China, due to its beautiful and intricate waterways. It's a perfect place to run a Dragon Boat festival. 
The Dragon Boat festival events take place next to the beautiful Taihu Lake, in a wonderful luxury resort. If you feel like getting out of the city for a while to recover and relax, Suzhou might just be the best option for you. 
Guangzhou's Yangji Village
Guangzhou is in the very south of China's mainland, just above Hong Kong. If you're planning on celebrating the Dragon Boat festival around here, then you're in for a treat. Events here tend to last for around 20 days, with over 500 boats involved in the actual races. It's pretty incredible. 
Of course, if you're planning on sticking around, Wangjiang Dongguan also runs a series of events for Dragon Boat festival lovers! This includes Zongzi making competitions, shows, and a look at the history of the festival. 
Other places
China is incredibly welcoming, if you want to get involved in Dragon Boat races yourself, then there are a number of different options. Whilst the events listed in this China travel guide are more professional, you can still get involved with them if you sign up far enough in advance. 
If you would prefer to get involved in a less serious competition, most universities hold their own small 'competitions', where people can sign up on the day. Check them out, or maybe call ahead, to find out. You'll be more than welcome.
Have you ever celebrated the Dragon Boat Festival? If so, what was your experience? Don't be shy and please share it with us in the comments.