Where is Dubai?
Dubai is found on the Persian Gulf's eastern shore, near the Arabian Peninsula. Location: to the southeast of Abu Dhabi, it is one of the seven emirates that make up the United Arab Emirates (UAE).
Why Dubai is popular for tourists
The city of Dubai in the United Arab Emirates (UAE) is a famous tourist destination because of its impressive skyscrapers, opulent retail complexes, and exciting nightlife. Dubai is a fantastic destination for first-time and repeat visitors alike. In this article, we will discuss some factors that make a trip to Dubai worthwhile.
Tourists are drawn to Dubai in large part because of the city's remarkable buildings. The Burj Khalifa is the world's tallest building, while the Burj Al Arab hotel, with its distinctive sail design, is another Dubai landmark. In addition to its aesthetic appeal, these buildings also provide breathtaking panoramas of the city.
Dubai's shopping is a major draw for tourists. The city is home to the Dubai Mall and the Mall of the Emirates, two of the largest and most opulent retail malls in the world. These shopping centres have numerous popular retailers, restaurants, and attractions under one roof. The Dubai Mall, for instance, features a skating rink, an aquarium, and multiplex theatres.
The Palm Jumeirah and the World Islands are two of Dubai's most recognisable man-made attractions. Tourists can relax on the sand and swim in the ocean at one of these islands, which also features five-star accommodations. For instance, the Palm Jumeirah is home to many five-star establishments like the Atlantis, Palm, and Waldorf Astoria. In Dubai, at the Palm Jumeirah.
In addition, tourists may learn about and experience Dubai's diverse cultural past. The Al Fahidi Fort houses the Dubai Museum, which exhibits the city's history and culture, such as its tradition of pearl digging and the lifestyle of the Bedouin. You can also learn about Dubai's history and culture by visiting the Dubai Creek, a saltwater inlet that winds across the city. In order to reach the city's ancient markets, known as souks, on the other side of the creek, visitors can take a traditional abra (water taxi) ride over the creek.
Last but not least, Dubai's vibrant nightlife is another attraction. There is a great variety of bars, clubs, and lounges throughout the city to suit a variety of people and price points. Dubai has a thriving and dynamic nightlife culture, featuring everything from beach clubs and nightclubs to rooftop bars with breathtaking views.
Top Attractions in Dubai
Some of the best places for tourists to visit in Dubai are listed below.
The Burj Khalifa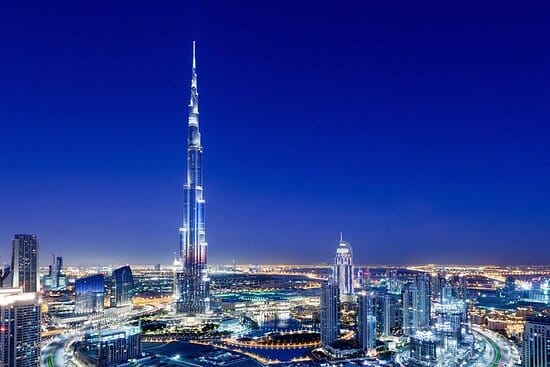 The Burj Khalifa, at 828 metres, is the highest structure in the world. The 124th level features an observation deck where guests may take in breathtaking views of the city below.
Being one of the world's largest shopping centres, the Dubai Mall is home to more than 1,200 stores and a dizzying array of restaurants, theatres, and other attractions. The Dubai Aquarium and Underwater Zoo are also located within the shopping centre.
The Palm Jumeirah
The Palm Jumeirah is a man-made island in the shape of a palm tree that is home to several five-star hotels, such as the Atlantis, the Palm, and the Waldorf Astoria Dubai Palm Jumeirah.
The fourth area to learn about Dubai's history is along Dubai Creek, a saltwater inlet that cuts through the city. Take a ride on a traditional abra across the creek to reach the city's souks, or traditional markets.
The Dubai Miracle Garden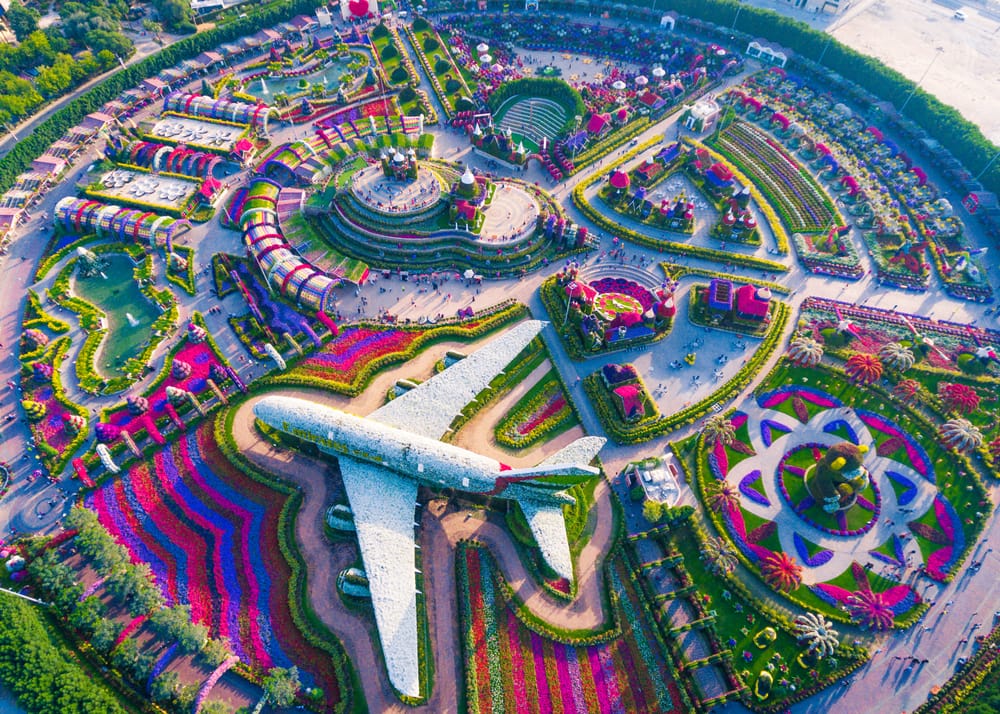 The Dubai Miracle Garden is the largest flower garden in the world, with more than 45 million blooms laid out in breathtaking patterns and shapes.
Al Fahidi Fort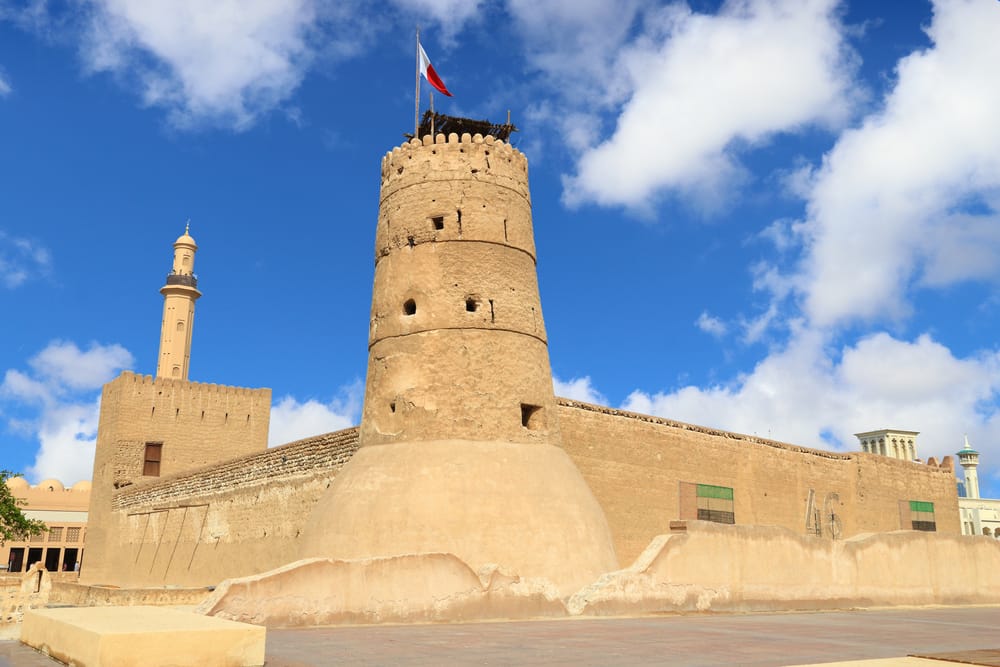 Al Fahidi Fort is home to the Dubai Museum, which highlights the city's history and culture, from its pearl digging past to the way of life of the Bedouin people.
The Dubai Fountain
The Dubai Fountain, the largest synchronised fountain system in the world and a mainstay of the Dubai Mall's outdoor entertainment district. The water jets, which may reach heights of up to 150 metres, are choreographed to music.
Jumeirah Beach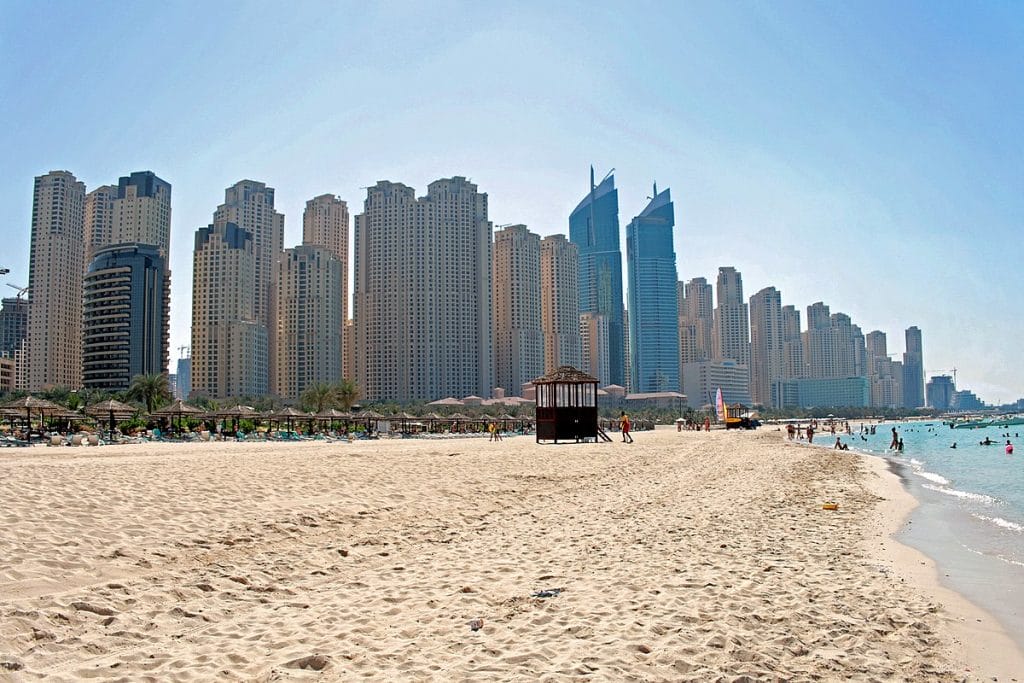 To unwind and take in the water and sun, head to Jumeirah Beach, a public beach next to the luxurious Burj Al Arab hotel.
Ski Dubai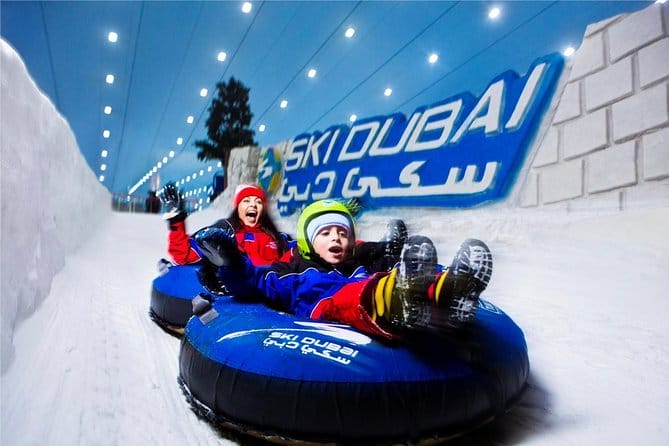 Ski Dubai, a ski resort with five slopes, a snow park, and a chairlift, is located inside the Mall of the Emirates.
Burj Al Arab
Burj Al Arab is one of the world's most opulent hotels, and it features several restaurants and bars where guests can relax and enjoy their stay.
Important Dubai Laws
It is important for tourists visiting Dubai to be knowledgeable of the local rules and customs to avoid running afoul of the law. Key regulations include the following:
Dress Code While Dubai is a modern metropolis, it is still a conservative society, therefore visitors are advised to dress conservatively in public. It is permitted to wear swimwear on the beach, at a pool, or at a water park, but not in other public places.
Affectionate public displays are frowned upon and may result in a fine or jail time.
Those who aren't Muslims can buy alcohol at hotels and bars with proper licences, but public drunkenness and driving carry stiff penalties.
Fourth, marijuana use and possession carry harsh penalties, including jail time and deportation.
It is illegal to take photographs of individuals, especially women, without their consent, and those who do so face fines or jail time. It is also against the law to take photographs inside any military or government building.
Any sexual behaviour before or after marriage is punishable by penalties or jail time in Dubai, including prostitution.
To show respect for Muslims who fast from dawn till dark during the holy month of Ramadan, please avoid eating, drinking, and smoking in public places between sunrise and sunset.
Visitors visiting the United Arab Emirates (UAE) are expected to uphold Islamic traditions and practices out of respect for Islam, the country's official religion. Not criticising Islam or other religions in public is part of this.
To avoid any legal or cultural missteps, travellers visiting Dubai should be aware that local laws and customs are severely enforced.
Weather in Dubai
Due to its location in a desert, Dubai experiences high temperatures and minimal precipitation year round. Summers are very warm, and winters are rather cool, in this city.
The hot and humid summer months of Dubai (May through September) can reach searing highs of 45 °C (113 °F). Even at night, it is not unusual for the temperature to stay in the forties. To avoid dehydration, tourists should stay inside during the warmest parts of the day and drink lots of water. Shopping malls and museums are only two examples of the many air-conditioned indoor attractions available in Dubai.
Temperatures drop to a more comfortable 15°C to 30°C (59°F to 86°F) from October to April in Dubai, where they typically stay for the duration of the winter season. At this time of year, sightseers go to the city's beaches, parks, and outdoor cafes to take advantage of the warmer weather.
Dubai receives very little precipitation overall and almost all of that falls during the winter. The city gets its annual allotment of 100 millimetres of precipitation during the course of about five or six wet days. While rainfall has been modest, the city is prepared for any potential flooding.
In general, but especially in the summer, the weather in Dubai is hot and dry. Keep yourself hydrated by drinking lots of water and wearing loose, breathable clothing.
Transportation in Dubai
There are a number of ways for tourists to navigate Dubai's extensive public transportation network. Dubai's primary means of transportation include:
There is a contemporary, climate-controlled train system that links different regions of Dubai called the Metro. It's one of the easiest and cheapest methods to get around the city, and it runs two lines: the Red Line and the Green Line.
The bus system in Dubai is large, connecting much of the city. The buses operate on a regular timetable and have air conditioning. Sightseeing bus tours of the city are also available.
Third, take a taxi; they're easy to hail in Dubai and are a quick and easy method to get around the city, especially for shorter trips. Taxis use metres, and their prices are reasonable in comparison to those in other big cities.
The Dubai Tram is a light rail system that runs between the Dubai Marina and the Jumeirah Beach Residences. It just has one line, but it gets you to all the major attractions in town quickly.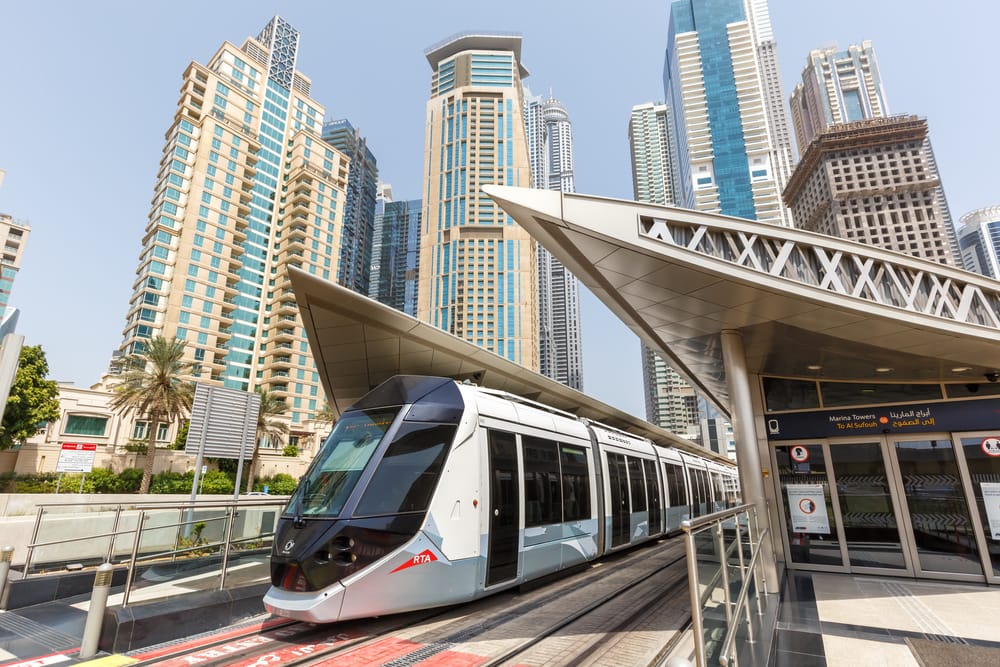 Taxis can also be taken by water in Dubai, with services available in both Dubai Creek and Dubai Marina. These taxis provide an exciting new way to see the city's waterways and landmarks.
Tourists who would rather drive themselves about can choose from a wide variety of car rental agencies while in Dubai. Visitors will require an international driver's licence to rent a car and must drive on the right side of the road.
In general, tourists in Dubai have a number of options to pick from when it comes to how they'd want to get around town, each of which may be tailored to suit their individual needs and budgets.
The Best Hotels in Dubai
Guests can pick from a broad variety of high-end lodgings in Dubai, so there's something for every taste and budget. Some of Dubai's finest accommodations are listed here.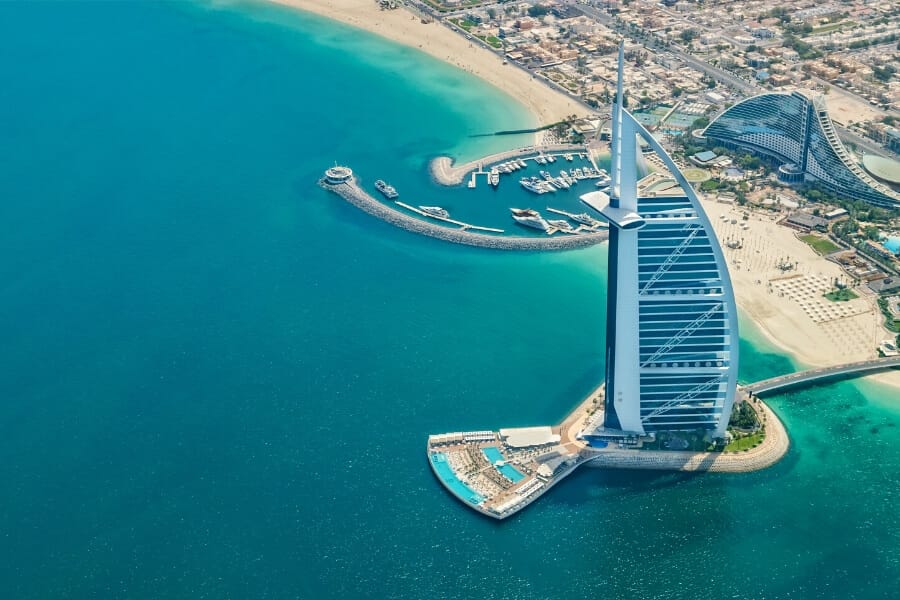 One of the most expensive hotels in the world is Burj Al Arab, a sail-shaped structure on its own private island. All of the rooms and suites are beautifully decorated and equipped with cutting-edge conveniences, and they also feature breathtaking panoramas of the Dubai skyline.
Located on the island of Palm Jumeirah, Atlantis, The Palm is a five-star resort with a number of attractions and amenities, including a water park, an aquarium, and a number of restaurants. Spacious rooms and suites with breathtaking views of the Arabian Gulf are available.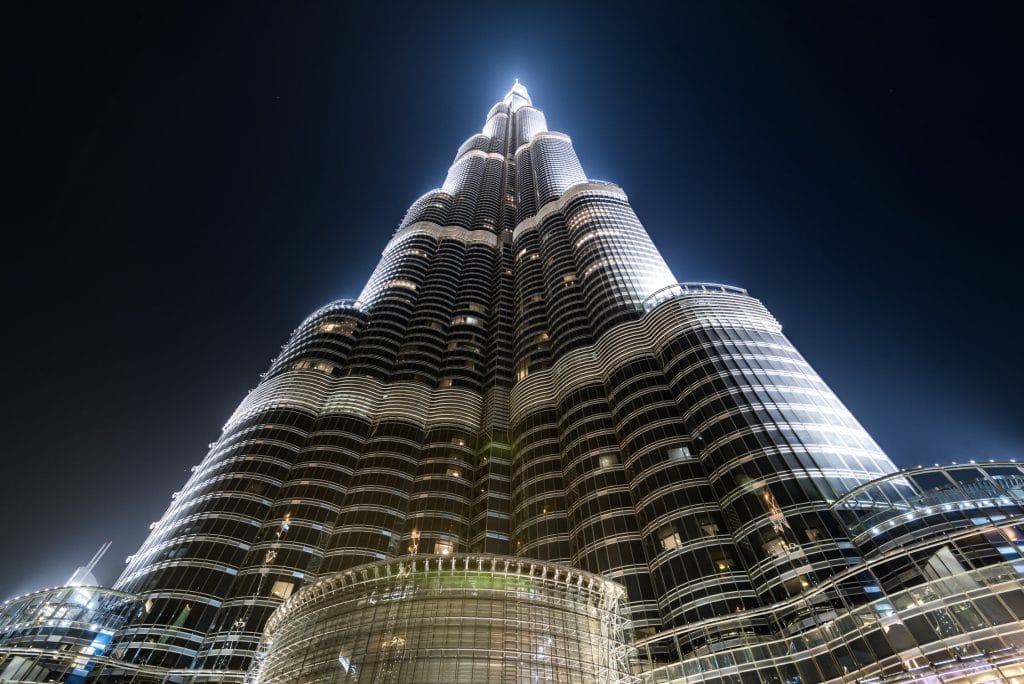 The Armani Hotel Dubai, which can be found in the Burj Khalifa, the highest structure in the world, is a 5-star establishment known for its opulent rooms and attentive staff. All of the rooms and suites at this hotel have been created by renowned Italian fashion designer Giorgio Armani, and are accordingly modern and chic.
The Madinat Jumeirah resort is home to the four-star Jumeirah Al Qasr hotel, which boasts breathtaking vistas of the Arabian Gulf. The hotel has a private beach, multiple swimming pools, and a wide selection of restaurants, and its rooms and suites are attractively decorated in an Arabic style.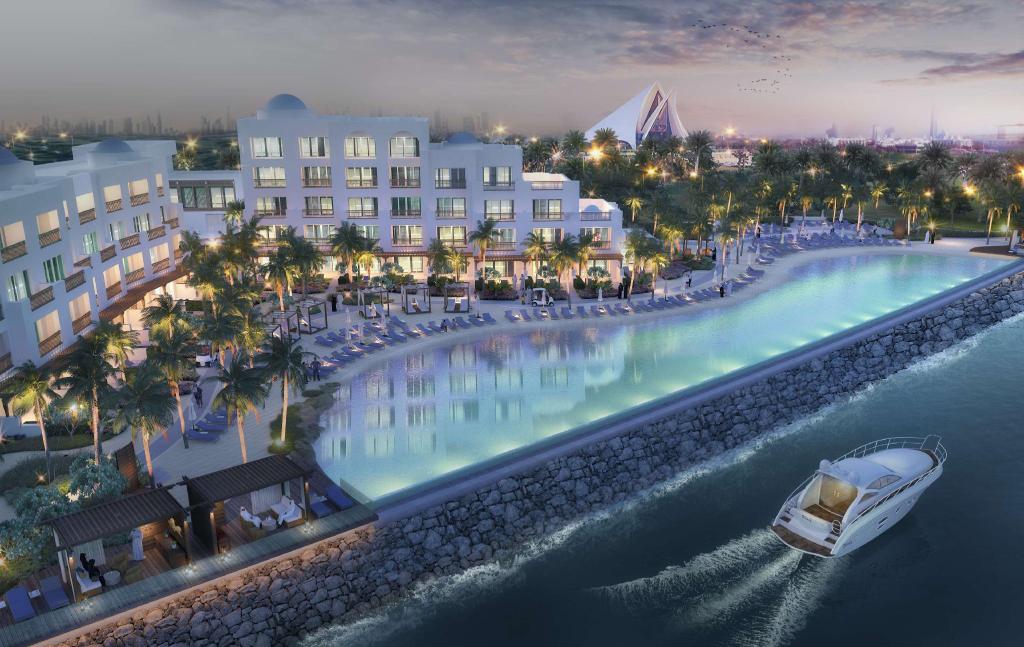 The Park Hyatt Dubai is a 5-star hotel that sits on the waterfront of Dubai Creek and provides spectacular views of the city's cityscape. The hotel has a spa, multiple restaurants, and a golf course in addition to its nicely decorated rooms and suites equipped with modern conveniences.
In general, Dubai is home to a plethora of five-star hotels and resorts that excel in both service and facilities. In this global metropolis, tourists have their pick of opulent accommodations to suit a wide range of budgets and tastes.
Dubai's currency
The UAE dirham is the legal tender in Dubai and the rest of the UAE (AED or Arab Emirate Dirham). There are coins and banknotes in circulation, with each dirham divisible into 100 fils.
Dubai is full of exchange offices, banks, and ATMs where tourists may convert their money into dirhams. Dirhams are easily convertible to the United States dollar, the British pound, and the Euro.
Credit cards from Visa, MasterCard, and American Express are accepted at many establishments in Dubai. While credit cards are convenient, having some cash on hand for minor purchases and using ATMs from trustworthy banks to withdraw dirhams is always recommended.
Summary
In conclusion, Dubai is a multifaceted metropolis that caters to a wide range of interests, from its breathtaking buildings and opulent shopping to its gorgeous beaches and diverse cultural offerings. Dubai is a great place to visit for a number of reasons, including its rich cultural attractions and exciting nightlife. You should prepare for the hot desert temperature by bringing clothes and supplies that can withstand the elements, and you should also research the local laws and customs before you go.