One of the things many dog owners have to think about when they go away on holiday is what to do with their dogs. Some people simply pay for them to be looked after in kennels, others may ask a friend or relative to care for them.
A lot of dog owners would actually prefer to take their pets with them on holiday but some worry about pet behavioural issues. The trouble has always been where to find a suitable holiday destination that both owners and their pets would enjoy.
In the summer months, one idea for a holiday is to spend it somewhere near a beach. So we've come up with some locations of dog friendly beaches and accommodation for you to consider for your next summer holiday.
Perranporth Beach, Cornwall
One of the most dog friendly beaches in the UK, Perranporth Beach in Cornwall offers miles of golden sands and bathing for dogs. This location is also family friendly, and if you're feeling adventurous you could even go surfing too!
Accommodation can be had from places such as the Reen Cross Barn in Goonhavern, which is a small village 2 miles east of Perranporth.
Watcombe Beach, Torquay
Surrounded by wooded hillsides and cliffs, Watcombe Beach is an idyllic spot to have a wander. There is a steep path that leads down to the beach, which passes through woodland and opens to reveal a cove with magnificent scenery.
If you feel like splashing out (with money that is, not sea water!) then you might like to stay at the luxurious 5 star Pilgrims Rest luxury cottages, which are only a mile away from the beach.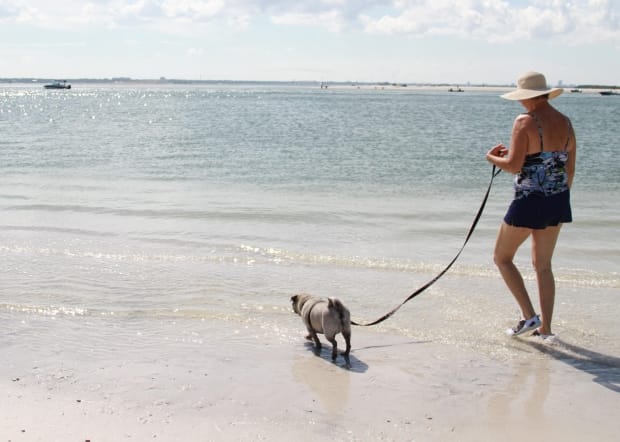 Holkham Beach, Norfolk
One of the most unspoilt beaches you're likely to ever come across, Holkham beach boasts some of the most beautiful stretches of sand in the country. The beach is managed by Natural England, and is home to many rare species of flora and fauna.
The nearby Victoria Hotel is only a 15-minute walk from the beach, and offers a multitude of benefits (apart from being dog friendly of course) such as the vast choice of meals in their restaurant which use fresh, local and seasonal ingredients, tastefully decorated bedrooms, and much more.
Allonby Beach, Cumbria
The small village of Allonby in Cumbria, once an important centre for herring fishing, is in a designated area of outstanding beauty. Its long and sandy beach, which is a cleanliness and safety winner, has superb views across the Solway Estuary right up to the mountains of southern Scotland. The village also has a long history of being a sea-bathing resort, dating back to the 18th century, and has retained much of its Georgian and Victorian charm.
Nearby, the Dickinson Place Holiday Cottages offer luxury, dog-friendly accommodation. Their cottages are set in a tranquil courtyard in the centre of the village, and feature safe, off-road parking, and peace and quiet. They have been awarded 4 stars by Visit Britain, and when you see the unique, carefully converted and preserved cottages, it is easy to see why.